The First Ever Tenth Annual World's Shortest St. Patrick's Day Parade
This event was created in 2003 and has always been referred to as "The first ever" each year it has taken place.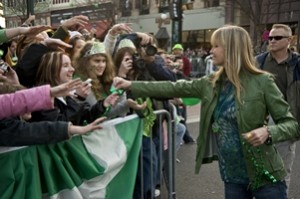 It's an entertaining event. The parade is held on historic Bridge Street in Hot Springs, known as the "shortest street in the world." Thousands of people flock to the downtown area each March 17 to celebrate the unfettered fun and exuberance the parade generates. There will be leprechauns, floats, marching bands, Irish Wolfhounds, green fireworks, and Irish Elvis impersonators, etc. Remember to wear green.
2013 Grand Marshals are Bo Derek (known as the actress from the movie "10") and John Corbett (best known for his work on Northern Exposure). The parade has been recognized worldwide with numerous international awards. Last year, CNN named it #1 among Quirky St. Patrick's Day Parades.
For more information visit Hot Springs Convention & Visitors Bureau at 501-321-2027 or [email protected]  or their website at shorteststpats.com.
Additional content:
https://www.arkansas.com/blog/post/worlds-shortest-st-patricks-day-parade-primer/