Fishing Back on Track at White Oak Lake State Park
Fishing is back at White Oak Lake State Park. And the potential yield for those hoping to make a big catch has never looked better.
In 2012, the Arkansas Game and Fish Commission drained Lower White Oak Lake to repair a break on the water control structure.  A two-year renovation project followed and the body of water, which is around 1,200 acres and owned by AGFC, officially reopened to the public in January 2014. Near Bluff City, the state park is home to 45 campsites situated on and near the shore of Lower White Oak Lake.
"We've got our regulars, they camp here, they love the park and the setting," said John Stewart, park superintendent. "But we are known for the fishing lake. So the majority of our campers came to fish. When the lake went dry, they went somewhere else to fish. We are still in the process of spreading the word and letting people know that the lake is back open. The water is here and people can fish. It was a bass catching mecca, and will be again. Game and Fish is restocking the lake so it will be a great sport fishing lake too."
Stewart said AGFC is temporarily limiting fishing at the lake because the population needs time to grow. At the moment, those fishing can keep catfish and bream up to a daily limit, while crappie and bass are catch and release only, according to Stewart.
Andy Yung, AGFC fisheries management biologist, said Lower White Oak Lake is still in renovation mode. "But everything looks good that we have put out there so far," he said. "The bream look good…the bass look good…you get kind of a boom when you renovate these lakes and the fish grow really fast and really healthy. Part of that is due to no competition [for food]…. So those fish grow pretty rapidly."
Yung said AGFC has restocked the lake with catchable-size channel catfish, bluegills, shad, minnows, redear sunfish, black crappie, and largemouth bass.
While the lake was being renovated, White Oak Lake State Park remained open and Stewart said staff worked on various improvements including installing a courtesy dock so people can pull their boat up to the park visitor center to buy bait. A $50,000 bathhouse renovation was also completed.
According to Stewart, along with fishing, the setting of the park makes it stand out. "It's a quiet, relaxing family oriented location," he said. "Prescott, Gurdon and Camden are all about 20 miles away from us in different directions."
The park is home to 15 miles of trails, including the 10-mile Fern Hollow Multi-Use Trail for hiking and mountain biking. The route winds through loamy sandhills terrain that features a wide variety of trees, including oak, beech, and Loblolly pine. It is named after the resurrection ferns that can be seen growing on the trunks of trees along the trail.
"We have kayaks, canoes, flat-bottom fishing boats, and pedal boats to rent," Stewart said. "We have a tour boat and do interpretive tours of the lake so people can learn the history of the lake. Poison Springs Battlefield State Park is also under our management here. It is about seven miles down the road. It is a Civil War battle site. Last April they had the 150th sesquicentennial battle reenactment and there with hundreds of people. They are in a rotation to do a reenactment every two years, so next April they will have another one." The park also has a marina, a fishing pier, interpretive programs, Dutch oven cooking workshops, fishing derbies, guided hikes, kayak tours, and bike tours. Heron and white-tailed deer are among the wildlife visitors can see there.
White Oak Lake is actually made up of upper and lower sections that are separated by a dam. It is the second largest AGFC-owned lake in the state.
"Even though the park is situated on Lower White Oak Lake, anglers can drive a short distance to enjoy Upper White Oak Lake too," said Stewart. "If you head out of the park and go left towards Poison Springs, then travel three to four miles, there is a fully open lake with regular state limits on fishing. The benefits are you can camp here at White Oak Lake State Park and fish the Upper or Lower Lake. The park offers the only campsites on either lake."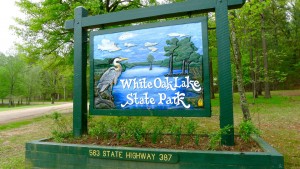 As to the fishing conditions on Upper Lake, it didn't receive a renovation, so according to Yung, it is right on par with where it has been. "As far as bass fishing is concerned, when we were out there this spring we saw a lot of bass," he said. "We had right around the number of our catch rates, but the fish were larger than usual. As a bass fisherman, that doesn't sound too bad when you are catching the same number that you usually do but they are a larger average size. That means there is a lot bigger fish out there to be caught."
Yung said when AGFC did the renovation of the Lower Lake they did a lot of habitat work including adding hundreds of new habitat structures such as brush piles and big rock piles that draw a variety of fish. "All of those structures have been put on GPS and on our website and interactive mapper," said Yung.  "If you have the right kind of depth finders, you can put these points right into your map and use that to find these structures. And it is easier to get around the lake now that we have marked our boat lanes with the red and green marker buoys.  It looks really good out there. And it is only going to get better."
White Oak Lake State Park can be reached by driving two miles south of Bluff City on Highway 387. It is one of 52 state parks in Arkansas. For more details call 870-685-2748 or visit arkansasstateparks.com/whiteoaklake/.