Fishing for Walleye in Arkansas Lakes and Rivers
The below fishing news was sent by Keith Stephens of the Arkansas Game and Fish Commission. According to the commission, it is walleye time in several Arkansas lakes and rivers. The full news release by Stephens is below.
When the second half of February arrives, it's walleye time in Arkansas.
The tasty but challenging fish move up to shallow, graveled areas for spawning. A number of lakes and rivers in the state have walleye, and the best known fishery is in Greers Ferry Lake in north-central Arkansas. Spawning sections of the lake are several tributaries – South Fork, Middle Fork and Devil's Fork especially.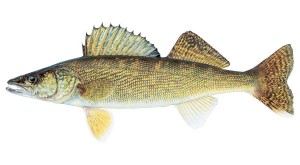 ​
To the north of Greers Ferry, walleye action in Bull Shoals and Norfork lakes can be productive too, and a good argument can develop around which of these three lakes has the best walleye fishing.
Lake Ouachita has good walleye fishing with anglers working its upper feeder areas. Downstream from Ouachita, lakes Hamilton and Catherine have fishable walleye populations.
Coming on strong in recent years are walleye in Beaver Lake after they became scarce when the lake was completed in 1965 as a U.S. Army Corps of Engineers impoundment for flood control and electricity generating. Stockings of young walleye were made several times by the Arkansas Game and Fish Commission and have caught on.
​
Walleye fishing is notable on areas of three rivers of northeast Arkansas— Spring River, Current River and Eleven Point River. All are in the Pocahontas vicinity although the walleye areas extend well upstream from the Randolph County seat.
The Middle Fork of the Saline River in the Benton area has several miles of good walleye country – good enough so it could classify as the state's hidden walleye gem. The "middle" Ouachita River from Remmel Dam that forms Lake Catherine downstream past Malvern to Arkadelphia is another walleye area.
The Lower Kings River is walleye country too, meaning the last several miles of the river in Arkansas in Carroll County and stretching into Missouri to meet Table Rock Lake.
Old-timers in Arkansas called them walleyed pike or jack salmon in addition to the proper name walleye. The toothy fish native to Arkansas have always had a comparatively small but intense following among Natural State anglers.
They've been around for years, but their numbers have been modest in comparison to the native bass (largemouth, smallmouth and spotted), the crappie, bream and catfish. Trout and striped bass came on to the Arkansas scene a few decades back, and walleye dropped a couple of notches lower in renown.
Walleye reproduction in the wild is boosted by Game and Fish Commission hatchery work. Adult walleye are netted by AGFC staff. Egg-laden female walleye are stripped of eggs, male walleye are "milked" of their sperm then these are mixed with an addition of protective chemicals, and the eggs are hatched at AGFC hatcheries.
The state record walleye is a 22-pound, 11-ounce fish caught in 1982 by Al Nelson on Greers Ferry Lake.