Follow the Aroma to the Arkansas Cornbread Festival in Downtown Little Rock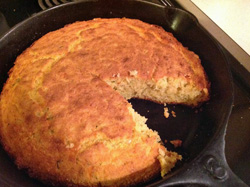 If there is a classic Southern food, to many it just may be cornbread. We can thank the Native Americans for its origin, which means it was enjoyed by the colonists in New England.  For whatever reason, over the years it has evolved to be a Southern thing. This simple but popular staple is honored every fall during the Arkansas Cornbread Festival in SoMa, Little Rock. 
Both amateur and professional chefs bring their best cornbread to the event and activities are spread out along South Main street. 
Be prepared to stay for festivities, which includes live music, kids areas, and servings of cornbread as long as it lasts.