Ford Econoline Collection Coming to Petit Jean
The Mystery Machine in the iconic Scooby Doo cartoon closely resembles the older Ford Econoline vans. Just a look at that cartoon van makes me smile, as does the idea of a collection of those types of vans and pickups assembling on Petit Jean Mountain at the Museum of Automobiles for a show and shine event on Sunday, Aug. 31.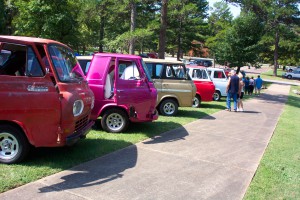 "Utilizing many Falcon parts, the Econoline series was introduced in 1961. There were three models, the pickup, the van and the station bus. The pickup looked like a van that had been customized and turned into a pickup. The new van had 39% more load space than a typical ½ ton panel. The station bus was essentially a van with a view. It had windows all around with two front doors, a pair of rear doors and two side doors in the center on the passenger side. The Econoline series continued until 1967," according to a museum press release.
This is the 12th annual show at the Museum of Automobiles for the Econoline's. Collectors from Arkansas, surrounding states and as far away as Connecticut display their vehicles at the auto museum. The public is welcome to see these Ford Econoline's at no charge.
For more information call 501-727-5427, email [email protected] or visit www.museumofautos.com.