Fort Smith Heritage Festival is April 6
The weekend looks like it's going to be warm and sunny, which makes it a great time to head to Fort Smith for the 5th annual Heritage Festival on Saturday, April 6.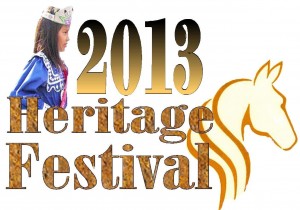 The festival will be headquartered downtown at the Frisco Station. Meet there between 10 a.m. and 4 p.m. and enjoy a tour of the station, a grand Fort Smith landmark. You can also treat yourself, friends and family to a ride on the Free Time Express II.
Other heritage activities include remembering local hero General William Darby by stopping by Cisterna Park, where you'll find a genuine 1944 Harley Davidson motorcycle, just like the one Darby rode. You can also drop by Gen. Darby's home, which will be open for tours during the Heritage Festival.
Bring your lawn chairs and enjoy some entertainment at the stage at Pendergraft Park, where music begins at 10:30 a.m. with John Foster and Clayton Carson. And don't miss the Choctaw, Hispanic, Irish, and Laotian dancers, and a young Christian group named the Rose and HH Band.
You'll find a the Deer Acres petting zoo at Pendergraft Park, and at 11 a.m. on the grounds of the National Historic Site there will be a live cannon firing. You might want to throw some ear plugs in your bag too. Just across the street from the gallows at the National Historic Site you'll find an old west town hosted by the Lawbreakers and Peacemakers. Seems like there's always a gun fight when this group is around!
You can also catch a bus tour of historic places, catch a Living History presentation at 1 p.m. on Garrison Avenue, free electric trolley rides, free wagon rides, Mexican dancing horses, and visit with vendors and exhibitors. Festival proceeds benefit the Meals for Kids program. Give Sue a call at 479-782-5074 for more information.