Fort Smith No. 2 in True West magazine's 2017 Top Western Towns
Fort Smith has one again been designated as one of the nation's "Top 10 True Western Towns" by True West magazine.
Fort Smith secured the  No.1 designation in 2013 and has consistently remained one of the top five designated destinations ever since. Fort Smith will be featured alongside Deadwood, South Dakota—the 2017 top honor—and eight other destinations in the February 2017 issue, which hits newsstands today.
Out of the thousands of towns that exist in the American West, True West defines the Top 10 True Western Towns as those that stand out when it comes to exemplifying the spirit and dedication of the pioneers who built and developed them.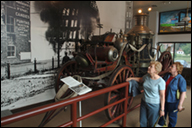 Historic sites like Miss Laura's Visitors Center—the first former bordello to be listed on the National Register of Historic Places—attract thousands of Old West enthusiasts to Fort Smith each year. According to a press release, the Fort Smith National Historic Site was designated as one of the Nation's, "2016 Top 50 Historic Places Worth Traveling For," by FlipKey (a TripAdvisor Company) based off of online consumer research and reviews. There, visitors can visit Judge Isaac C. Parker's famous courtroom, walk through the jail outlaws knew as Hell on the border, see a replica of the Fort Smith Gallows and more.
In May, Fort Smith Western Heritage Month helps visitors and locals alike relive the heritage through one of the largest rodeos in the region, mounted shooting and cutting horse competitions, gunfight reenactments, special exhibits and art galleries, plus many other events. And the Fort Smith Museum of History displays 42,000 artifacts related to local history, dating back to the Fort's founding 200 years ago. These are just a few of the things that contribute to Fort Smith being selected as a Top Western Town.
Editors base their selection on criteria demonstrating how each town has preserved its heritage through historic buildings, museums and other institutions, events, and promotions of historic resources
True West magazine is in its 65th year of leading the way in presenting the true stories of Old West adventure, history, culture, and preservation.
For more information, contact Fort Smith CVB Communications Manager, Russ Jester, at [email protected] or 479.783.8888. For subscriptions and information pertaining to True West magazine visit TWMag.com, call 888-687-1881, or contact Mark Boardman at [email protected]