Fouke Monster film debuts in Fouke
The film Boggy Creek Monster premiered in Fouke this year.
Fouke is a small town in southwest Arkansas that is best known as being the locale for the Fouke monster legend, one of the most popular legends in the state.
The town attracted attention in the early 1970s when a Texarkana resident reported seeing a mysterious creature there. A reporter for the Texarkana Gazette wrote an article about it and a legend was born. Fouke and its monster became famous and were featured in the 1972 movie The Legend of Boggy Creek.
The documentary style film on the creature was made by South Arkansas native Charles Pierce. The film secured a place in folklore history for the Bigfoot look-a-like, which has allegedly been seen in and around Fouke for many years.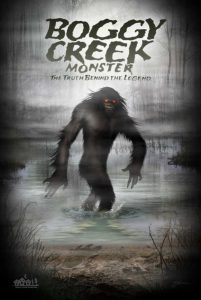 According to a news release sent by Boggy Creek Monster director Seth Breedlove, the film is a "feature-length documentary which focuses on the legendary, Bigfoot-like, Fouke Monster. It is the first film to examine the subject of the 1972 horror film, The Legend of Boggy Creek, in documentary form.
Boggy Creek Monster is an in-depth examination of a topic that has long fascinated horror fans and Bigfoot enthusiasts alike. While the Legend of Boggy Creek took an adventurous and fun look at the subject, this film will dig deep into the mysteries behind the Fouke Monster, a creature that has been said to stalk the bottomlands and swamps of Southern Arkansas for over a century. Author and television personality Lyle Blackburn takes us deep into the domain of the Boggy Creek Monster in search of the truth behind the Legend of Boggy Creek."
The film is directed by Breedlove, and co-produced by Blackburn, who appears in the film and serves as the film's narrator. Blackburn is also the author of a book on the subject called The Beast of Boggy Creek.
The film will also be available on DVD and streaming services.
Small Town Monsters, the production company behind the film, has also released two other films: Minerva Monster, and the Beast of Whitehall.  For more information visit smalltownmonsters.com.