Four Ways to Experience the FLW Tournament in Rogers
Editor's note: The event featured in this article occurred in 2017, but you'll find other great happenings for the current year on our Events page.
Rogers is host to the fifth tournament of the 2017 FLW Tour, the most competitive tour in professional bass fishing. The action takes place April 27-30 on Beaver Lake and there are several ways to experience the fun.
Watch the Take Off
Anglers will take off from the Prairie Creek Park Marina located at 9300 N. Park Road in Rogers at 6:30 a.m. each day of competition.
Don't Miss the Weigh-ins
Thursday and Friday's weigh-ins will be held at Prairie Creek Park beginning at 3 p.m. Saturday and Sunday's final weigh-ins will be held at Walmart, located at 2110 W. Walnut St., in Rogers beginning at 4 p.m.
Fun at the Expo
Prior to the weigh-ins Saturday and Sunday, FLW will host a free Fishing Expo at Walmart from noon to 4 p.m. each day. The Expo is a chance for fishing fans to meet their favorite anglers, enjoy interactive games, activities and giveaways provided by FLW sponsors, and learn more about the sport of fishing and other outdoor activities.
Youth Fishing Derby
Also for youth, the FLW Foundation's Unified Fishing Derby will be held at Lake Bentonville Park, located at 2204 SW I St., in Bentonville on Saturday, April 29, from 8:30 a.m. to 10:30 a.m. The event is hosted by FLW Foundation pro Cody Kelley along with other FLW Tour anglers, and is free and open to area youth 15 years of age and younger and Special Olympics athletes. Rods and reels are available for use, but youth are encouraged to bring their own if they own one.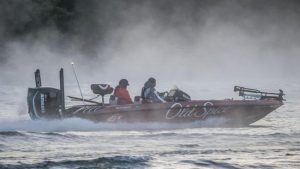 Hosted by Visit Rogers, the tournament will feature 322 of the world's best bass-fishing professionals and co-anglers casting for top awards of up to $125,000 cash in the Pro Division and up to $25,000 cash in the Co-angler Division. In FLW Tour competition, pros and co-anglers are randomly paired each day, with pros supplying the boat, controlling boat movement and competing against other pros. Co-anglers fish from the back deck against other co-anglers.
Beaver Lake is in as good of shape as I've ever seen it," said Old Spice pro Greg Bohannan of Bentonville, a four-time Forrest Wood Cup qualifier. "I know the Arkansas Game and Fish Commission has been stocking shad in the lake and the fish are as healthy as they've ever been. If you look at the weights over the past 10 years, it's been a steady increase. So the lake is in great shape. This tournament is going to be a fun event."
This year's trek to Beaver Lake is about a month later than FLW usually visits, and Bohannan suggests that the lake will be just a little different for the FLW Tour anglers. The FLW Tour has visited Beaver Lake 18 times previously with 2017 marking the 19th visit in FLW's 22-year history.
The total purse for the FLW Tour at the Beaver Lake presented by General Tire is more than $800,000, including $10,000 through 50th place in the Pro Division.
The full field of 322 anglers competes in the two-day opening round. Co-angler competition concludes following Friday's weigh-in, while the top 20 pros based on their two-day accumulated weight advance to Saturday. Only the top 10 pros continue competition Sunday, with the winner determined by the heaviest accumulated weight from the four days of competition.
Throughout the season, anglers are also vying for valuable points in hopes of qualifying for the 2017 Forrest Wood Cup, the world championship of professional bass fishing. The 2017 Forrest Wood Cup will be on Lake Murray in Columbia, South Carolina Aug. 11-13.
Television coverage of the FLW Tour at Beaver Lake presented by General Tire will premiere in high-definition (HD) on NBC Sports Network (NBCSN) June 18 from 6 a.m.-7 a.m. EDT. The Emmy-nominated "FLW" television show airs on NBCSN, the Pursuit Channel and the World Fishing Network and is broadcast to more than 564 million households worldwide, making it the most widely distributed weekly outdoors-sports television show in the world.
For regular updates, photos, tournament news and more, follow all the fishing action at:
FLWFishing.com