In fourteen hundred ninety-two…
Ready your spyglasses, because later this week two special visitors will drop anchor in Little Rock and spend nearly a fortnight in our capital city before sailing on for a visit to Fort Smith. Replicas of the Nina and the Pinta, two of the three most-sung-about vessels in history (hint: the third is the Santa Maria), will dock at Julius Breckling Riverfront Park, in the River Market, and will be open to the general public for walk-aboard, self-guided tours starting Friday, October 27. On Wednesday, November 8, the seafaring sisters will depart for Fort Smith, where they will dock at 4831 Riverfront Drive.
The ships, which are owned by the Columbus Foundation of the British Virgin Islands, are touring the "new world" together as a new and enhanced "sailing museum" for the purpose of educating the public and students about the caravel, a nimble type of Portuguese ship used by many early explorers that has been referred to as the Space Shuttle of the fifteenth century.
The Nina was built entirely by hand and without the use of power tools, and it has been hailed for its historical accuracy.
The boats, which are sailing with a rotating cast of shipmates who hop on for a few adventurous weeks at a time (and they're always looking, if you're interested!), are powered by diesel engines, making travel smoother and more predictable than it might have been over half a millennium ago when their originals were on the water.
Even so, they are both intricately rigged with hugely impressive sails, which for safety reasons are only unfurled when the ships are far out in open waters. One interesting detail is that both ships are stained black in color; pine tar was a common coating for wood in those days, because it stands up well to harsh conditions.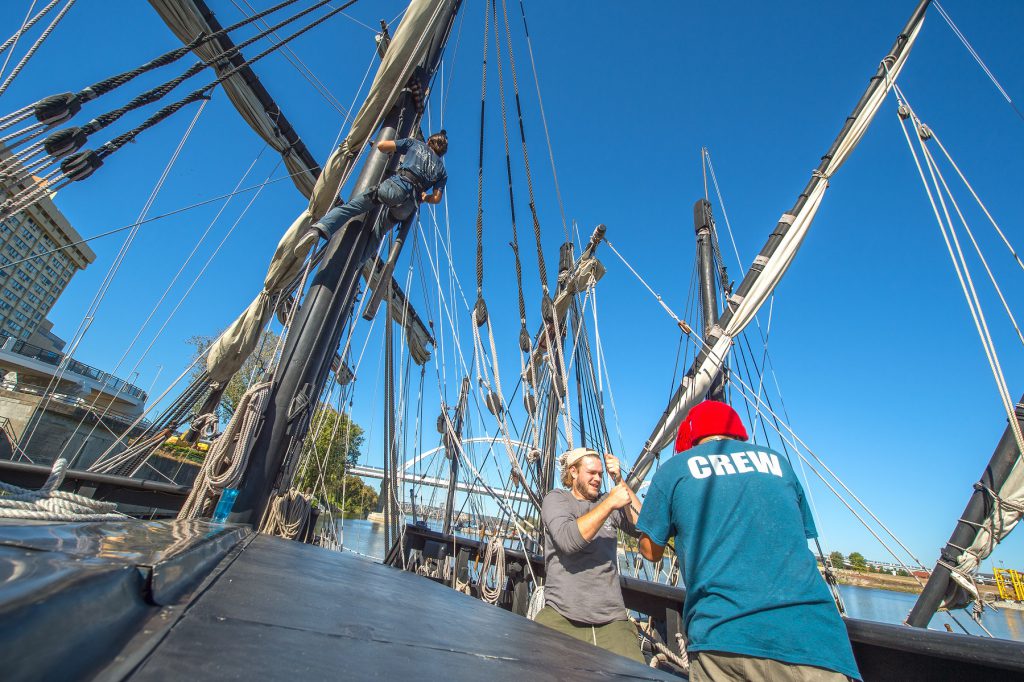 The vessels will be open for tours from 9 a.m. to 6 p.m. daily in Little Rock from October 27 to November 7 and in Fort Smith from November 10 to November 20. No reservations are necessary, and admission is $8 for adults, $7 for seniors, and $6 for students ages 5-16; children 4 and under are free. Schools and other organizations can schedule a 30-minute guided tour for groups of 15 or more for $5 per person. 
Look out below for a quick 360 of the Nina's main deck!