Free Astronomy Program at Hobbs State Park
Venus will be blazing in the west. The summer triangle will be high in the northwestern sky. You'll also be able to see Uranus and Neptune. You know you don't want to miss that during the free astronomy program at Hobbs State Park-Conservation Area in Rogers on Saturday, Nov. 2.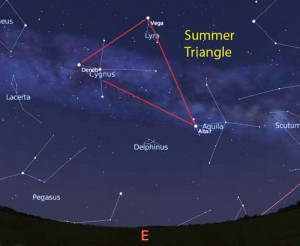 A beginner's Astronomy Class starts at 5:30 p.m. followed (around 6:30 p.m.) with observation using binoculars, telescopes, and the naked eye shortly after sunset.
The event is presented by the Sugar Creek Astronomical Society. Jack McDaniel, the society president, says the summer triangle consists of three bright stars: Vega in the constellation Lyra; Deneb in the constellation Cygnus, and Altair in the constellation Aquila.
Uranus is the seventh farthest planet from the sun and is in opposition to the earth right now in a straight line from the sun through the earth to Uranus. McDaniel explains that means it is about two billion miles away. You'll be able to see its greenish disk through telescopes. Blue Neptune is the farthest planet from the sun at about three billion miles from us.
Using binoculars, you'll also look in the eastern sky for the Andromeda Galaxy (M31), which is similar in structure to the Milky Way. You'll also look for M31's satellite galaxy, M32, and the Pinwheel Galaxy (M33) will be almost directly overhead in the constellation Triangulum.
As if that weren't enough, McDaniel says the group will also set telescope sights on the globular star cluster M15 in the constellation Hercules. Over 30,000 light years away, M15 is a tightly packed mass of 100,000 stars that may have a black hole at its center.
It all sounds so futuristic and movie-like, doesn't it?
What to Bring:  
When:  5:30 p.m. Saturday, Nov. 2 – Beginning astronomy class
6:30 p.m. Saturday, Nov. 2 – Night sky observation
(View the night sky through the Sugar Creek Astronomy Society's/Friends of
Hobbs high-powered telescopes.)
Where:  Hobbs State Park – Conservation Area visitor center located on Hwy 12 just
east of the Hwy 12/War Eagle Road intersection
Cost:  FREE
For more information call:  479-789-5000.