Free Fishing Weekend and fishing derbies June 9-11
Anyone may fish in Arkansas without a fishing license or trout stamp from noon, Friday, June 9, through midnight Sunday night, June 11.
An annual tradition sponsored by the Arkansas Game and Fish Commission, Free Fishing Weekend is a great opportunity for residents and non-residents to experience the angling Arkansas has to offer. It's also the perfect time to introduce someone new to the sport of fishing, to invite friends and family from other states to visit and fish, and for families to make memories fishing together.
The Natural State offers 9,700 miles of fishable streams and rivers, 600,000 acres of lakes, numerous bayous, creeks and sloughs. Anglers can catch a variety of freshwater species using a simple can pole and can of worms, a graceful fly rod, or fast action rod and reel.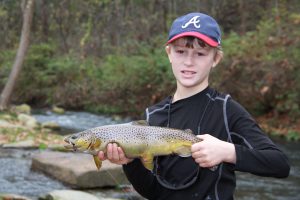 In addition to the fishing license, trout stamp requirements are waived as well, so Arkansas's trout tailwaters are a great option for people as well. Trout fishing for rainbow, brown cutthroat and brook trout is a favorite outdoor activity on the White River in the tail waters of the Norfork, Bull Shoals, and Beaver dams, and below Ouachita and Greers Ferry dams.
Also during Free Fishing Weekend, the AGFC will host fishing derbies at each of its five hatcheries across the state on Saturday, June 10, for anglers 12 and younger. All five hatcheries will host derbies, despite recent losses from floods at the Jim Hinkle State Fish Hatchery in Mammoth Spring.
Fishing derbies will run from 9 a.m. to 2 p.m. Each child must be supervised by an adult. Kids may catch and keep up to three catfish (or three trout at the Jim Hinkle Spring River State Fish Hatchery). In addition to fishing fun, participants also will be able to compete in casting contests and win prizes for fish caught.
Contact the hatchery nearest you for details on its derby:
Fishing in Arkansas is a popular pastime for family fishing vacations, those who want to hook a trophy-sized fish or those competing in tournaments.