Full-on wonder at Petit Jean State Park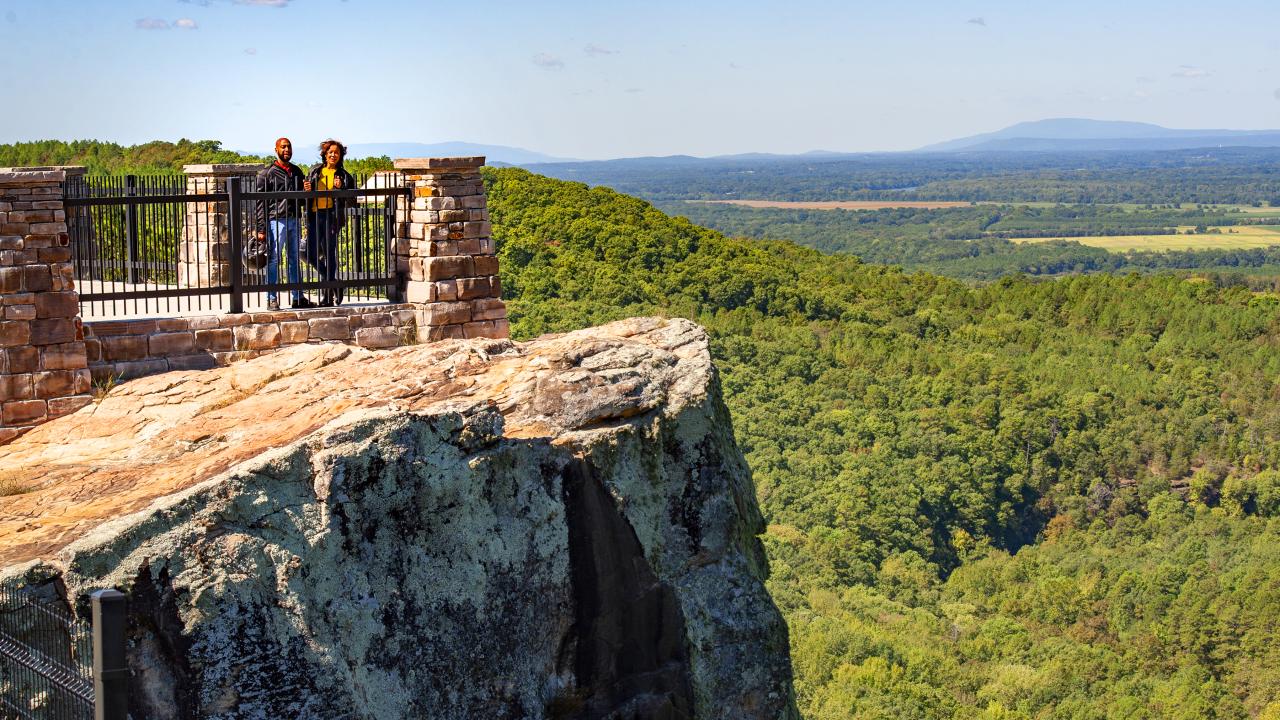 Petit Jean State Park is full of outdoor adventures, historic Civilian Conservation Corps architecture, expansive overlooks, large caves and bluffs, and the famous Cedar Falls waterfall. See how you can find adventure and tranquility throughout Arkansas' first state park.
Visit the historic Mather Lodge
Take in the immense beauty that is The Natural State from the historic Mather Lodge. Built in 1930, the Mather Lodge holds the distinction of being the only lodge built in Arkansas by the Civilian Conservation Corps. The warmth of this rustic mountain lodge, built of native log and stone, is an inviting gathering space atop Petit Jean State Park and is the perfect place for watching dramatic sunsets.
The historic lodge has 24 guest rooms, a grand lobby, a cozy seating area with a large fireplace and the Mather Lodge dining room. In the massive restaurant, you can enjoy spectacular views of Cedar Creek Canyon while chowing down on classic Southern staples. Savor burgers, hot roast beef, grilled chicken, pork chops and desserts like fried cheesecake, lemon meringue pie and hot fudge brownies.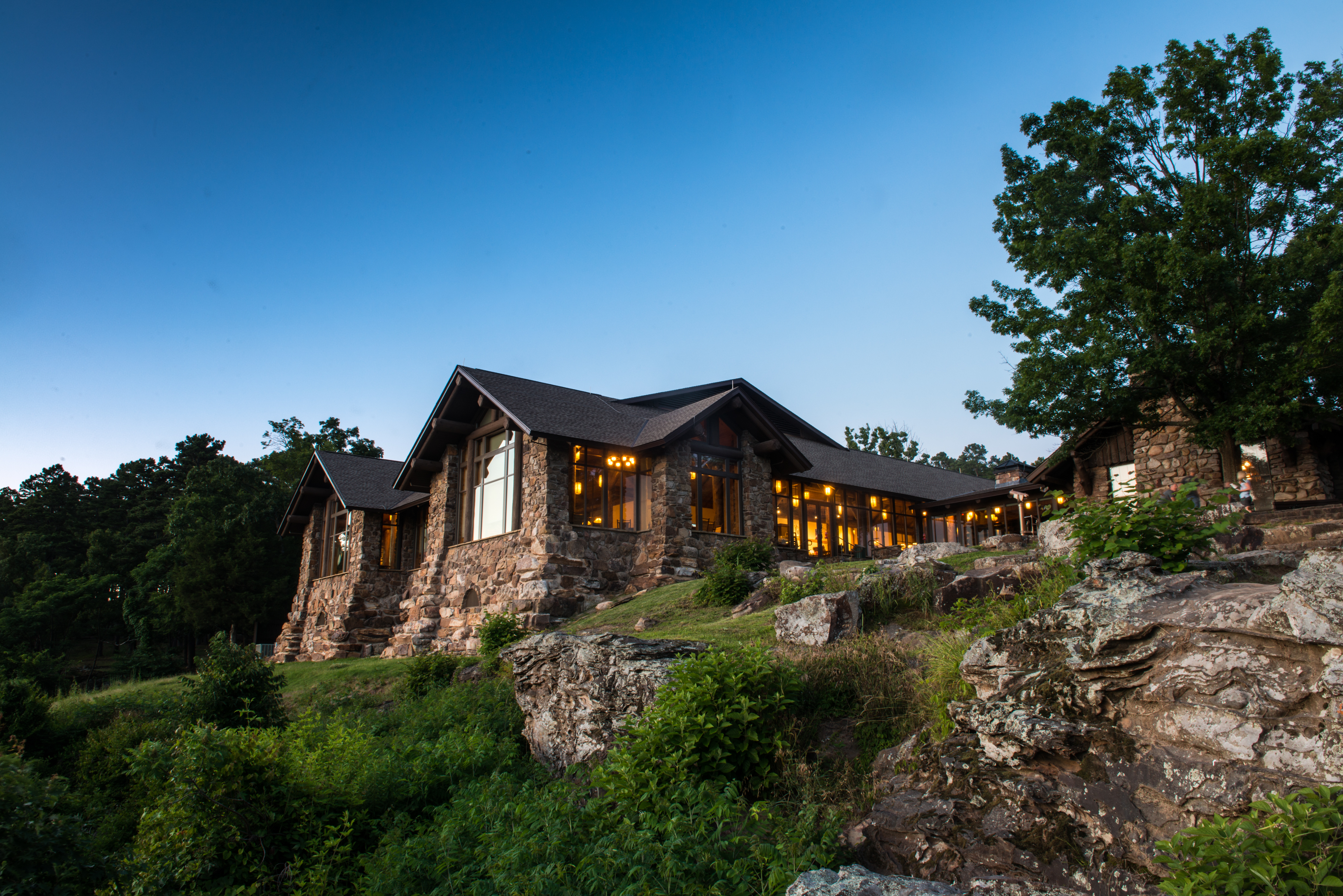 Experience the park on hiking trails
Wander through the forest and meadows, over canyons, alongside streams and across the mountainside on eight diverse hiking trails. Discover a few of the park's must-visit trails below: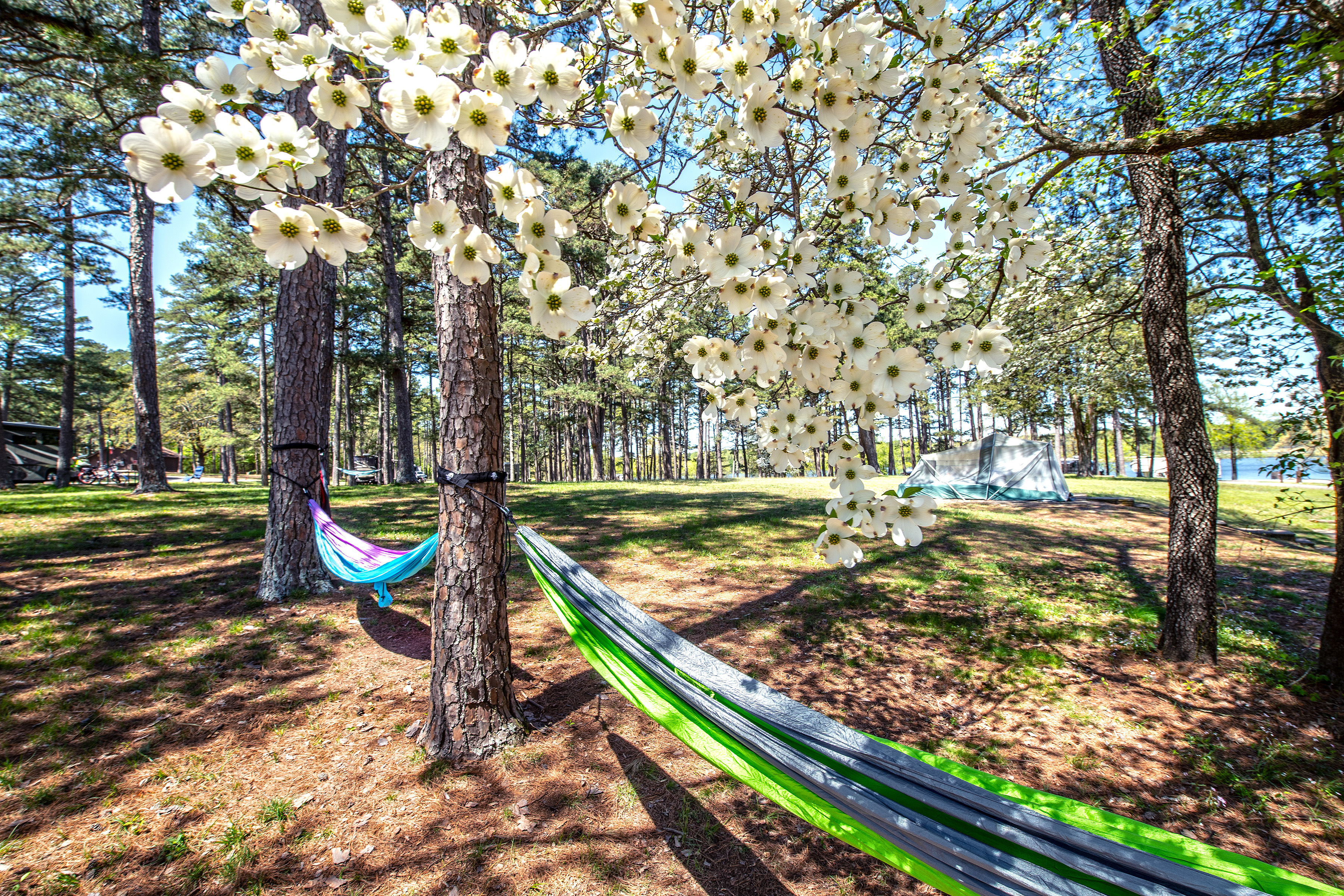 Stay in cabins, campsites and YURTs!
Other than the Mather Lodge, there are numerous ways to stay at Petit Jean State Park. There are 33 cabins located along the bluff with views of the canyon and surrounding pine forest. Most of the cabins are rustic CCC-style and feature a wood-burning fireplace and large patios. Twenty-one of them have kitchens.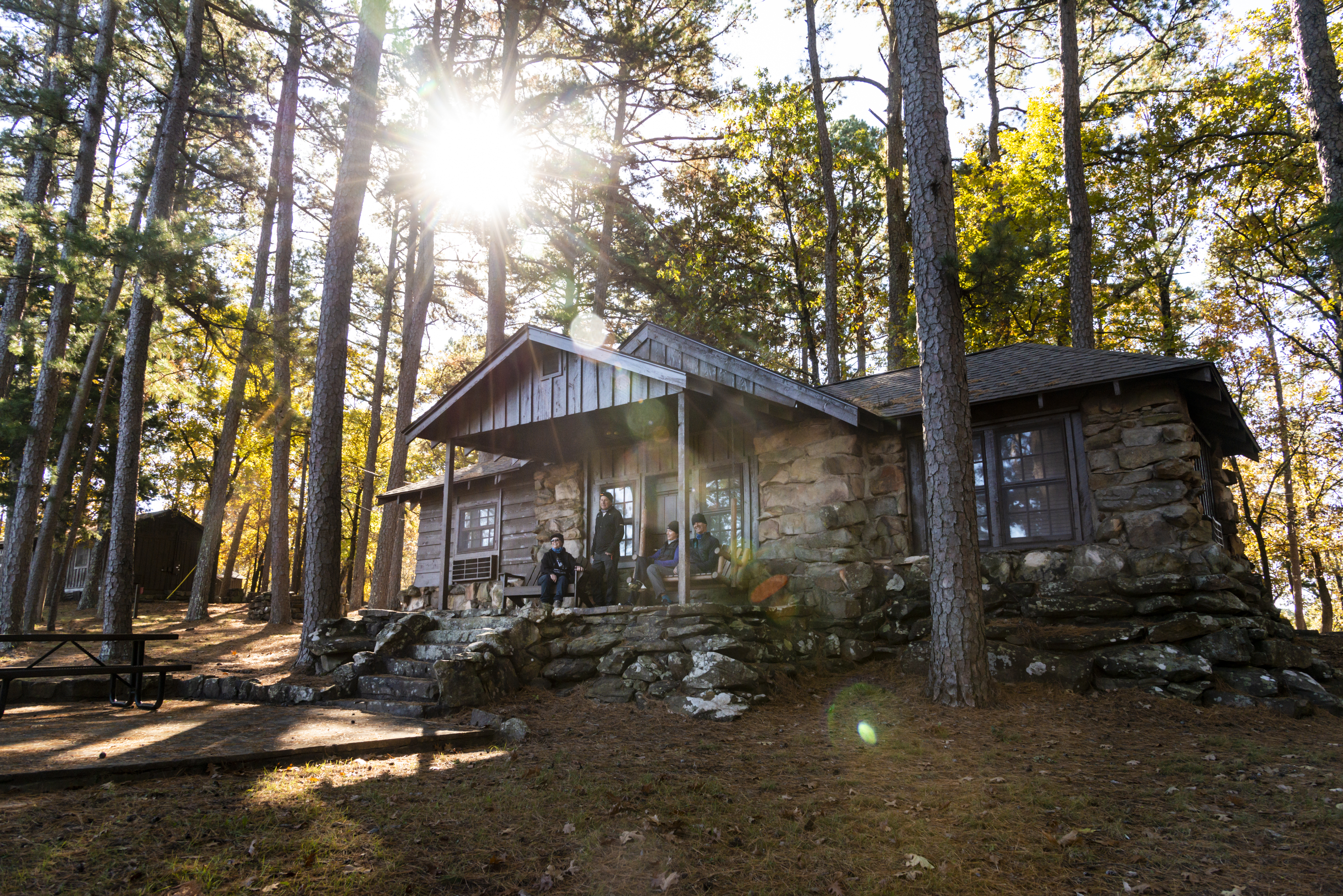 A total of 125 campsites, 35 Class AAA and 90 Class B, also adorn the mountaintop. Campsites are surrounded by towering pine trees that create a relaxing and secluded escape into nature. There are also five tent sites next to the Petit Jean Park Airport. Fun fact — Petit Jean is Arkansas' only state park with its own airport!
For those who want the serenity of nature while still feeling some of the comforts of home, there are four YURTs positioned along Lake Bailey. Each YURT has electricity, screened windows, doors with locks, cots, a stove and a large wraparound platform porch for kicking back and enjoying the views.
Overlooks, overlooks and more overlooks!
The first overlook you'll pass is Petit Jean's Gravesite at Stout's Point. Stroll along the walkway as you learn about the romantic legend of Petit Jean, a young French girl who disguised herself as a cabin boy so she could secretly accompany her fiancé to the "New World." From this overlook you can view the Arkansas River and surrounding valley.
Past the Mather Lodge on AR 154, Palisades Overlook is along a massive rock bluff with an observation deck that looks down into Cedar Creek Canyon and the surrounding river valley. This is a great location for watching sunsets.
Across the canyon, cruise on Red Bluff Drive for two overlooks. The first stop is Mary Ann Richter Overlook that offers views of the nearby Mount Nebo and Mount Magazine. Second, the CCC Overlook provides a nice resting spot under the 1930s CCC native stone pavilion while looking out to the canyon and the Petit Jean River.
Another popular overlook, for those who do not want to make the longer trek to Cedar Falls, is the .25-mile boardwalk trail to Cedar Falls Overlook. Walk through the lush forest that eventually opens to a grand aerial view of the roaring falls. It is truly a sight to behold.
Head to the water
Explore 100 acres of calm water at Lake Bailey. Unwind on the docks and wait for the catfish to come nibbling at this annually stocked lake. Have a picnic along the shore at a pavilion or one of the wooden picnic areas. Glide across the water in a pedal boat, canoe or kayak. If you don't have your own boat, you can rent one from the Boathouse during the summer months.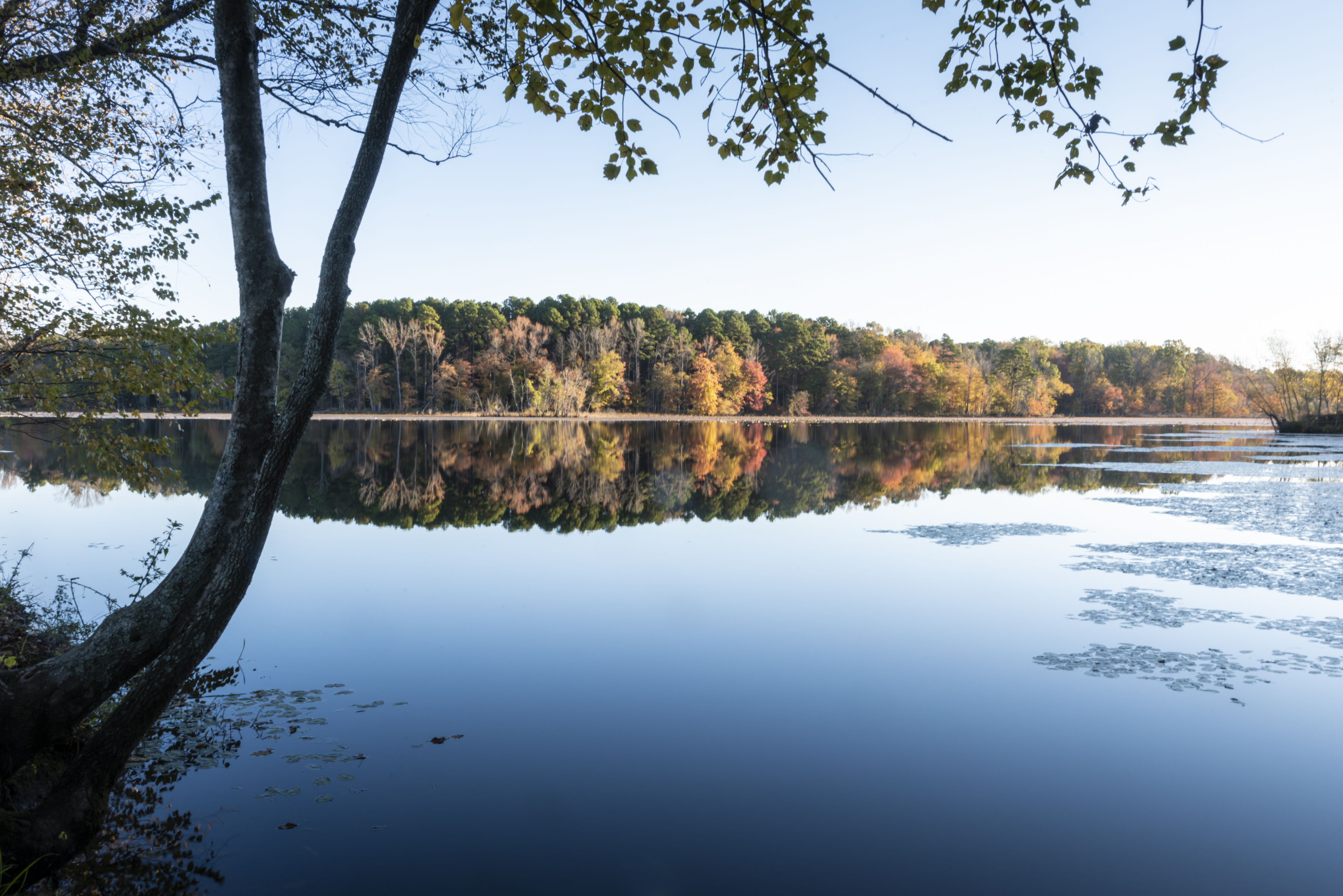 Cycle to Arkansas' first state park
Take on Petit Jean Mountain with a 21-mile out and back road cycling route on AR 154. Rise out of the valley and wind up the long, steep grade to Petit Jean State Park where you can cycle to overlooks, the Mather Lodge and end at Cedar Falls Overlook.
Tour a one-of-a-kind attraction
View numerous privately-owned antique and classic autos from the U.S. and abroad at the Museum of Automobiles. Here, you'll also see the only Climber automobiles known to exist.
Plan your cruise to the mountain in June and September for the popular Swap Meets where you will see hundreds of hobby-related vendors, cars for sale and antique car shows.
With so much to see and experience at this mountaintop oasis, Petit Jean State Park is simply the best. Plan your getaway today.