Garvan Gardens hosts Arkansas Symphony on March 20
The Arkansas Symphony Orchestra will perform at the Anthony Chapel at Garvan Woodland Gardens in Hot Springs on March 20. The performance is scheduled for 3 p.m. that day and conductor Phillip Mann will lead the concert, which will have pieces by Bach, Mozart, Respighi and Suk.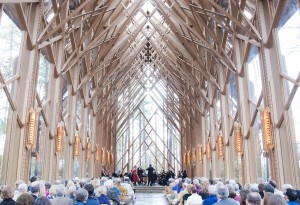 The picturesque six-story, wood and glass chapel was designed by Fayetteville architects Maurice Jennings and David McKee and is a popular part of the Gardens.
Tickets, which are $30 for members and $45 for non members, include a reception afterwards and admission to the Gardens for that day. Garvan Woodland Gardens, located at 550 Arkridge Road, is the botanical garden of the University of Arkansas. For more information call 501-262-9300 or visit garvangardens.org.