Get Cabin Fever in Calico Rock this Winter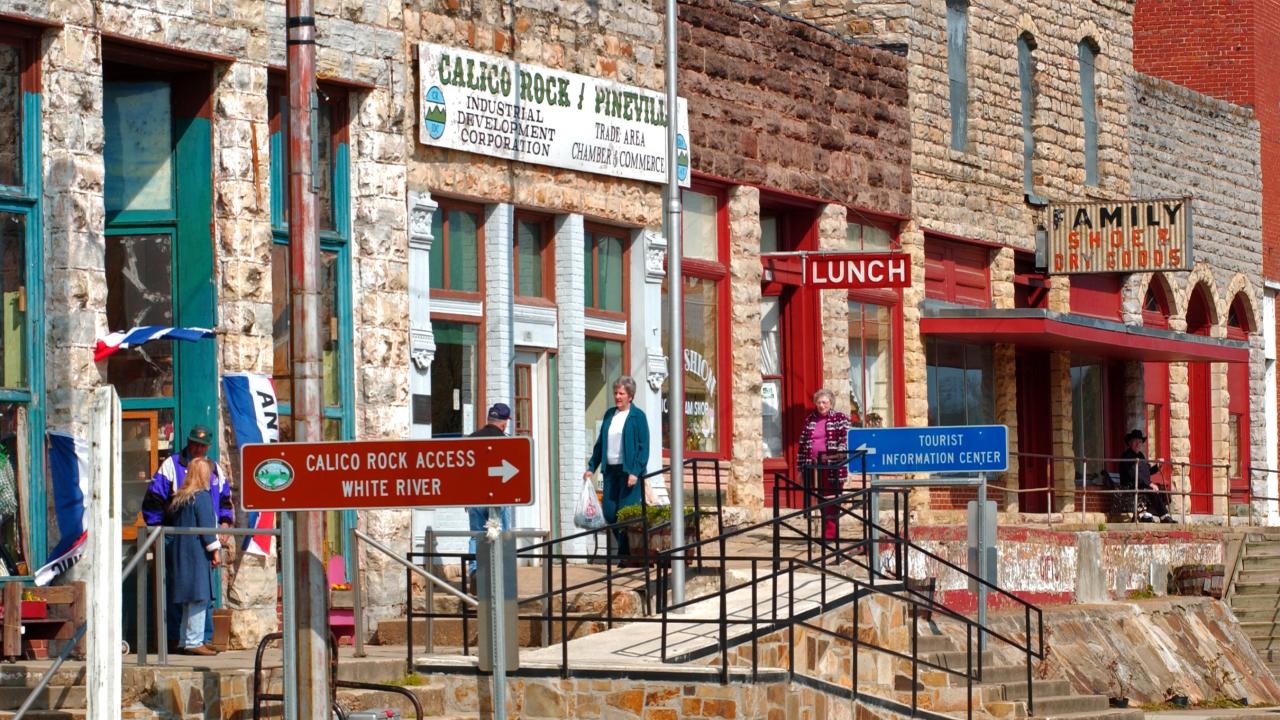 Arkansas has mild winters that are cold enough to crave hot cocoa and cabins but warm enough to still enjoy being out in nature. Located directly on the White River, Calico Rock in North Central Arkansas is a prime destination for a weekend winter getaway.
Calico Rock draws those looking for a breath of fresh air, tons of trout, scenic views, old-fashioned storefronts and revelations of a past that only its ghost town can reveal.
Outdoor Opportunities
Alternating streaks of color in blue, black, gray, red and orange hues—like calico cloth—mark the bluffs looming over the White River.
Hiking and biking trails are located in parks in the middle of town and on bluff lines overlooking the river. Plus, the White River is known as an excellent trout fishery. Numerous outfitters serve the area, offering guided fishing trips or boat rentals.
The leafless trees of the season provide vantage points for sightseeing that are covered up when leaves deck the branches.
Small Town Living
Historic brick and stone buildings from the 1920s flank Main Street for a few blocks. The entire downtown is on the National Register of Historic Places and is home to antique and gift shops, a museum, restaurants and various stores. Additional shopping is available in more modern parts of town. This is also the town where John Grisham's book character "Calico Joe" came to life.
New for Calico Rock is the Tom Tomlinson Art and Science Center, containing important works of folk art, kindling paintings, sculpture and carvings historically and culturally significant to Calico Rock. The lower level of the building is dedicated to science. It is also part of the Discovery Network out of Little Rock. However, it has limited winter operating hours, so call before planning a visit.
History and Ghosts
Calico Rock developed as a steamboat landing in the early 1800s and became a boomtown in 1902 when the railroad tracks were laid. It was the largest town in Izard County through the 1960s. However, neighboring towns grew faster, leaving this once important river port with a population of about 1,500 today.
Calico Rock Museum houses collections and displays exhibits beginning with the American Indian culture to about 1967 that are historically and culturally significant to the town and area. It's located in the historic Bank of Calico Rock building. The museum not only preserves the past, it also features the handmade works of area artists. About 28 artists sell their items—pottery, furniture, leather, organic home products, woodworking, jewelry and more— in the museum.
Just steps away from this historic but thriving town center is another lifetime of the town preserved. Calico Rock's Ghost Town include a pool hall/tavern, a barber shop, a theater, a café, a lumberyard, the telephone exchange, a cotton gin, a funeral parlor and an electric company. The tour contains more than 20 different buildings and other structures, dilapidated yet holding a significant presence in the oldest part of town. All but two can be seen from the street and markers tell the history of each. You can drive it, but it's best seen on foot. 
This area is also part of Peppersauce Alley, although the original trade that gave it its name is no longer there. Calico Rock was a quite a shopping center in the early 1900s with a sawmill and water-powered corn-grinding mill. Farmers would bring produce to Calico Rock and do their shopping there. Often they came from far enough away they would need to camp overnight in the wagon yard, which became known as Peppersauce Alley because of the moonshine whiskey traded there.
Where to Stay
Lodging runs the gamut from motels on Main Street to motels and cabins on or overlooking the river.
While Calico Rock attracts folks in its own right, its location within The Natural State makes it a great hub base as well. Norfork Dam and Lake are about 15 miles north and Blanchard Springs Caverns lies about 15 miles south. The town is adjacent to the Ozark National Forest containing wonderful trails through the mountain ranges and streams. Calico Rock is served by Arkansas State Highways 5 and 56, both pleasingly scenic.