Get your jam on at historic Lyric Theater concerts
Get ready for some great blues and zydeco, a slide guitar master, and the 2016 winner of the New Folk Award at the Kerrville Folk Festival when The Lyric Theater in Harrison hosts three concerts this spring.
First is the blues and zydeco band Sunpie Barnes and the Louisiana Sunspots at 7 p.m. on March 11. Sunpie plays accordion, harmonica, rub board, piano, talking drum, and more as the front man for his band The Louisiana Sunspots. The genres they mix into the show include Delta blues, gospel, boogie-woogie, R&B, and West African and Caribbean influences.
On Friday, March 17, Jack Broadbent takes the stage at 7 p.m. with his electrifying slide guitar master and great blues vocals. This singer/songwriter started his career performing the street with the public throwing coins into his open guitar case. He opened for Peter Frampton and Lynyrd Skynyrd last year, and now is touring the nation on his own with just two stops in Arkansas – Little Rock and Harrison.
The next day, March 18 brings 2016 Kerrville Folk Festival New Folk Winner Ben de la Cour, with an opening act of locals Scott and Karen Fancher. Part of the Crooked Creek Concert Series, the series founder Aaron Smith says de la Cour's music "is more Hamlet than Howard Stern, and deals with some adult issues, so parental guidance is suggested for those under 18."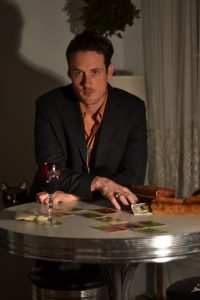 Tickets for all three concerts are on sale now at www.thelyricharriosn.org or by calling 870-391-3504.