Get your Star Wars fix in Hot Springs
In a galaxy not so far away, one can get their Star Wars fix in Hot Springs.
The Galaxy Connection, which showcases owner Jon Clowers personal collection of vintage Star Wars toys and memorabilia, is located at 536 Ouachita Avenue. The private museum is co-owned by husband and wife team Jon and Bridgett Clowers and has replicas on site of characters like Darth Vadar and props like a replica of Hans Solo frozen in carbonite. 
"He loved Star Wars as a kid," said Bridgett Clowers about her husband's collection. "He was born in 1977 when the movie came out but saw it a few years later. He had some of the toys as a kid, then when he got older they got sold in garage sales. A few years ago he started going and trying to collect all of the toys he used to have to put in his office. He got a few figures and it eventually turned into a bigger massive collection. And then the thought came to him that he loves Star Wars, and others do too. So he thought why not share the collection with others that enjoy it. Because the Star Wars story is inspiring and motivational and it gives a lot of hope."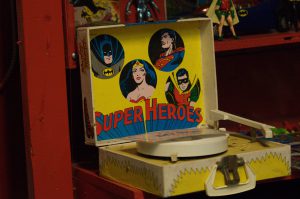 Those interested in touring Clowers collection and gift shop can schedule a tour via their website.