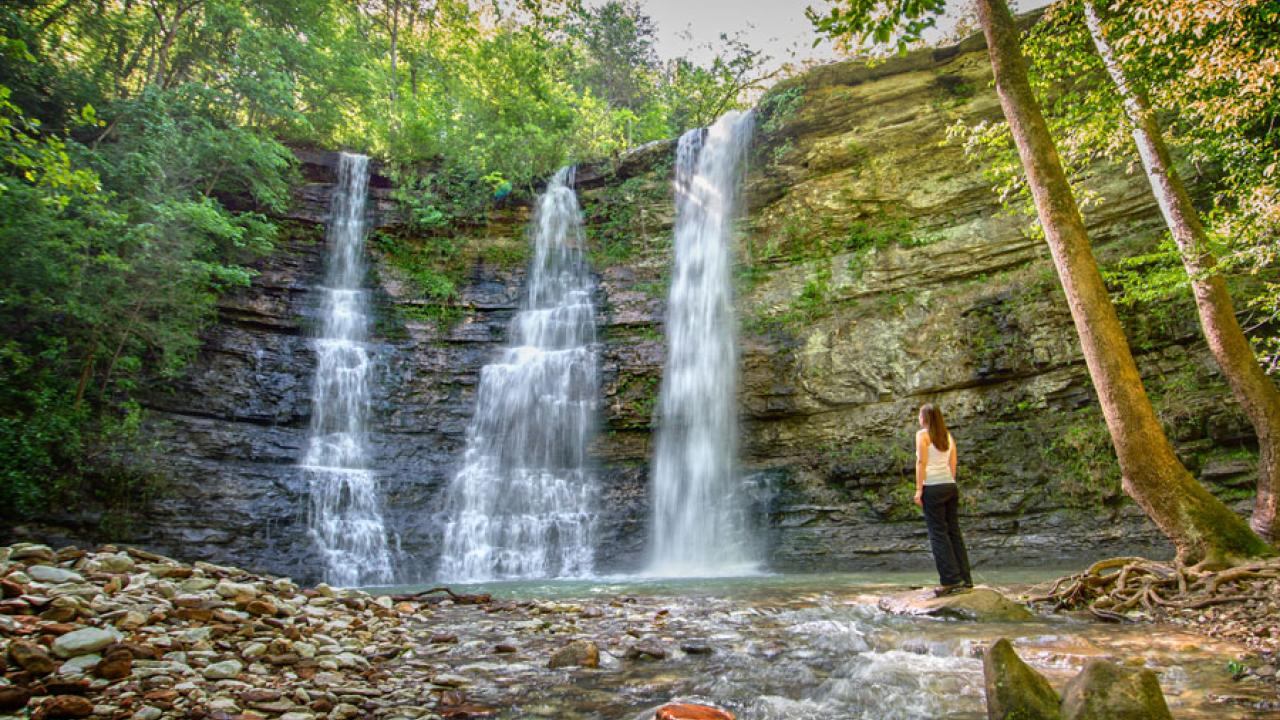 Among all the beautiful sights available to outdoor enthusiasts in The Natural State, nothing turns heads or soothes moods like a rushing waterfall. All around the Ozark mountain region this time of year, winter melt and spring rains create gorgeous falls, and, for at least the next month or so, waterfall season is at its peak! If you're looking to get outdoors this season and see something truly memorable and jaw-droppingly beautiful, it's time to plan your wandering waterfall getaway to the Ozarks. 
Whether you're a hiker, a biker, or just a lazy lodger with a camera phone, there are easily accessible (and not-so-easily accessible) waterfalls to fill your trip with amazing views. Today, we'll get into some of our favorite falls in the area and give you tips on what to do and where to stay as you try to find them all. And keep in mind, these suggestions are just the beginning. There are wild falls all around the area this time of year. So if you're a waterfall enthusiast—and honestly who isn't?—it's time to unplug and make your way to these Ozark destinations.
The very best thing about the Azalea Falls Lodge is the soundtrack. From the lodge you can spend your weekend being serenaded by the 85-foot cascading Azalea Falls. To actually see the falls only requires a short hike from the lodge's own Hiking The Loop Trail, a moderate one-mile loop. It's not uncommon this time of year to see multiple smaller falls that funnel into the primary Azalea Falls, making the scene its most dramatic of the year. Azalea Falls Lodge is the good life set to white noise with a stunning Ozark view.​
Twin Falls
What's better than a waterfall? Yep, two waterfalls! Twin Falls, just a short drive and easy hike from Buffalo Outdoor Center, is exactly what its name implies, but it gets even better! Three waterfalls! This time of year something special happens, and Twin Falls becomes Triple Falls! These peculiar falls are among the most popular in The Natural State and for good reason. The ride is a little rough, but the hike is short, and the beautiful pictures you get are well worth a bumpy ride. 
Hemmed-In Hollow
Hemmed-In Hollow is another must-see Ozark waterfall at the peak of its season but gorgeous any time of year. Getting to the falls is a short drive from Buffalo Outdoor Center, then a downhill hike from the trailhead. The return trip can be a steep and challenging hike, so be prepared, especially if you bring the kids along, for a slow, uphill hike back to the trailhead. That said, the whole experience is easily worth the steep hike. Just be sure to charge your phone before you set out. You'll want pics of this one, and you really don't want to leave anything behind!​
Mirror Lake Waterfall
Mirror Lake Waterfall is absolutely epic! Continuously fed by the waters flowing from Blanchard Spring Caverns, this HUGE waterfall is the highlight of one of the best rainbow trout hideaways in the state. Setting out from Ozark Folk Center State Park is a great way to see the best of the Mirror Lake Waterfall and get back in time for dinner (and maybe an art class or cultural tour). This remote waterfall is about a 15-minute drive from the park, and if you want to document the event in watercolors, you're in the right place!