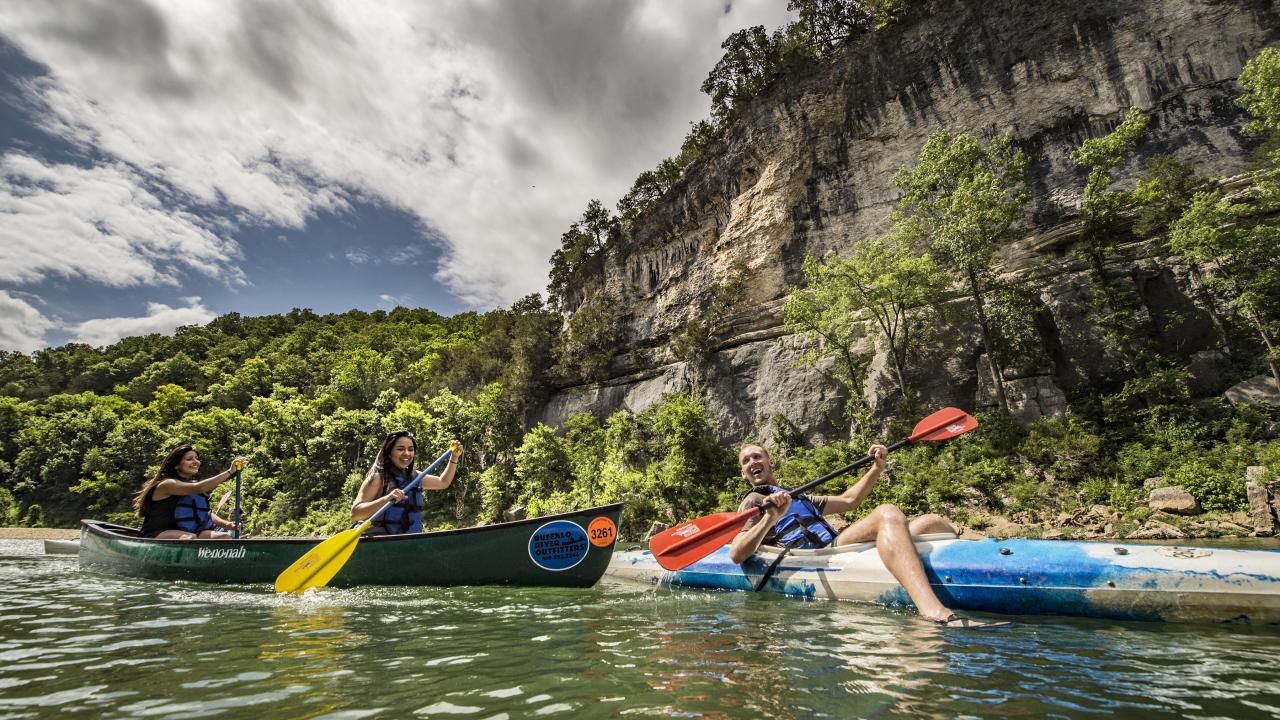 Take a trip to the secluded and peaceful Boxley Valley where you can experience the exhilaration of drifting in a hot air balloon, canoe the Buffalo National River, hike in the national forest and photograph majestic elk grazing in pastures. Or, just kick back and relax at your cozy cabin.
Lodging opportunities abound here. You and your girlfriends can choose rooms above the businesses located on the quaint Jasper square or a cabin set on a mountaintop with a view of the river valley unfolding below.
Day 1
Take a hot air balloon ride. Float over the Buffalo National River for an unparalleled view of unspoiled beauty. The trip takes approximately two to two and a half hours (weather permitting).
Float the Buffalo National River. Towering limestone bluffs will make you ooh and ahh. Maneuvering through the rapids will make you dry or wet, depending on your canoeing skills. Pack food and beverages for a picnic lunch on a rocky shore part way through your trip. This is the type of adventure where memories are made.
You'll be off the river and ready to enjoy a quiet night and starry sky. Eat in Jasper or cook something in your cabin. Enjoy catching up with your girlfriends and laughing about the adventures of the day. Hang out in your hot tub if you've got one.
Day 2
If you're a morning person, get up and head to Boxley Valley where herds of elk graze in the fields. If you're not a morning person, by all means sleep in! The other optimal time to see the elk is dusk.
Head to Jasper. Jasper has a picturesque downtown square with a beautiful courthouse in the middle and gazebos on the grounds. Browse the antique stores for one of a kind finds. And don't miss the Jasper/Newton County Chamber of Commerce. It offers quality handmade arts and crafts created by more than 40 local artisans. In addition to area brochures, t-shirts, caps, mugs, state maps and restrooms, there is always a fresh pot of coffee brewing (regular and the gourmet flavor of the day).
The Ozark Café serves up home cooking if you've worked up an appetite. But, as you've discovered by now there are a few other options for lunch on the square as well. Or drive seven miles south of Jasper for lunch at the Cliff House.
Visit the Hilary Jones Wildlife Museum & Elk Information Center in Jasper or drive to nearby Ponca and explore the Ponca Elk Education Center.
Put on those hiking boots, grab your camera and spend some time in nature. Numerous trails allow access to exquisite vistas and close-ups with nature.
Enjoy dinner in your cabin or dine in Jasper. Relish another evening of girl time.