Going to Brown Town on the White River
I've fished the White River for a lot of years now and have had plenty of days where you catch a rainbow on almost every cast. Reeling in large quantities of usually smaller sized trout can be a heck of a lot of fun.
But I'm seeking quality over quantity nowadays because size does matter. Ask any angler. So does species. On the White River you can catch rainbows, browns, cutthroat, and brook trout. Getting all four is a grand slam. Landing big browns is bragging rights.
While I've caught brown trout, I haven't reeled in many. Those I have managed to coax to the boat have been on the small side. So, a big beautiful brown with fight that gives some river cred to your fishing is definitely what I was looking for when heading out recently with guide Steve "Hooked" Lopez from Gaston's White River Resort in Lakeview. It was also my birthday. I had high hopes.
All the good guides know where the brown trout are hanging out; the trick is figuring out what they're biting on, not just that day but that moment. Water levels and fishing strategies change from morning to afternoon or sometimes within hours. The river's level is dependent on the water release from the dam for power generation and flood control. The fish bite or not with the rise and the fall of the water. Of course, the right lure in the right color, such as an egg pattern or a jerkbait, or live bait, like worms, also come into play.
Lucky for me, Lopez was dialed in to the fish. He took me to Brown Town. I caught four nice sized trout measuring in the range of 19 inches to 23 inches (three the next day with guide Frank Saska).
I caught them on jerkbait. While I really love to fly fish from a boat, fishing with jerkbait has become my favorite strategy with a spinning rod. The constant twitch, pause, and reel to retrieve the lure keeps me active and engaged as we float sections of the river. I love seeing a fish chase the lure and the feel of setting the hook in the flash of that moment.
My other favorite things about being on the water?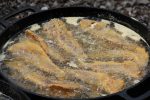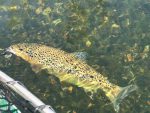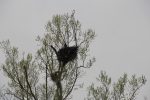 I look forward to going after even bigger browns on my next White River fishing adventure. No matter what I catch, a day on the river is a great place to be. Click here to read about why I call this my Magic Place. Tight lines everybody. Hope to see you on the water!