Going for the gold in Little Rock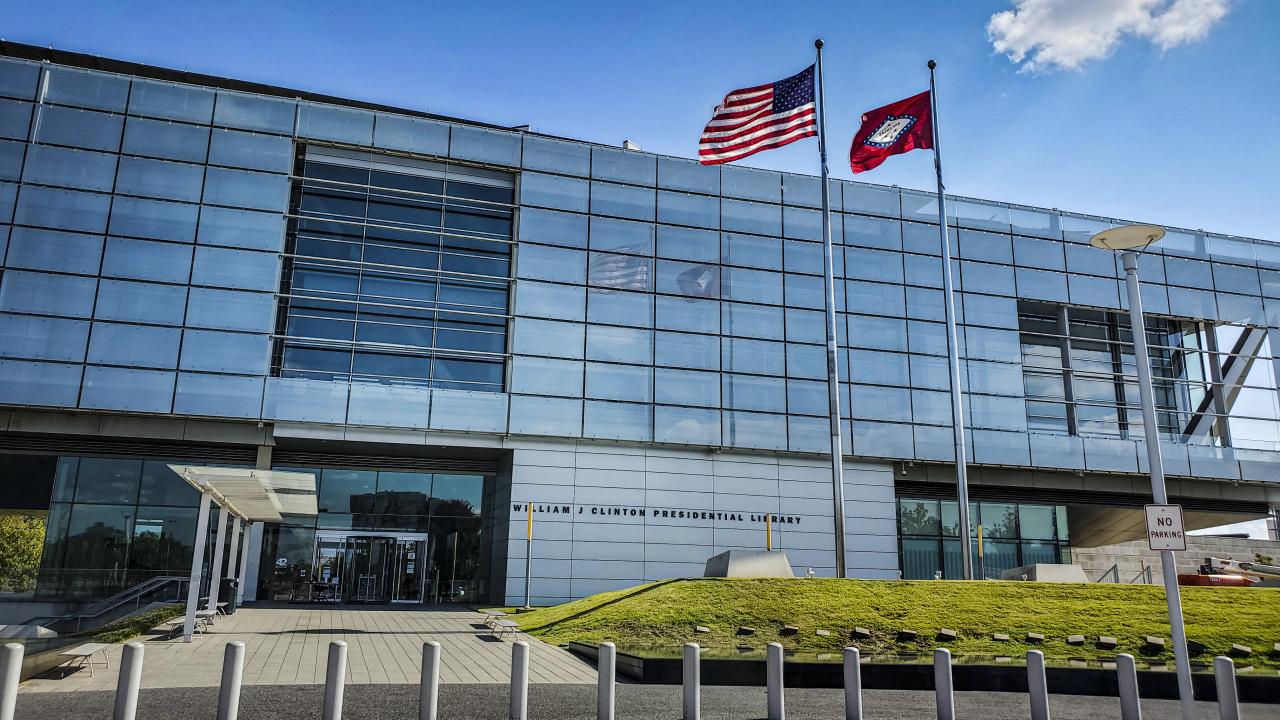 Editor's Note: This exhibit is no longer at the Clinton Library but check out their website for a list of their current exhibits. 
"The Olympic spirit—the spirit of good will, friendship, understanding and unity across all the lines that divide us—that can propel us into an even brighter era of respect and success." — President Bill Clinton
The 2016 Summer Olympics will take place in Brazil from August 5 to 21. Sure, many of us will be riveted to our screens following coverage of our favorite events, but if you haven't been to the Clinton Presidential Library recently, now is the perfect time to go check out their multi-story exhibit dedicated to U.S. Olympic history.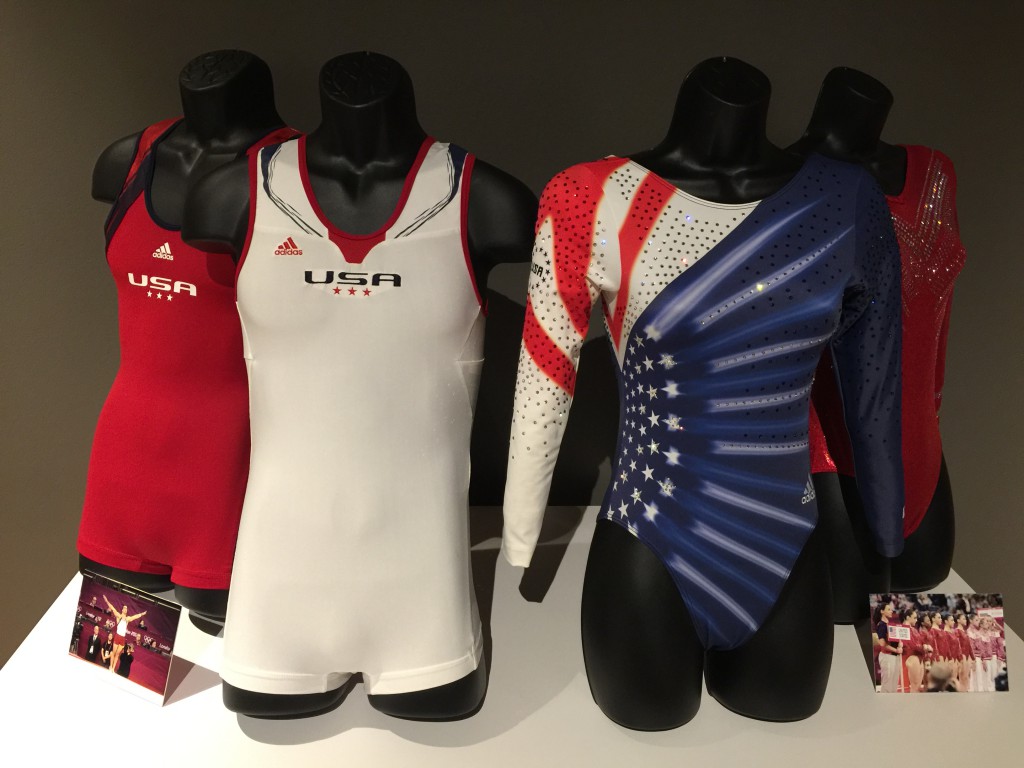 ​
"American Champions: The Quest for Olympic Glory," running through September 11, 2016, commemorates American athletes who have participated in the modern Olympic Games and the Paralympics and illuminates presidential involvement with the games—Arkansas's Olympians and former president included—through a collection of artifacts, photographs and video spanning the 120-year history of the event. The exhibit occupies space on the first and third floors of the library, with the Winter Games on the lower level and the Summer Olympics above.
On the way in to the first-floor space, a wall of Olympic photographs supports a large television screen on which loops an introduction from President Clinton, who talks about his experience with and fondness for the Olympics; it's tradition for the sitting president to host a reception for competing athletes, and for one chosen representative from that group to present the president with a U.S. team jacket from that year's games.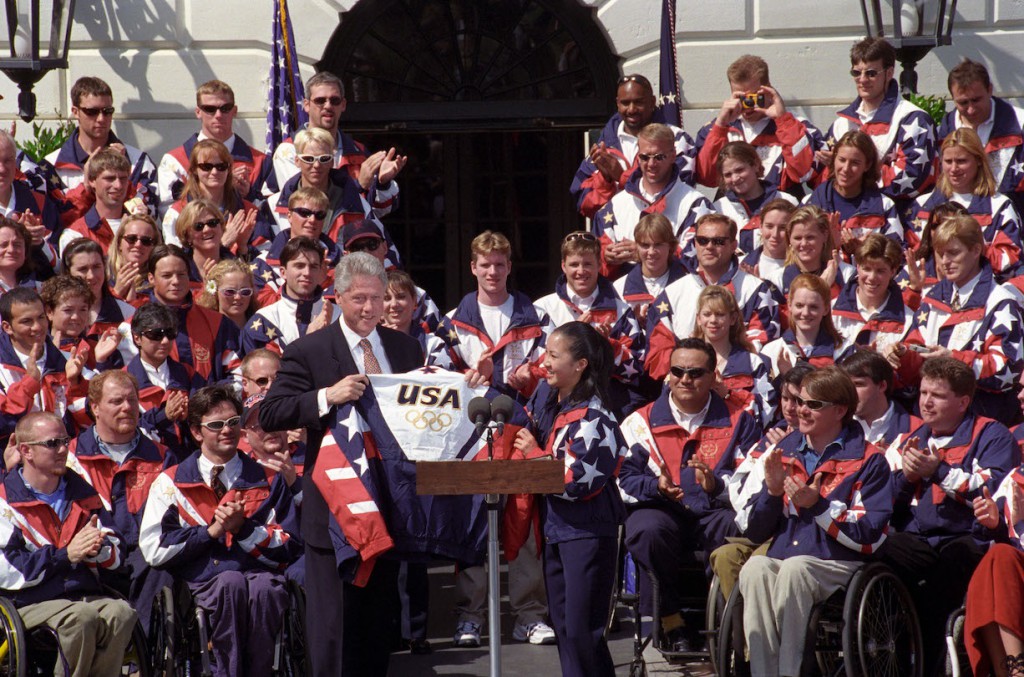 ​
Inside is a look at a few "greatest hits" from events such as speed skating, figure skating, skiing, snowboarding, curling, ice hockey, luge and bobsled. Highlights include the costume worn by the 1968 gold medalist in figure skating, Peggy Fleming (the only gold medal for America that year), made by Fleming's mother out of chartreuse-colored wool in a nod to the eponymous liqueur produced by monks near Grenoble, where the 1968 games were held.
The costume is paired with one worn by Brian Boitano in his gold-winning skating performance 20 years later, but perhaps more interesting is to compare Fleming's costume with a race suit worn by alpine skier Lindsey Vonn in 2010, which hangs on the wall nearby.
Made of a special "techno fabric," designed for aerodynamics, the fabric incorporates "intelligent molecules that flow during movement, but reactively lock together on impact to absorb shock." 
Another item of interest from the Winter Games is the bobsled of the gold-winning, four-man 2010 team. Coming upon it, your first thought might be the realization that you've never actually seen a bobsled before (though I hear they're more common in the Ozarks than urban Central Arkansas); your second might be how rare the person must be who sees a bobsled for the first time and decides to dedicate his or her life to zooming down an icy track in such a thing.
Upstairs at the Summer Games is a similar experience: artifacts, costumes and footage combine to give a selective overview of U.S. achievement in events such as soccer, basketball, swimming, gymnastics, tennis and track and field. A large case devoted to Shannon Miller, the 1996 balance-beam gold medalist, contains an especially poignant memento: a pair of tiny baby shoes affixed to a metal bar so that they're turned outward, like duck feet.
A placard explains that when Miller was a child, her legs had been turned so severely inward that her pediatrician feared she might never walk normally, so she had to wear these "corrective" booties. This quote from Miller sums up the spirit of hope and triumph that fuels Olympic dreams and keeps the eyes of the world glued to the games:
"I'm sure neither my pediatrician nor my parents ever imagined that I would go from these booties to Olympic gold. Anything is possible."