From gospel to goblins, October has it all
Is there a better month in Arkansas than October? Cooler temps and gorgeous fall foliage practically beg us to get outside, and Central Arkansas is jam-packed with unexpected opportunities to enjoy this glorious time of year. Here are a few of the unique events taking place this month.
Arkansas Paranormal Expo, Oct. 8-9, Little Rock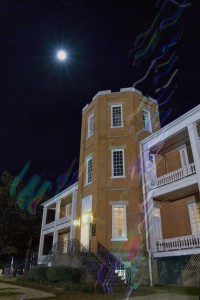 Can't wait until the end of the month to get your ghost on? The Paranormal Expo has you covered. Now in its 6th year, this annual benefit for the MacArthur Museum of Military History delivers two full days of UFOs, Bigfoot, cryptozoology, psychic phenomena, the supernatural and ghost hunting. This year's headliner is cryptozoologist Ken Gerhard, author and co-host of the History Channel's Missing in Alaska. Tickets are $10 for a two-day pass; for more info and to view the full lineup, visit Arkansas Paranormal Expo.
Six Bridges Regatta, Oct. 15, Little Rock/North Little Rock
Back in the day, Arkansas was home to one of the South's premier rowing events. And now the regatta is back, thanks to the folks of the Arkansas Boathouse Club and RowAmerica, who just couldn't stand seeing the Arkansas River's world-class waters go unsculled. The 3rd annual Six Bridges Regatta presents a full day of U.S. Rowing-registered races for spectators on both sides of the Arkansas River. The finish line is the Junction Bridge, which is where to find the liveliest viewing. Food trucks, a beer tent, vendors and more will be out in force for this free event.
Bluegrass & Gospel Jammers Jamboree, Oct. 17-21, Vilonia
It wouldn't be much of a stretch to call Lester Flatt Memorial Park the "Grand Ole Opry of Arkansas." A decades-long series of picking-and-grinning sessions at the park has brought the likes of George Jones, the Judds, Bill Monroe and Ricky Skaggs to the tiny community of Otto, just outside Vilonia. This month's Jamboree offers five days of gospel and bluegrass jamming from noon to well after sundown.
6th Annual World Cheese Dip Championship, Oct. 22, River Market Pavilion, Little Rock
We're not here to talk about where cheese dip was invented—just give us our fill of that golden gooey goodness. And by "our fill," we mean several hundred gallons whipped up by dozens of amateur and professional melted-cheese maestros from all over the country. Sources recommend going early—sellouts have been known to happen, and the only thing worse than not having a chip to dip is not getting to try your favorite at all. Tickets are $8 in advance and $10 at the door. For more information, visit World Cheese Dip Championship.
6th Annual Arkansas Cornbread Festival, Oct. 29, Little Rock
At this celebration of Southern food and culture in Little Rock's downtown SoMa district, attendees will have the chance to sample and vote on dozens of cornbread samples in both amateur and professional divisions. Food trucks, vendors, live music and local artisans will all be on hand—as will Cosmo, the festival's mascot. Who can pass up the opportunity for a selfie with a giant cast-iron skillet? 
Can it really be a coincidence that these last two events were created in the same year? If you're thinking what we're thinking, you're hoping the cheese dip and cornbread folks will join forces in the future for an awesomely artery-clogging day of southern deliciousness. Fondue, anyone?