Great Holiday Shopping at Dazzle Daze in Conway
Glitter, glitz and glam are synonymous with the holidays nowadays. The more bling the better it seems and at Conway's Dazzle Daze, you'll find plenty to choose from. Close to 100 vendors are currently awaiting you at the Conway Expo Center and Fairgrounds. Doors opened at 10 a.m. this morning. This shopping extravaganza has a ton of gift ideas including clothing, jewelry, foods, fly fishing equipment, and children's items.
It's not all shopping however. Those who come can take part "Chicks who Click" photos, visit with Santa and Mrs. Claus, plus enjoy entertainment and snacks. You have until 9 p.m. tonight to find the perfect gifts and décor. Hours on Saturday are 10 a.m.-4 p.m. Announcement of the winner of raffle drawing for the new 2013 Ford Mustang Convertible will be announced at 4 p.m.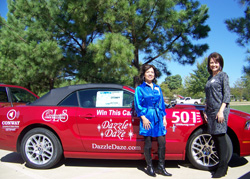 The Expo Center is located at 2505 East Oak Street (U.S. 64 East). Additional information is available by visiting the event's Facebook page or by calling 501-697-6741. Proceeds the benefit health care services provided by Conway Regional Health System. Tickets of $5 general admission, $4 senior citizens, and children under age 12 free are available at the door.