Great Road Trips in the Great Outdoors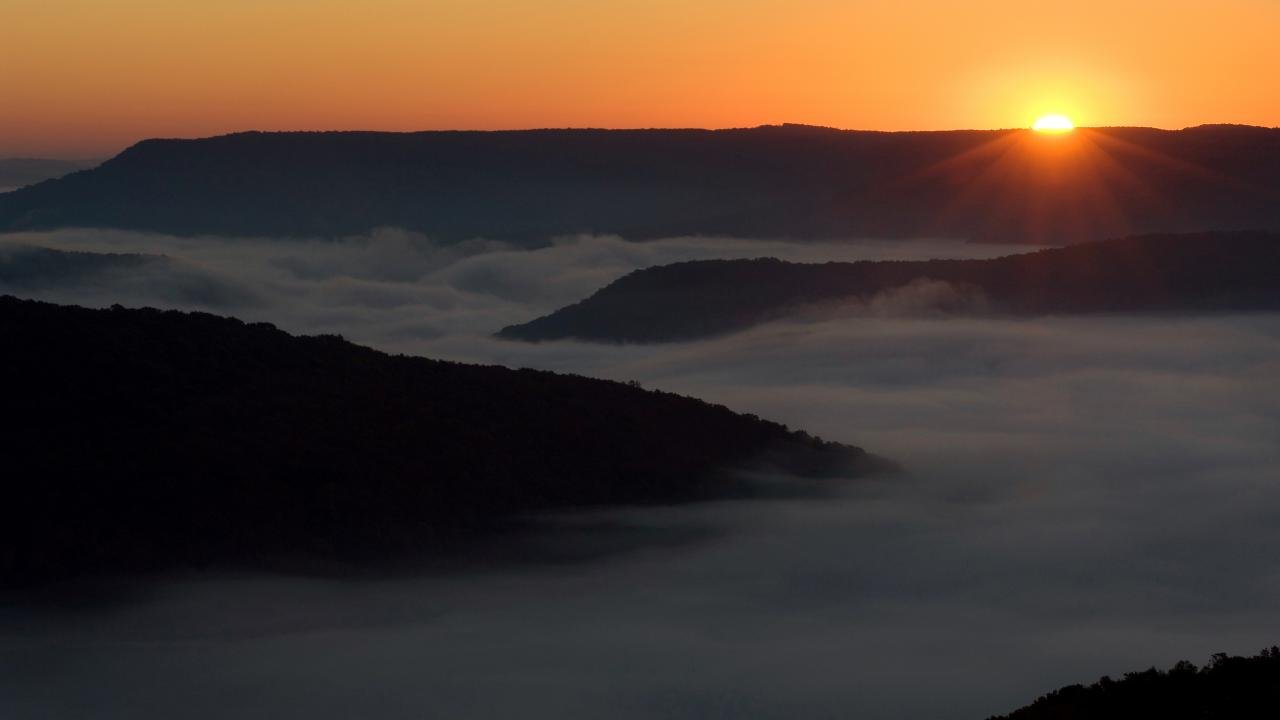 The Natural State offers great road trips in the great outdoors. Below are 9 vacation ideas that include easy access to some of Arkansas's greatest outdoor destinations.
Hike & Float the Buffalo National River
Along the corridor of the nation's first national river, the Buffalo, you'll find canoe and kayak outfitters, campsites, hiking trails, cabin rentals, towering limestone bluffs, quiet pools and whitewater rapids, an elk herd, and historic areas with preserved pioneer homesteads.
There are more than 75 miles of designated equestrian trails, and 100 miles of maintained trails within the river park. Mountain biking and hiking are very popular activities at all times, but especially in the cooler months from fall through spring. Some trails offer views from the top of the limestone bluffs. Other treks snake through the woods past remnants of old homesteads and down old logging roads.

Bike and Hike the Monument Trails
The Monument Trails are a collection of world-class, mountain biking destinations within Arkansas State Parks. These shared use trails are professionally crafted by some of the world's best trail builders to showcase natural iconic beauty through innovative and sustainable design and build. Monument trails are seamlessly woven into the beautiful landscape of Arkansas State Parks to highlight unique terrain, historic landmarks, and scenic vistas.
The Monument Trail network offers users of all skill levels meaningful and enduring experiences in nature. The trails are accessible to everyone seeking an outdoor adventure. On these trails, users will connect to a sense of extraordinary place and history while building lasting memories from each visit.
Play Cowboy at Horseshoe Canyon Ranch
Horseshoe Canyon Ranch is a western dude ranch offering trail rides, hiking, canoeing on the Buffalo National River, rock climbing, skeet shooting, archery, wagon rides, elk viewing, cookouts and more. Additionally, there is a petting zoo, fishing pond, disc golf, swimming pool, hot tub, and games in the lodge and barn. Its all-inclusive rates cover lodging, great meals, and activities for all ages with discounts for groups.
Activities are typically only available to ranch guests, but it does offer day use for some activities like rock climbing.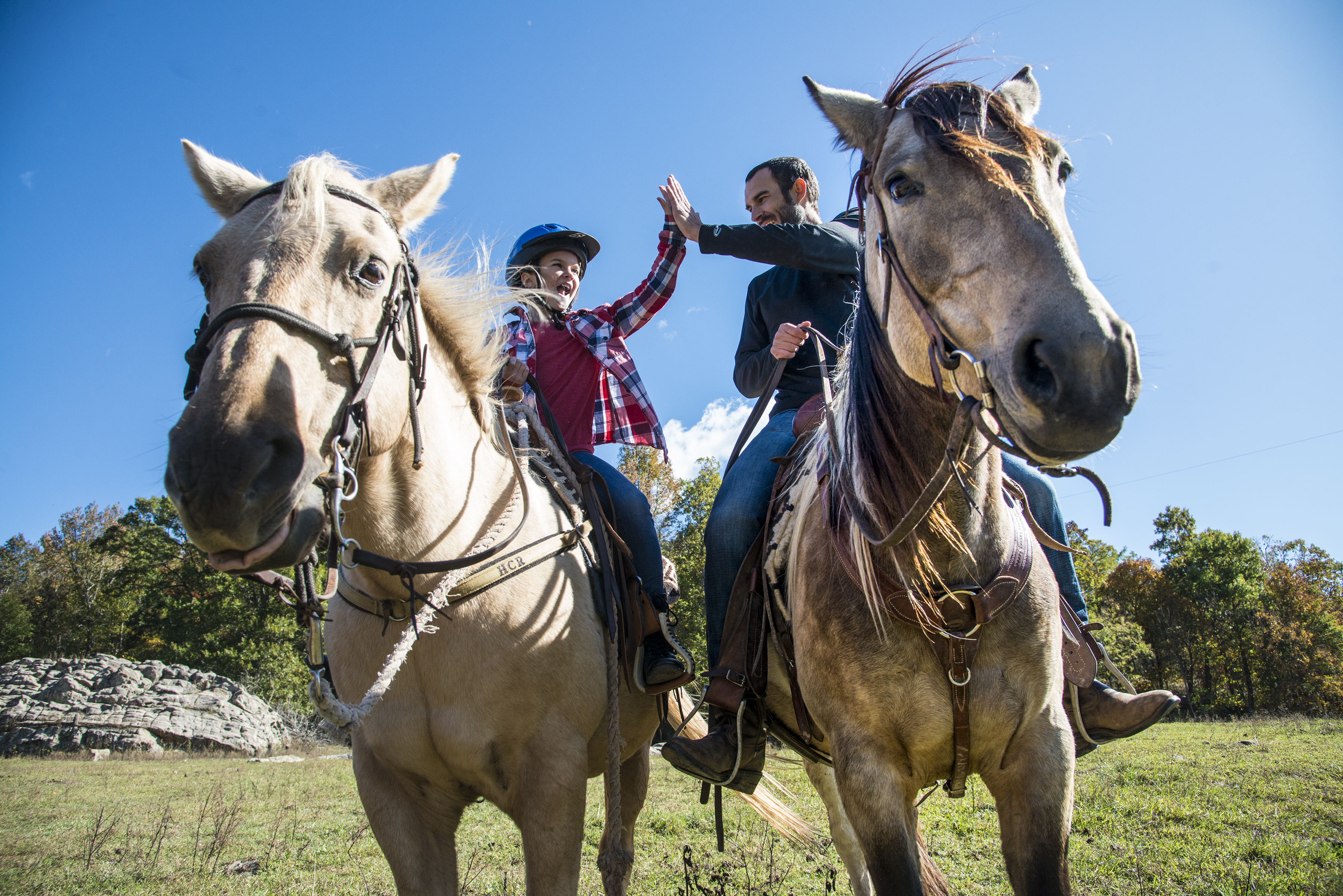 Dark Sky Base Camps
The darkest skies in The Natural State can be found at one of Arkansas's greatest natural treasures. The Buffalo National River is now an International Dark Sky Park, a designation made by the non-profit International Dark-Sky Association.
The National Park Service oversees 95,730 acres along the Buffalo River and three designated wilderness areas within that acreage. Rushing whitewater is interspersed among sections of calmer water as the river wends its way 135 miles through the lush green valley that is home to elk, deer, black bear and other woodland creatures. Tall limestone bluffs in earthy hues of gray, tan and brown are defining features of the Buffalo. It is one of the few remaining undammed rivers in the lower 48 states.
The campground at Tyler Bend Visitor Center is a great place to camp under the stars.
The NPS also provides ranger-guided tours and activities.
Retreat Homes
While Arkansas is full of wonderful places to stay, some places offer extremely unique lodging.  
Longbow Resort is a remote cabin getaway spans two square miles in Prim, between Greers Ferry Lake and Mountain View in the Ozarks Mountains. Named Arkansas' own "Garden of Eden" and described as a "secluded, enchanted paradise" by Southern Living magazine, this breathtaking resort immerses visitors in the natural beauty of its landscape.
Dogwood Hills Guest Farm is a working homestead farm offering a unique hands-on farm experience for all ages. At Beckham Creek Cave visitors will find a waterfall in the living room. Located on 256 pristine and remote acres in the Ozarks its numerous rooms have natural cave walls with cool cave features along with cushy modern amenities and WiFi.
Stoneflower Cottage near Greer's Ferry Lake was designed by world-renowned architect E. Fay Jones, an Arkansas native. It features a cave-like den/grotto with stone tables and sofa bases, a stone-covered bathroom complete with a rock waterfall for a shower, and a living room with a sweeping ceiling line allowing a fabulous view of the 30-foot deck that extends into the trees overlooking Greer's Ferry Lake.
MTB the Oz Trails
Northwest Arkansas is the new mid-America playground for mountain bikers. The hardwood forests and terrain of the Ozark Mountains hold trails of all types – technical hand-cut singletrack to downhill professionally-built flow trails. New trails are constantly in the works.
The riding here suits every type of rider, from beginners looking for an easy loop to intermediate and advanced riders seeking a difficult trail for training. 
The OZ Trails represent Northwest Arkansas' world class mountain bike scene with over 300 miles of dirt ribbon.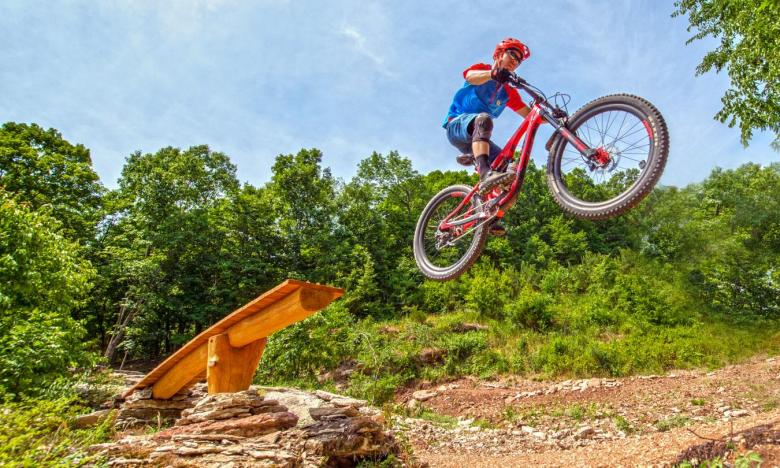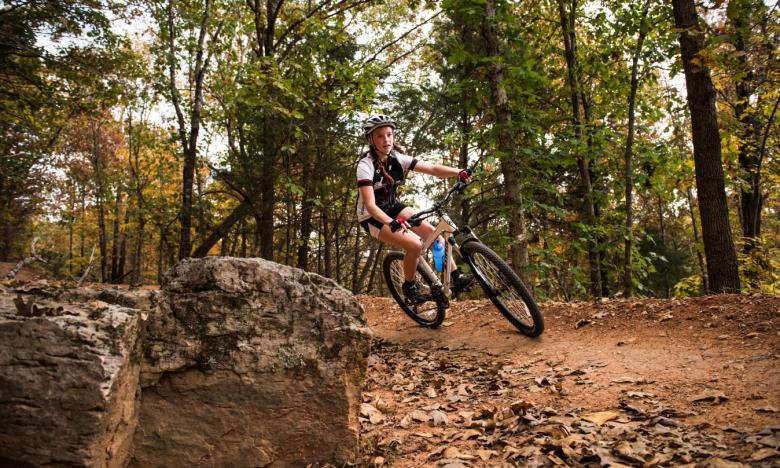 Trout Fishing Towns
Fishing for trout is a year-round sport on the North Fork, White, Little Red and Spring rivers. Numerous outfitters, guides and lodging opportunities can be found along these waters. But a few of these tiny trout towns stand out for offering great amenities as well as popular fishing spots. In Norfork, you'll find a craft beer brewery a stone's throw from a popular boat launch. Cotter is quaint with a park by the water, plus an Orvis-endorsed fly fishing lodge. Heber Springs is full of hospitality and located near the river that produced the world record brown trout (40 pounds, 4 ounces) in May 1992, a record that stood until it was surpassed in 2009. Lakeview is known for its many trout lodges and large brown trout on the tailwaters just below Bull Shoals Dam.
Buy your trout fishing license online at www.agfc.com.
Scuba Dive Lake Norfork
Norfork Lake near Mountain Home was created in the early 1940s by the damming of the North Fork River. One of four lakes constructed by dams on the upper White River Basin, it is unlike all of the others because the land was clear-cut before it was flooded. The lake is popular with scuba divers.
Good recreational diving can be found at 20 feet to 40 feet on Norfork Lake. Out of 31 marked dive sites, some are as deep as 70 feet with a couple wall dives down to 150 feet below the surface. Diving on this lake is best from April to October with greatest visibility between 40 feet and 60 feet in the spring. The closer you get to the dam the clearer the water.
Bass and Crappie Goldmine
Lake Dardanelle is one of the most accessible and attractive recreation areas in Arkansas. The lake stretches some 50 miles as part of the $1.2 billion Arkansas River Navigation System. With just over 34,000 acres of boating and fishing waters, 315 miles of shoreline, and rimmed by choice picnic and camping areas, it offers many recreational opportunities. With no closed season and mild winters, fishing is good year round. 
The lake has one of the most consistent bass habitats in the Arkansas River system. Experts will tell you that Lake Dardanelle at Russellville toward the upper end of the river is the place to go for big largemouth.
Crappie are generally considered the second-most popular sport fish in Arkansas behind bass. Lake Dardanelle consistently makes the rankings each year as one of the best crappie lakes in Arkansas.