Green Friday at Hobbs State Park-Conservation Area
If you're looking for a great alternative to Black Friday, turn to Hobbs State Park-Conservation Area in Rogers. Skip the long lines in crowded malls and enjoy the true value of natural areas and recreational activities.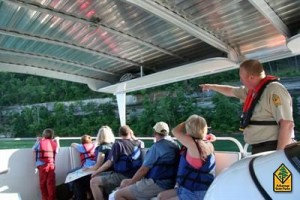 You could even start a new family tradition of enjoying Green Friday at an Arkansas State Park, where the memories you make will far outlast the latest tech gadget or trendy apparel.
Green Friday activities at Hobbs State Park are offered from 10 a.m. to 4 p.m. on Friday, Nov. 27, and include:
Plus:
The Lorax                     9:00 a.m. -10 a.m.             Visitor Center
Dutch oven Treats     11:30 a.m. – 1 p.m.       Visitor Center
Closer Look Hike         2:30 p.m. – 3:30 p.m.       Ozark Plateau Trail
Eagle Cruise                 3 p.m. – 4:30 p.m.       Rocky Branch Marina
Hobbs State Park's visitor center is located on Ark. 12 just east of the Ark. 12/War Eagle Road intersection. All activities are free except the eagle cruise, which costs $10 for adults plus tax and $5 for youth ages 6-12 plus tax. Call 479-789-5000 for eagle cruise reservations or for more information about all of the Green Friday family activities.