Hands-on Learning Still the Aim at Newly Renovated Mid-America Science Museum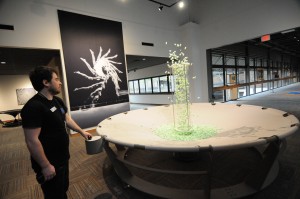 The Mid-America Science Museum in Hot Springs has recently reopened its doors following the first major expansion since the museum opened in 1979.
"It is essentially a new museum," said Jim Miller, Mid-America's director of marketing. "It is just as interactive but it is definitely more technology-driven than it has been in the past."
Mid-America, which is the state's first Smithsonian affiliate, had been closed since last summer to allow work on the renovations, which came to fruition thanks to capital campaigns including a $7.8 million grant from the Donald W. Reynolds Foundation.
The remodel was designed to not only make science interesting to kids, but also to draw in and keep the attention of children who have been exposed to the influence of technology in today's tech-savvy world.
For example, in the new Animation Studio, designed by the San Francisco-based Exploratorium, kids can make their own stop motion videos and learn how stop motion animation works. They can then save these videos directly to the museum's YouTube channel. In the Tinkering Studio, which is an interactive classroom space, kids can make claymation videos out of play-doh. "It is all very hands on," said Miller about the exhibits and workshops available on site. "That has always been the mission of the museum…hands-on learning."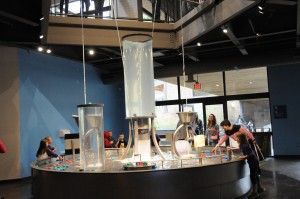 Along with new workshop and exhibit stations, Mid-America also now hosts a 50-seat digital dome theater (the only digital dome theater in the state) and new sights like the Bob Wheeler Science Skywalk, which extends out from the main building into the forest canopy surrounding the museum. "This is a major highlight because it encompasses that outdoor aspect of the museum," said Miller.
A two-story water sculpture, which is unnamed as of yet, has also become a huge hit. "There are separate components at the bottom of the exhibit that kids can interact with and play with," said Miller. "And you can launch [tiny plastic ] balls into a water vortex… it is incredibly interactive."
Along with new additions, the museum still has a few of its original exhibits on site that have been refurbished. "Especially a lot of the favorites," said Miller, including the Underground Arkansas cave. "This is probably still one of our most popular exhibits because it allows kids to explore what life is like underground," said Miller.
Next to the cave is the museum's new Arkansas Underfoot exhibit. The central showpiece is a giant wooden tree (built by Pacific Studio) with a reading nook carved inside filled with science-related books for kids to read.
The whole exhibit area gives an inside peek at the biology and geology unique to Arkansas.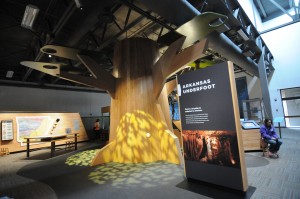 "There are topographic maps and regional maps that show you different areas in the state where you can find diamonds, quartz crystals, bauxite and other minerals found throughout The Natural State," said Miller. "It is one-of-a-kind in terms of that it is specific to Arkansas."
Visitors will also still find longtime favorite attractions like the Tesla Coil (which holds the Guinness World Record as the world's most powerful conical Tesla Coil with 1.5 million volts of electricity sparking from it), the giant Mastodon Skeleton, and kinetic art sculptures (like the Rowland Emett Little Dragon Carpet Sweeper) that date back to the beginnings of the museum and were featured in the film Chitty Chitty Bang Bang.
Overall, there are more than 100 exhibits and workstations for kids to explore at the museum.
The Mid-America Science Museum is located at 500 Mid America Boulevard. The museum has updated its approach to STEM learning (science, technology, engineering and mathematics) and also has outreach programs, summer camp offerings, and events like Tinkerfest. For more details call 501-767-3461 or visit www.MidAmericaMuseum.org.