Sponsored Article
Have a Delta Vacation Like No Other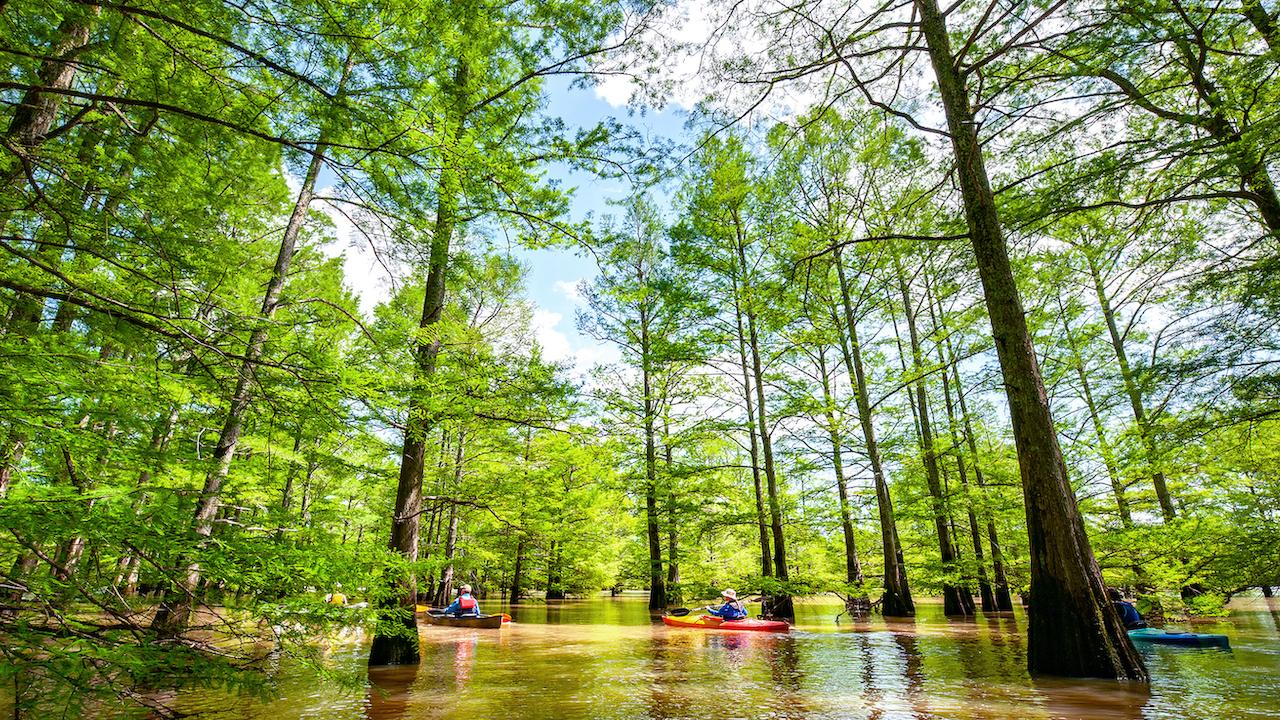 The Delta provides unlimited opportunities to experience the great outdoors in a way that is unlike any other destination in Arkansas. Hike and bike across the Delta's twelve state parks. Kayak or canoe around dozens of lakes and rivers. Fish for catfish and largemouth bass on the famous White River and Mississippi River. Catch a fishing derby on countless lakes. Perfect your hunting skills at one of the 27 Wildlife Management Areas (WMA). Get off the beaten path and discover unmatched natural beauty across the Delta's 15-county region.
KAYAKING & FISHING ON ARKANSAS WATER TRAILS
Forget all sense of urgency while out on Arkansas Water Trails. Choose from epic routes like the Bayou Bartholomew Water Trail. At 359 river miles, it's the longest bayou in the world. While paddling, watch for alligators lurking along the shore and turtles basking on nearby stumps. Fish for crappie, bream and catfish with minnows, jigs and spinners or hook a catfish on the bottom with worms, minnows and stink baits. Head to Trumann for the trailhead to one of the newest trails – St. Francis Sunken Lands Water Trail. This multi-section trail has three floating options at 3.7, 7.7 or 10.1 miles.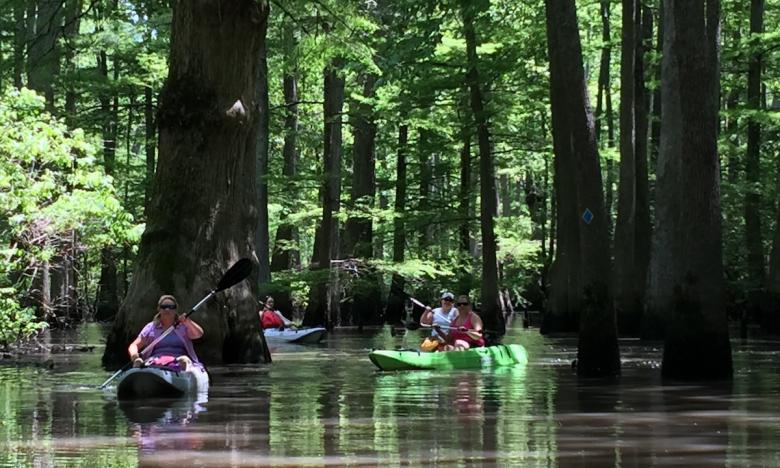 On the Cut-Off Creek Water Trail, fish for largemouth and spotted bass, crappie and bream for 8.3 miles of taking it easy on a slow-moving bayou. Arkansas Post Water Trail is a 5-mile route located around the Arkansas Post National Memorial. Kayak where American Indians and European explorers paddled years ago as you watch for songbirds, white pelicans, bald eagles and great egrets.
And finally, within the Big Woods region of the Delta, try the 4.5-mile Robe Bayou Trail or the 3.3-mile H Lake Water Trail where it feels like you're paddling through a prehistoric world. While both waterways are unmarked, they are good for beginners due to their shorter length and easy-to-navigate channels. Another popular trail in the Big Woods is the 15-mile Bayou DeView Water Trail. This bayou has a way of making you feel lost in time as you weave through dense groves of tupelo and cypress trees. You can even camp on the trail at Hickson Lake.
LIFE IS BETTER AT THE LAKE
Whether fishing, kayaking, boating or, just relaxing, there's an Arkansas Delta lake that satisfies all interests. Many can be found at Arkansas State Park locations in both the upper and lower delta. Beautiful Lake Chicot in Lake Village is a true natural wonder as the largest oxbow lake in North America and Arkansas's largest natural lake. Near Helena, Storm Creek Lake is another must-visit. It features a swim beach, fishing pavilions, boat ramp and camping opportunities, including newly constructed camper cabins.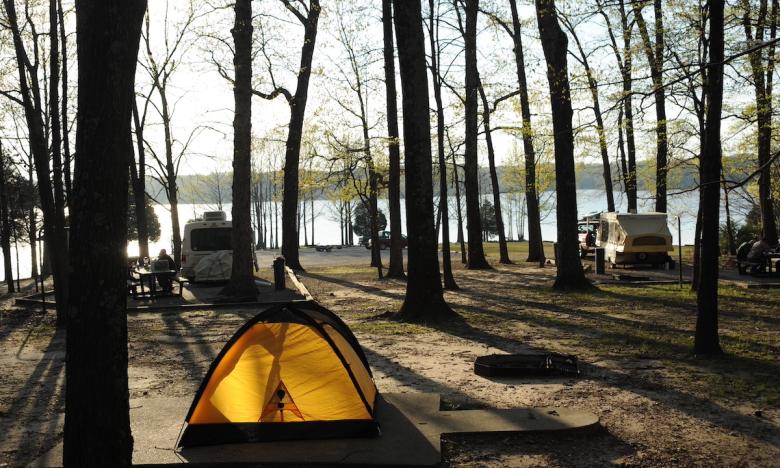 Other lakes to add to your Delta outdoor adventures are Merrisach Lake near Dewitt, perfect for the whole family and Horseshoe Lake near Hughes, the second largest natural lake in Arkansas.
OUTDOOR DESTINATIONS WORTH HIKING TO
With 12 state parks teeming with lush forests, lakes and ridgelines with stellar views, it is best to always have your hiking boots in the car – you're likely to find a trail no matter where you go.
At Crowley's Ridge State Park near Paragould, you can hike across four delightful trails that take you over a suspension bridge and forested hills across the unique geological formation of Crowley's Ridge. And while you are in the area, don't miss the chance to visit Crowley's Ridge Nature Center in Jonesboro. There you can enjoy indoor and outdoor exhibits, films and even more trails.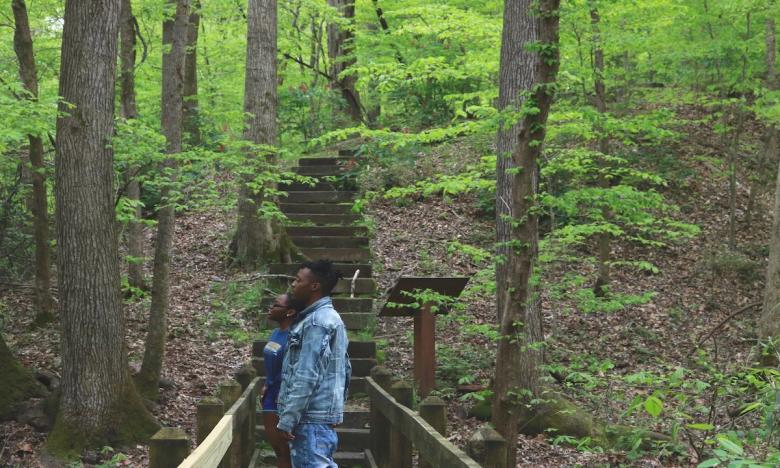 Lose yourself within the ethereal beauty of Louisiana Purchase Historic State Park near Brinkley at this peaceful swampland filled with cypress trees and quiet moments on the boardwalk. Then, experience the diverse landscape of the St. Francis National Forest while winding through secluded woods, along ridgelines, over rolling hills and around lakes. Within the forest, you can visit Mississippi River State Park in Marianna. Here you can use pristine campgrounds, rent a kayak and take in stellar sunsets and mesmerizing fall colors while strolling along the water and on forest trails.
Other than state parks, public nature trails constructed by the Arkansas Game and Fish Commission provide more opportunities for hiking. Don't miss your chance to see the largest tree in Arkansas at over 120 feet tall and with a circumference of 44 feet on the 2.4-mile Champion Baldcypress Tree Trail. And if you're keen on spotting wildlife while hiking, hike the Freddie Black Choctaw Island Wildlife Management Area in Arkansas City. These wetlands support more than 400 species of wildlife, including 40 percent of North America's migratory waterfowl. See how many critters you can spot while on these four diverse trails.
BIKING THROUGH THE DELTA
When you're in the Delta, getting to ride through miles of stunning scenic beauty that stretch towards the horizon is just a given. And no trail better encapsulates the splendor of this region than the famous Delta Heritage Trail. Eventually this trail will stretch 84 miles across the state, but for now, you can peddle the 21-mile north end or the 28-mile south end sections that take you through ancient bottomland hardwood forests and some of the last remaining examples of wetland forests in the country.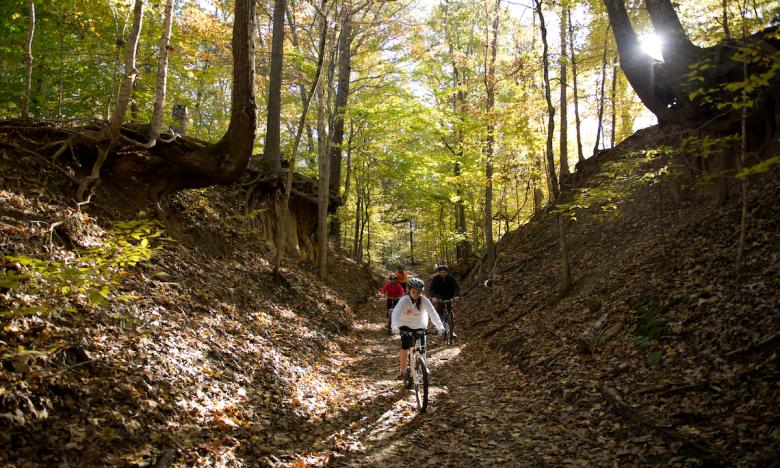 The Sunken Lands Cultural Roadway spans for 52 miles and takes you to amazing stops like the Johnny Cash Boyhood Home and the Hampson Archeological Museum State Park in Wilson. At Village Creek State Park, you will find 30 miles of biking trails that are perfect for beginning mountain bikers. But don't worry, these trails still offer creek crossings and steep, short hills to test your skills.
TOP-OF-THE-LINE HUNTING
Hunting is a time-honored tradition in Arkansas with thousands flocking to The Natural State each year to get in on the action. If your thing is waking up with the sun and trekking into the woods, well, the Delta has the perfect hunting grounds for you. Wildlife Management Areas across the Delta are a prime destination for waterfowl enthusiasts. These areas are famed for small game and waterfowl hunting especially in Stuttgart, the Duck Capital of the World. You can also hunt abundant populations of deer and trophy-class bucks and try your hand at hunting for alligators, turkeys and coyotes. Other hunting areas include private lands, usually available through outfitters and guide services, and leased public lands.
Whatever your outdoor passion, you'll find something to love in the Arkansas Delta. Get help planning your adventure by browsing Themed Travel content. Before venturing out to fish or hunt, be sure to obtain a license or permit and review specific regulations at AGFC.com.