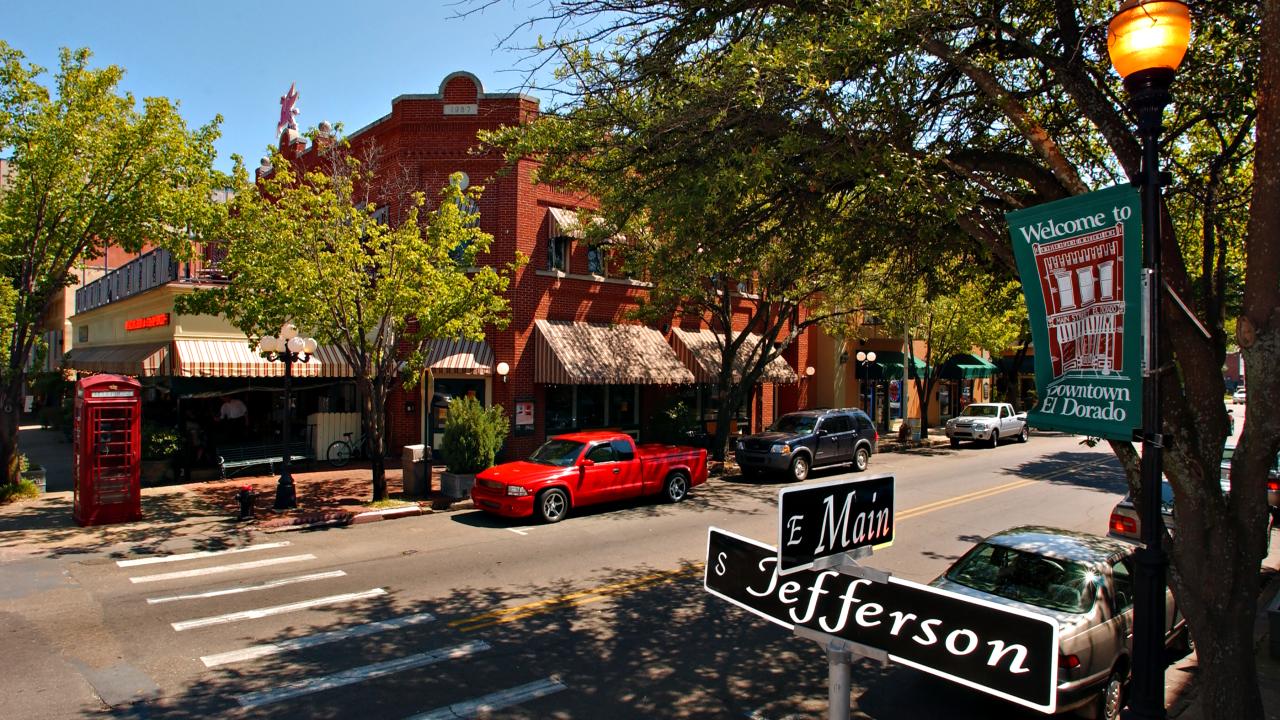 Downtown El Dorado
Made up of 69 registered historic buildings and voted "2021 Best Small Town Cultural Scene" by USA Today, the downtown area of El Dorado is filled with small town charm and unique spaces, making it the perfect destination for a weekend trip down south.
Walking the streets of Downtown El Dorado is simply delightful. Red, London-style phone booths sit along the corners of Main Street and serve as a Downtown Book Exchange. Intricately painted murals adorn the crosswalks around the town square. Bradford pear trees and flower beds line the streets. Lights hang across historic brick buildings that hold more than 20 colorfully painted boutiques with unique gift items, more than a dozen restaurants with tons of variety, plenty of downtown lodging and dozens of fun events.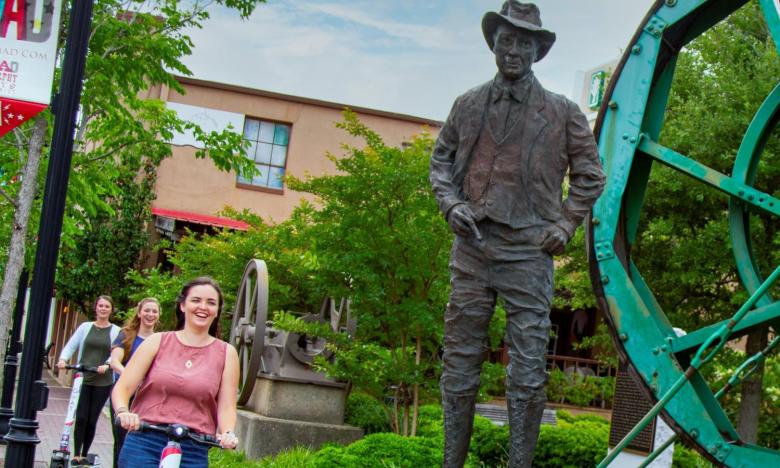 Whether it's spring, summer, fall or winter, there is always something special going on in Downtown El Dorado. Have a blast at more than 24 annual events on the square. Enjoy big events like Airstreams on the Square, Grill Wars and Shamrockin' on the Square, where you can venture to a beer garden, listen to live music, shop in the vendor market and even compete in the Rock, Paper, Scissor Championship. Showdown at Sunset reenacts the infamous Parnell-Tucker gunfight. MusicFest is a well-known two-day festival with multiple stages of live music, carnival rides, a rib cookoff, pageant and 5/10K race.
Downtown El Dorado is also on the Trail of Holiday Lights, where thousands of illuminations twinkle across Main Street and the surrounding area. Outside of annual events, you can also take a historic walking tour of downtown or visit the surrounding area, from the Newton House Museum to the South Arkansas Art Center, Mystic Creek Golf Course (ranked the #1 course in Arkansas) and of course, the Murphy Arts District. There is something for everyone in Downtown El Dorado.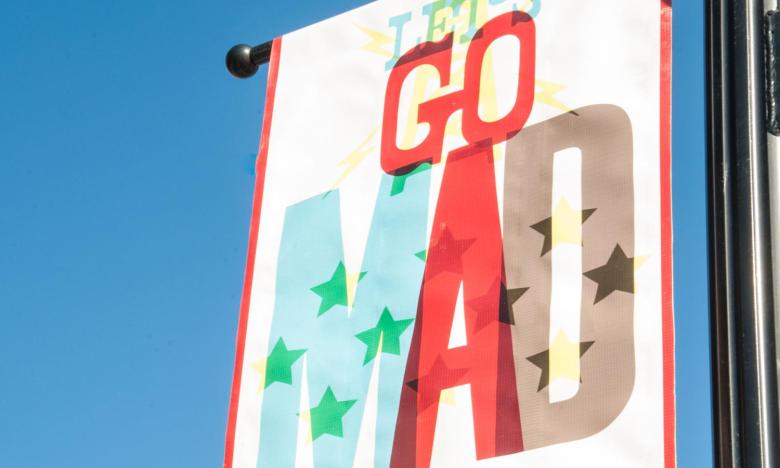 MURPHY ARTS DISTRICT
Welcome to the Murphy Arts District, otherwise known as MAD, El Dorado's premier arts and entertainment district. MAD has been providing music, comedy, theater, art and food in creative, immersive ways since 2017.
The jewel of MAD is the enormous outdoor amphitheater. Here you can dance and sing along to a wide range of music genres – country, classic rock, Christian and alternative rock. Past performances have included ZZ Top, Brad Paisley, Rascal Flatts, Hank Williams Jr., Gabby Barrett, Walk the Moon, Brett Young, X Ambassadors, Sammy Hagar, Bret Michaels, Toby Keith and Smokey Robinson. 
The MAD Amphitheater is also home to MAD Movie Monday, where a huge blowup movie screen fills the entire stage for fun family nights in the summer, and in the winter, the stage transforms into MAD on Ice, a large ice-skating rink with real ice! Under the covered patio area, you'll find the local Farmers Market. The Farmers Market at MAD features numerous local vendors selling vegetables, baked goods, local honey, flowers, desserts, handmade soaps and crafts of all kinds.. And right across the street is the MAD Playscape, a free 2-acre playground with climbing gyms, slides and a seasonal splash pad featuring an Arkansas Razorback slide.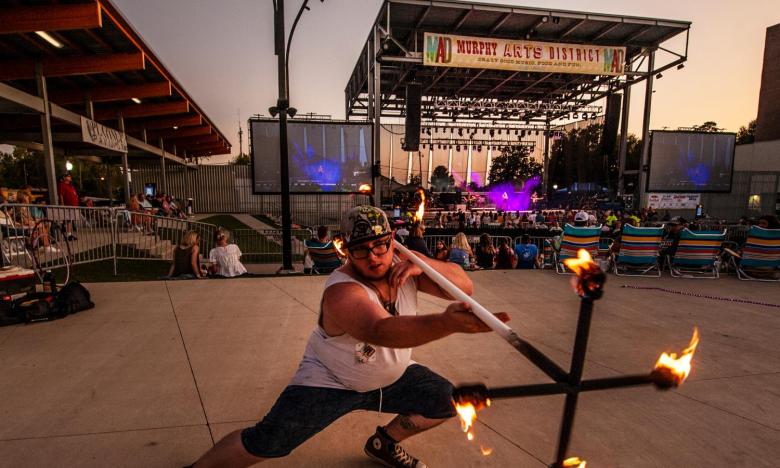 Head inside the massive 1920s building at MAD, originally used as an automotive dealership, gas station and car repair shop, for the First Financial Music Hall. Performances of Shakespeare, Shanghai Acrobats and dozens of concerts including the Beach Boys, Casting Crows, Train, Migos, REO Speedwagon, Ludacris and more have graced this gigantic hall. Enjoy performances from the large seating and standing area, or enjoy your view in the upstairs Mezzanine lounge, available for MAD members. The hall is available to rent for weddings, banquets, corporate parties and more.
And to quench all your food and drink needs, look no further than the MuleKick@MAD. Serving up next-level pizza, 18 craft beer taps, live music, private seating areas and a large outdoor dining area, MuleKick@MAD is the best place to take in the sights and sounds of El Dorado.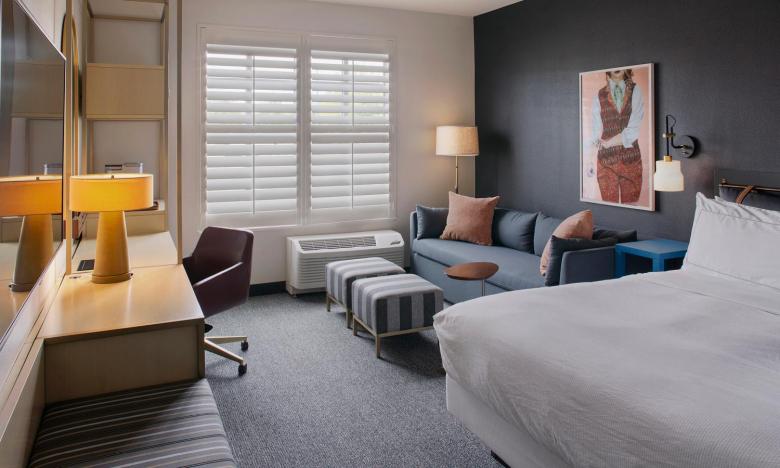 THE HAYWOOD
Located across from the Murphy Arts District and one block from all the excitement of Main Street is The Haywood, El Dorado's only upscale boutique. Named after Charles Haywood Murphy Sr., founder of Murphy Oil Corporation, the 70-room Haywood brings a touch of modern flare, elegant design and colorful pops of expression to an already lively El Dorado.
Decorated with artwork from local artists in Arkansas, The Haywood incorporates pieces of home and community to every section of the hotel. Choose luxurious accommodations from a private suite with a living room, dining area and a separate bedroom to large king rooms with a designer seating area and workspace or a queen room with two beds and workspace. Every room is decorated with plantation shutters, high-quality linens, 55" HDTV, a large walk-in shower with subway tiles and deluxe bath amenities, as well as a refrigerator, microwave and Keurig coffee maker.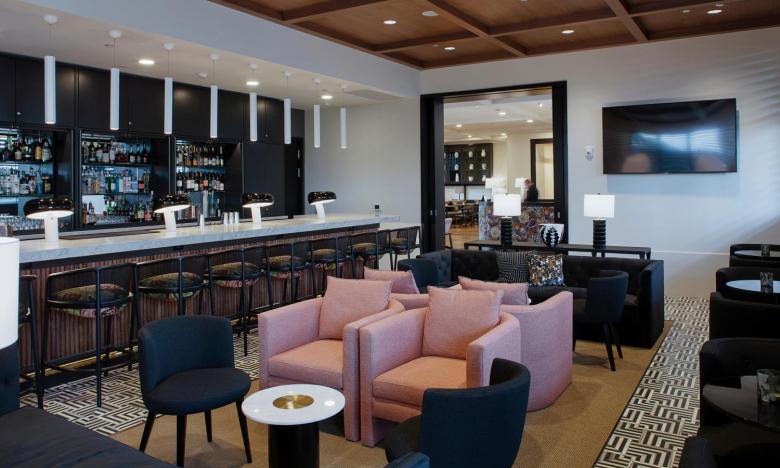 Unwind at The Well Bar, Haywood's full-service bar open daily to guests and the public. Come here to watch the game while enjoying beer, wine and liquor with happy hour every day from 5-7 p.m. Step outside to the attached patio seating area with a direct view of MAD. When on the patio, you can listen to performances from the amphitheater while sipping on a delicious cocktail.
Have a private reception or simply kick back in The Den, an upscale lounge area adjacent to the lobby. This quirky and vibrant room is the perfect place to relax after a long day of exploring El Dorado. The Den has a 55" flatscreen HDTV, colorful lounge seating and a double-sided fireplace that connects to the Outdoor Courtyard, where you can enjoy a spa pool, fire pit surrounded by lounge seating and couches in front of the fireplace.