The History of Holiday Lighting at the State Capitol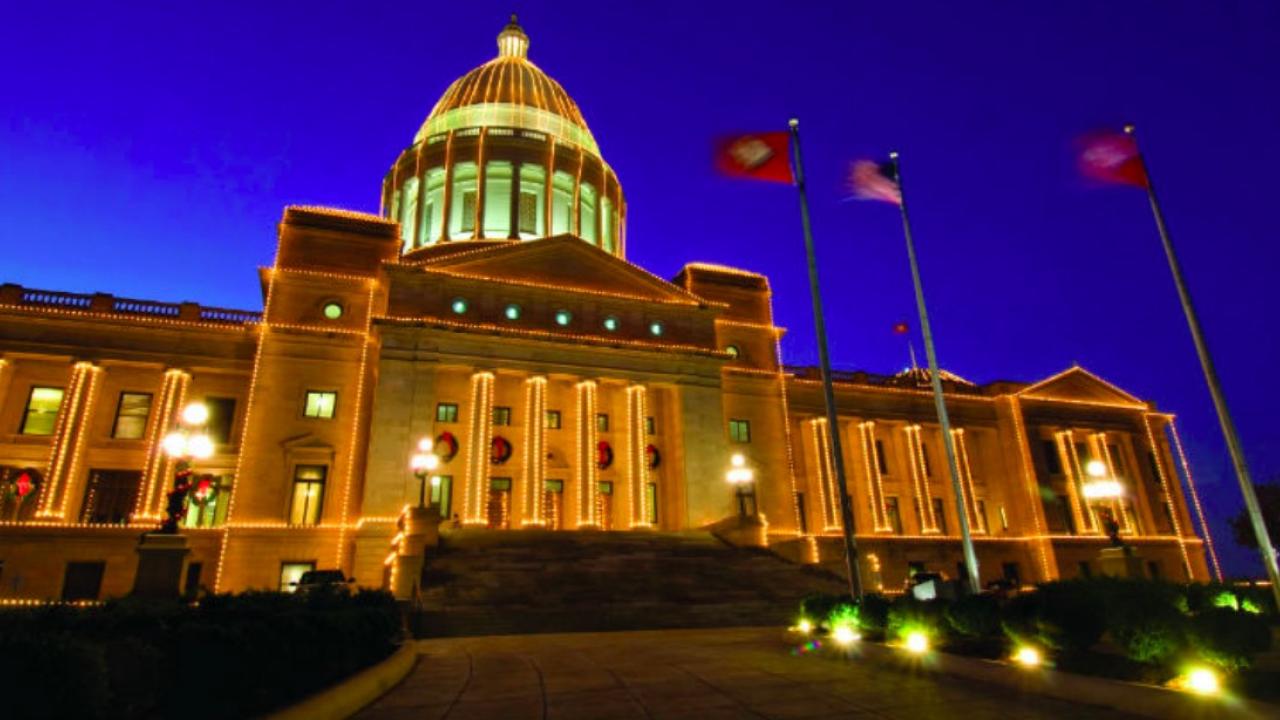 The holiday lights at the Arkansas State Capitol are one of the most popular Christmas traditions in the state.
We asked State Capitol Historian David Ware for background information on how the whole custom came into being. Here's a timeline of the event's history.
1938: Secretary Crip Hall had a staff electrician rig strips of lights on sheet metal, then hung them from the cupola. A sprayed silver fir tree with lights on a rotating stand was set-up away from the building. Approximately 1,000 red and blue lamps highlighted the dome. Rain intervened, causing a second tree to be placed in the second floor rotunda.
1940: Blue lights now outlined the building with amber on the dome. Loudspeakers in the rotunda played Christmas music.
1941: This is the year the media first acknowledged the life-size Nativity Scene, which was set-up in the front entrance. The year was unusual in that the lights were illuminated on December 10, a few days after Pearl Harbor. Secretary of State Crip Hall noted that in "such unusual times, the people of Arkansas needed to have a little reassuring normalness."
1942: Since World War II was in full swing, the lighting was a little more subdued with colored floodlights on the dome. The Nativity took on a new look, featuring non-traditional figures such as a solider, a sailor, a marine, and a Red Cross nurse standing guard over the Holy Family.
1943: The capitol was not lit this year, but it is believed to be the first year a tree was located in the ground floor rotunda. It was a 16-foot cork bark fir sent by Arizona Governor Sidney Osborne.
1944: No details can be found.
1945: All the traditions returned. This set the foundation for celebrations in decades to come.
Fast forward to the 1970s. The world-wide energy crunch curtailed the lights for a year, then they returned.
1995-2002: This was the era of Little Rock businessman Jennings Osborne, who bedecked the capitol with what seemed like millions of white lights. The dome lights were in constant motion, gaining the nickname Disco Dome. It was said to be especially enjoyed by the patients at Arkansas Children's Hospital.
The following years included relocating the tree from the rotunda after an extra-large tree knocked out some chucks of the second floor marble railing. An artificial tree was substituted because of the fire hazards of a live tree. The live tree returned in 2012.
(Original article by Kerry Kraus)