Hobbs State Park Star Parties
The first in a series of free astronomy programs presented throughout 2014 at Hobbs State Park-Conservation Area by the Sugar Creek Astronomical Society takes place March 29. A class begins at 6:30 p.m. with night sky viewing through powerful telescopes at 7:30 p.m.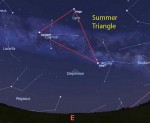 Society President Jack McDaniel says the focus will be on the famous Orion Nebula (M42), birthplace of countless stars.  The young stars forming the famous Trapezium will be visible through the telescopes, as will part of the ghostly nebula itself.
You should bring a flashlight, covered with a red cloth or red balloon; binoculars and/or a telescope, if you have one; one folding chair per person; and a star chart, if you have one. High-powered telescopes will be provided by the astronomy society and the Friends of Hobbs group.
The park visitor center is located on Ark. 12 just east of the Ark. 12 and War Eagle Road intersection. For more information, call 479-789-5000.
Other 2014 Sugar Creek astronomy programs at Hobbs State Park are: