Hot Springs murals highlight vibrant heritage of city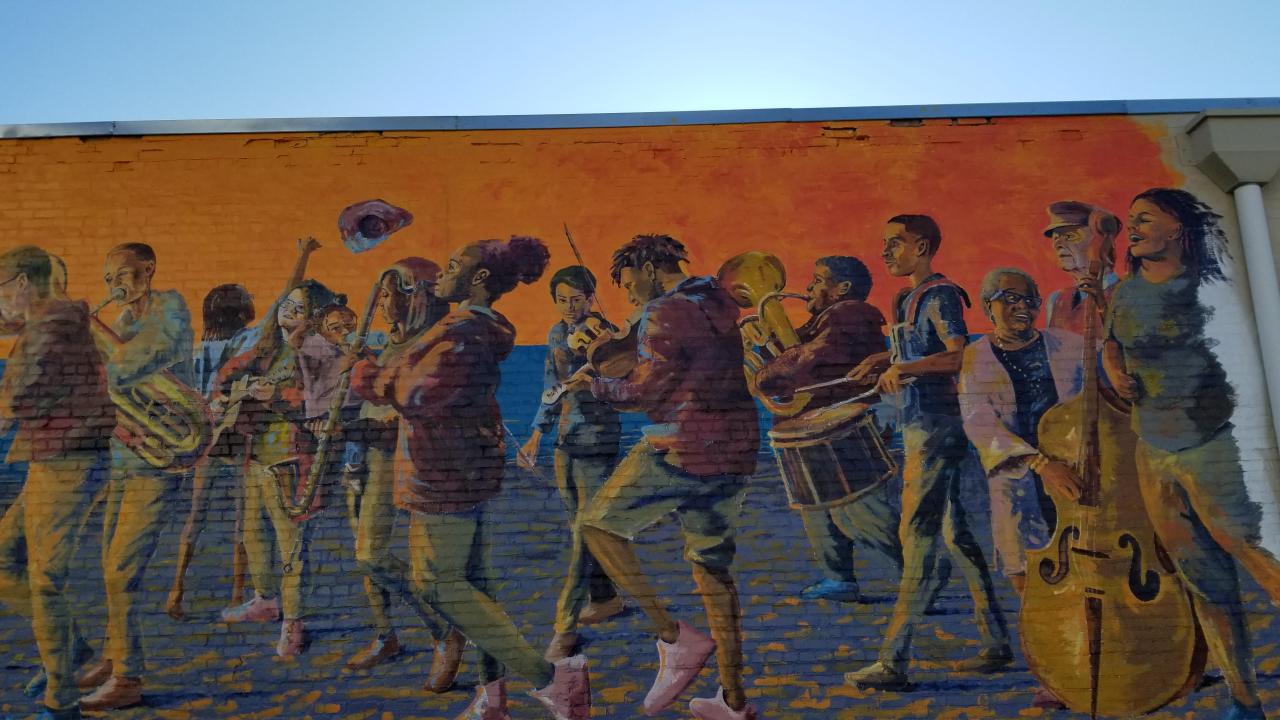 If you are interested in art, heritage, and culture, Italian artist Giuseppe Percivati, known as Pepe Gaka, has done an array of murals around Hot Springs including many that celebrate African American history and culture.
One includes a mural at 350 Malvern Avenue on the side of the Habitat for Humanity Restore building. During the 1930s to 60s, a stretch on this road between Grand Avenue and Convention Boulevard was known by some as "Black Broadway." During this timeframe, this section of town was home to many entertainment spots where world-famous African American entertainers like Count Basie, Duke Ellington and his Orchestra, and B.B. King and others visited and performed in during their travels to Hot Springs. Buildings like the Pythian Bathhouse and National Baptist Hotel at 501 Malvern Ave were built by and served the African-American community here. These structures anchored Malvern Avenue, which is part of the Pleasant Street Historic District, the largest historic district in the state made up of buildings built by and for African Americans.
Plans are underway to restore the former John Lee Webb house. Webb was a local African American contractor and philanthropist who helped build the Pleasant Street Historic District. The historic home, located at 403 Pleasant St, is being converted into a community resource center and museum of the city's African American history. 


Another piece of artwork in the area also honors key leaders. You can see this mural on the side of 501 Prime restaurant at 215 E. Grand Avenue. This piece of art highlights three  African American leaders from Hot Springs: Dr. Edith Irby Jones, John C. Puckett and Mamie Phipps Clark. Jones was the first African- American student to attend and graduate from the University of Arkansas Medical School, which is now the University of Arkansas for Medical Sciences in Little Rock. She was also first woman president of the National Medical Association. Puckett was a musician who played around town at spots like the Arlington, the Black Orchid Lounge, and The Vapors during its peak. He also played with musicians that included Art Porter Sr. and Art Porter Jr. Clark was the first African-American to earn a Ph.D. from Columbia University. Her work in psychology was important to the 1954 Supreme Court case Brown v. Board of Education, which has a landmark role in history as leading to the end of racially segregated schools.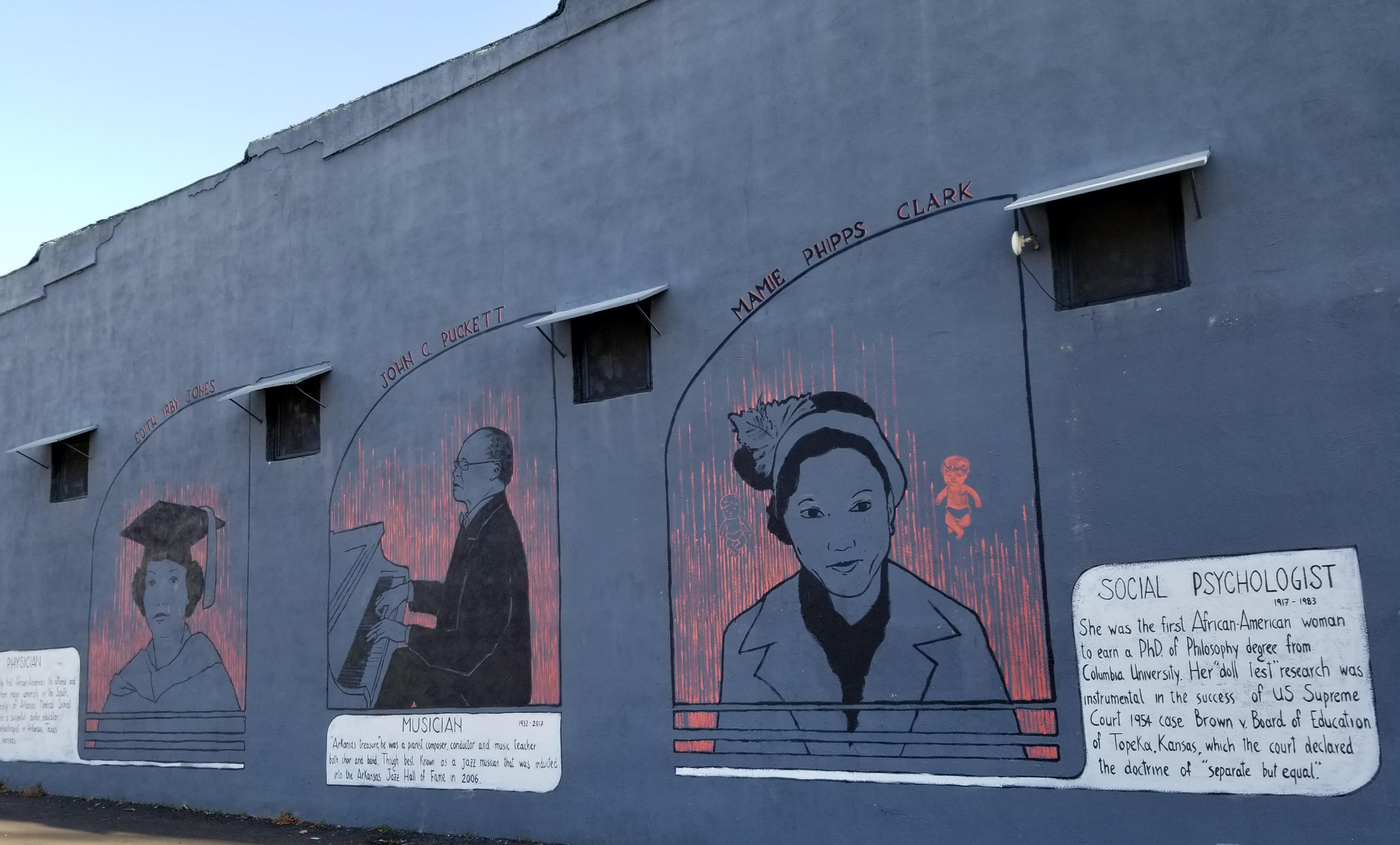 You can see more of Percivati's work at various spots around town. A  local artist worked with him to paint a mural on the side of the Webb Community Center at 127 Pleasant Street called "Promise of Peace."
There is also a mural he worked on the side of the Cutwell 4 Kids building at 247 Silver Street.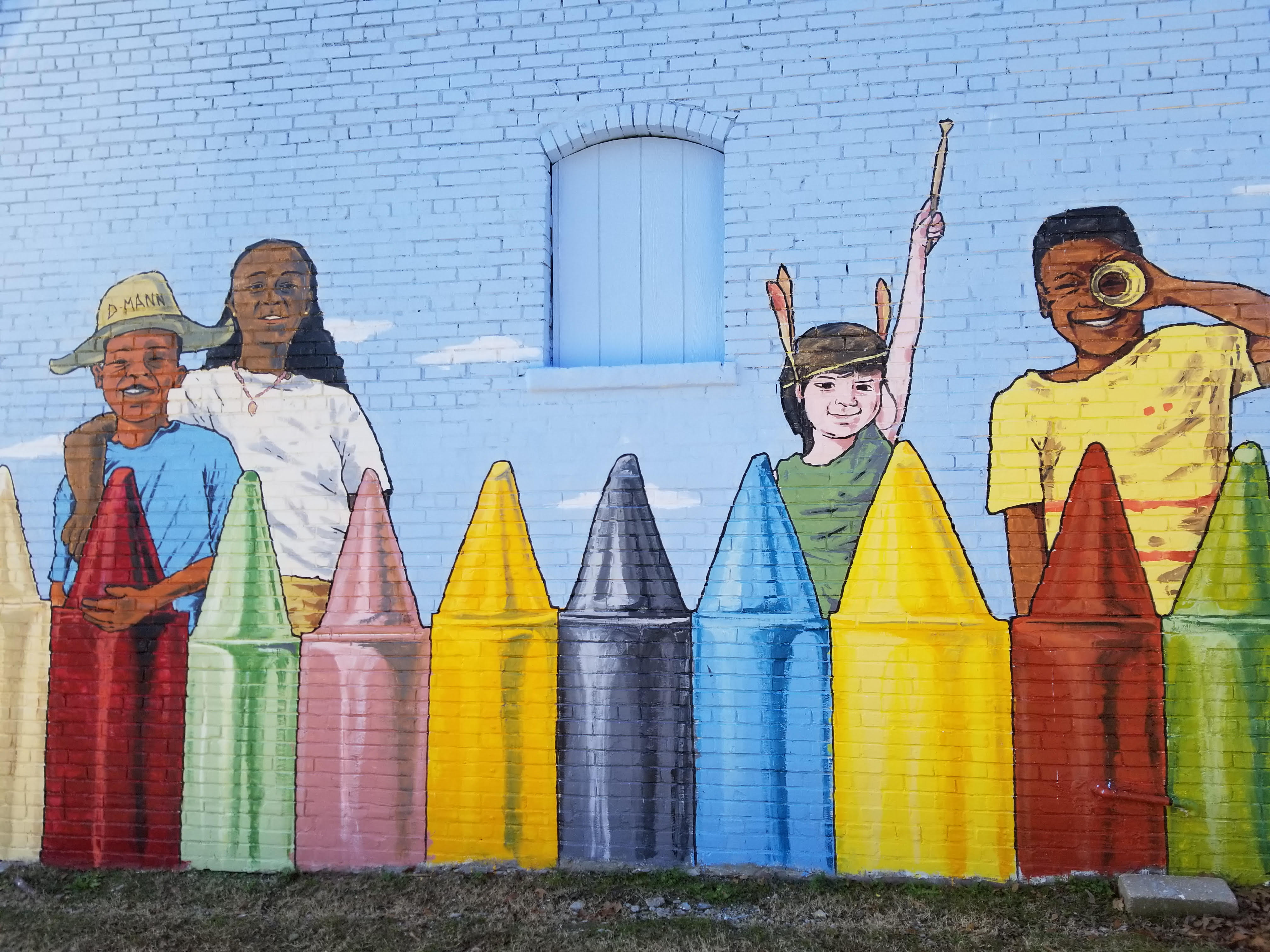 Percivati's other work around town highlights the vibrant culture of the city. A large mural he did can be seen at 424 Central Avenue and depicts the town's Quapaw connections.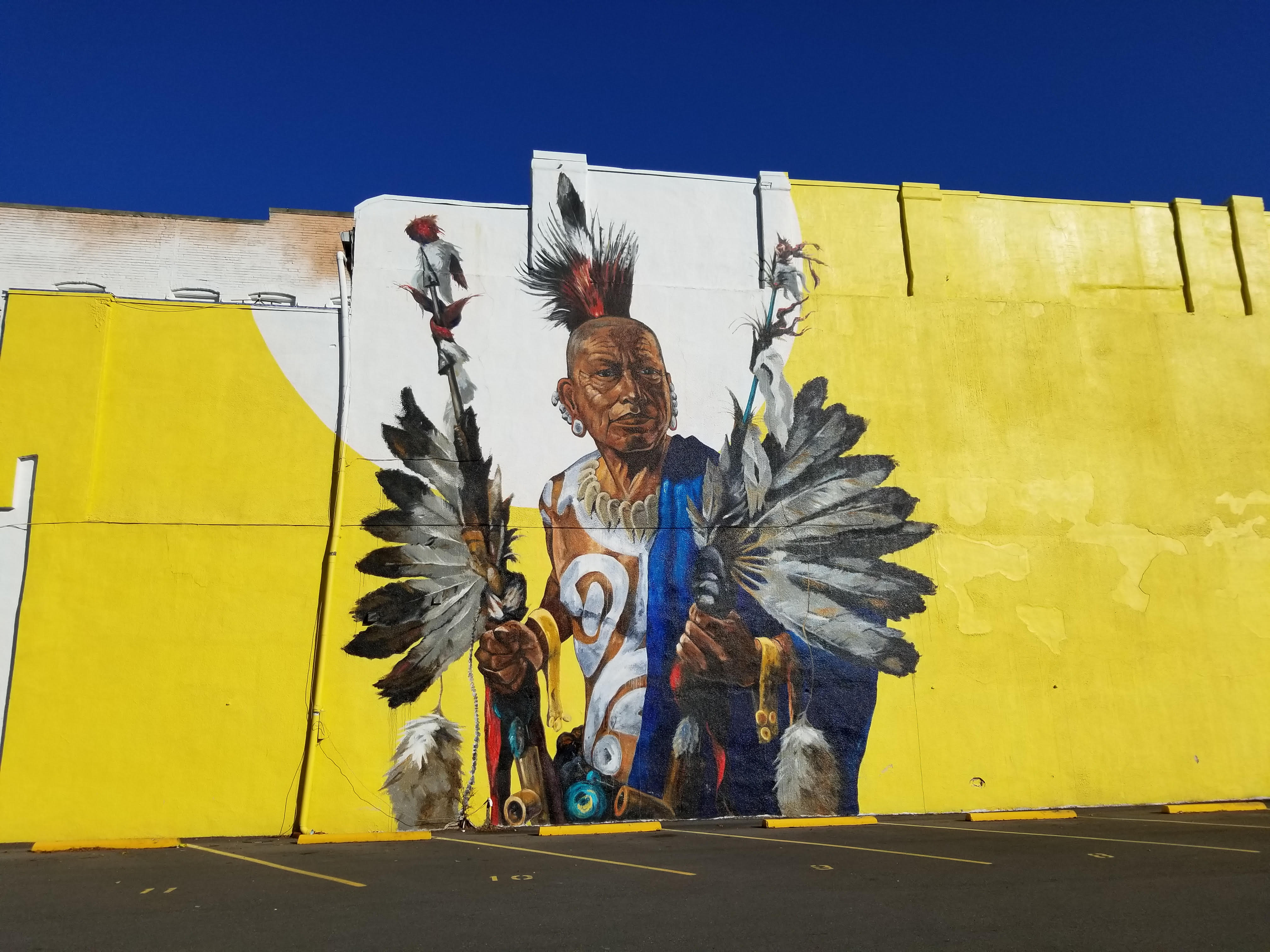 Another at 320 Central Avenue highlights Garvan Woodland Gardens.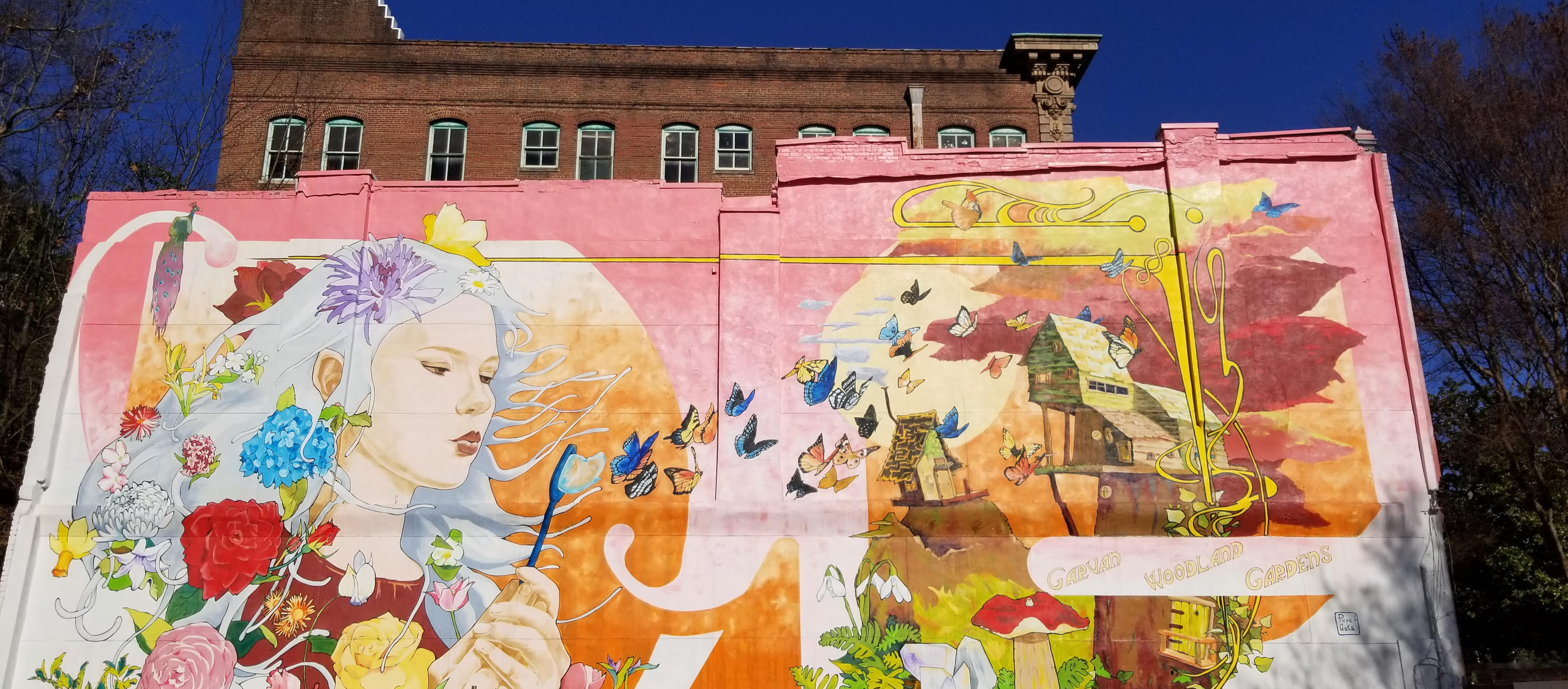 And at 833 Central Avenue, you might notice a mural that features a peaceful Japanese scene, which is also the work of this artist. The scene is of the Osawa Onsen in Hanamaki, Japan, which is a sister city to Hot Springs. Osawa Osen is one of the oldest Onsens, a Japanese hot spring, in Hanamaki. And more artistic works for the city are in his plans.