How to Have Fun at Food & Wine Weekend Even If You Have Less Than 24 Hours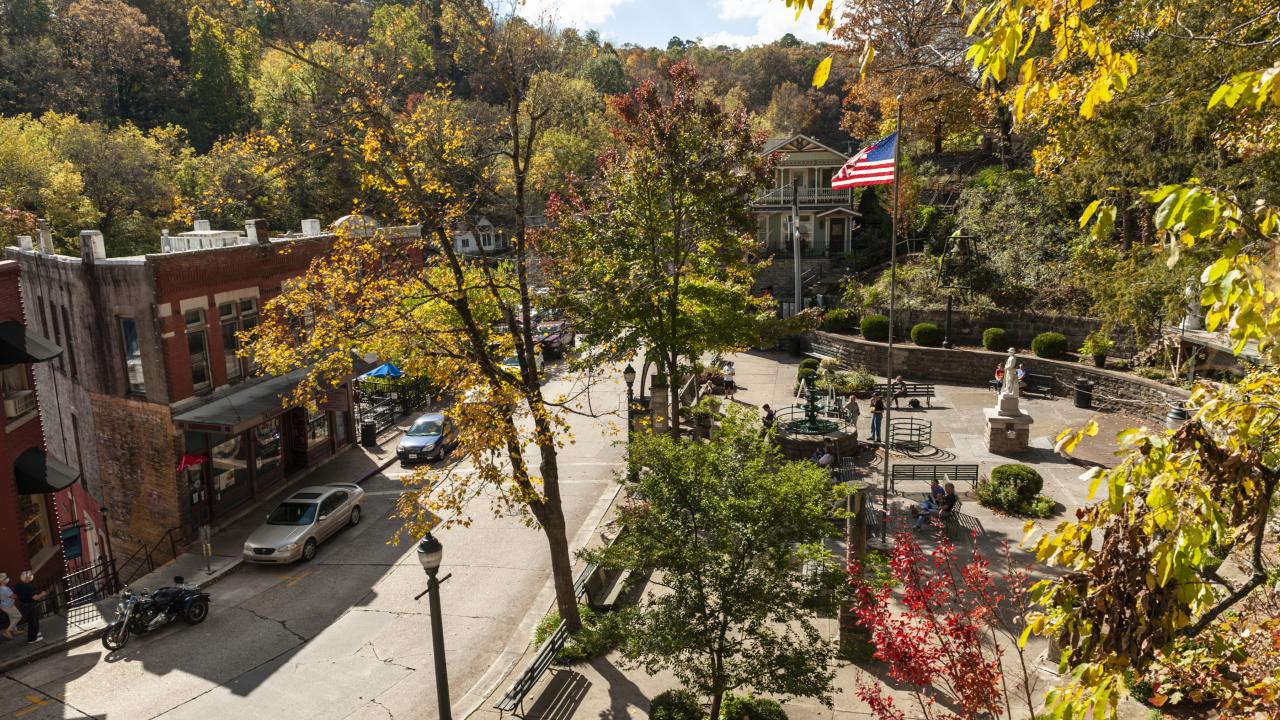 Eureka Springs Food & Wine Weekend was started in 1993, with most restaurants participating in this food lover's event. November was a quiet month and the weekend was chosen because it was two weeks before Thanksgiving, and yet visitors could do some Christmas shopping while the weather was still very pleasant. All categories of restaurants are involved, offering everyone something to taste, such as a six course meal with wine pairings to a flight of wines.
Food & Wine Weekend in Eureka Springs is so appealing, and I really wanted to go this year. But sometimes life gets in the way, you know. This year, I was traveling the week before for work, had some family obligations on that same weekend of the event, and one child getting over a virus. I just couldn't seem to commit to going.
However, I knew my mom really wanted to go to the DeVito's Wine Dinner so I called to make reservations but they were booked by the time I got around to calling. Still, I couldn't quite let it go, so on Friday of the Food & Wine event I called The Garden Bistro to see if they happened to have any reservation openings for Sunday night. I'm so glad I did.
We ended up with less than 24 hours in Eureka Springs because as it turned out, my other child had a case of strep throat coming on and I had to get back early on Monday to take care of him so my husband could go to work since I had the day off.
But here's how much you can accomplish with less than 24 hours in Eureka Springs. Our bank accounts are actually thankful we couldn't be there longer.
We arrived at noon and headed straight to Mud Street Café for some nourishment. I eat here often when I'm in Eureka. The food is fresh and delicious every time, and the ambiance of its underground basement venue sets the mood for being in this unique town.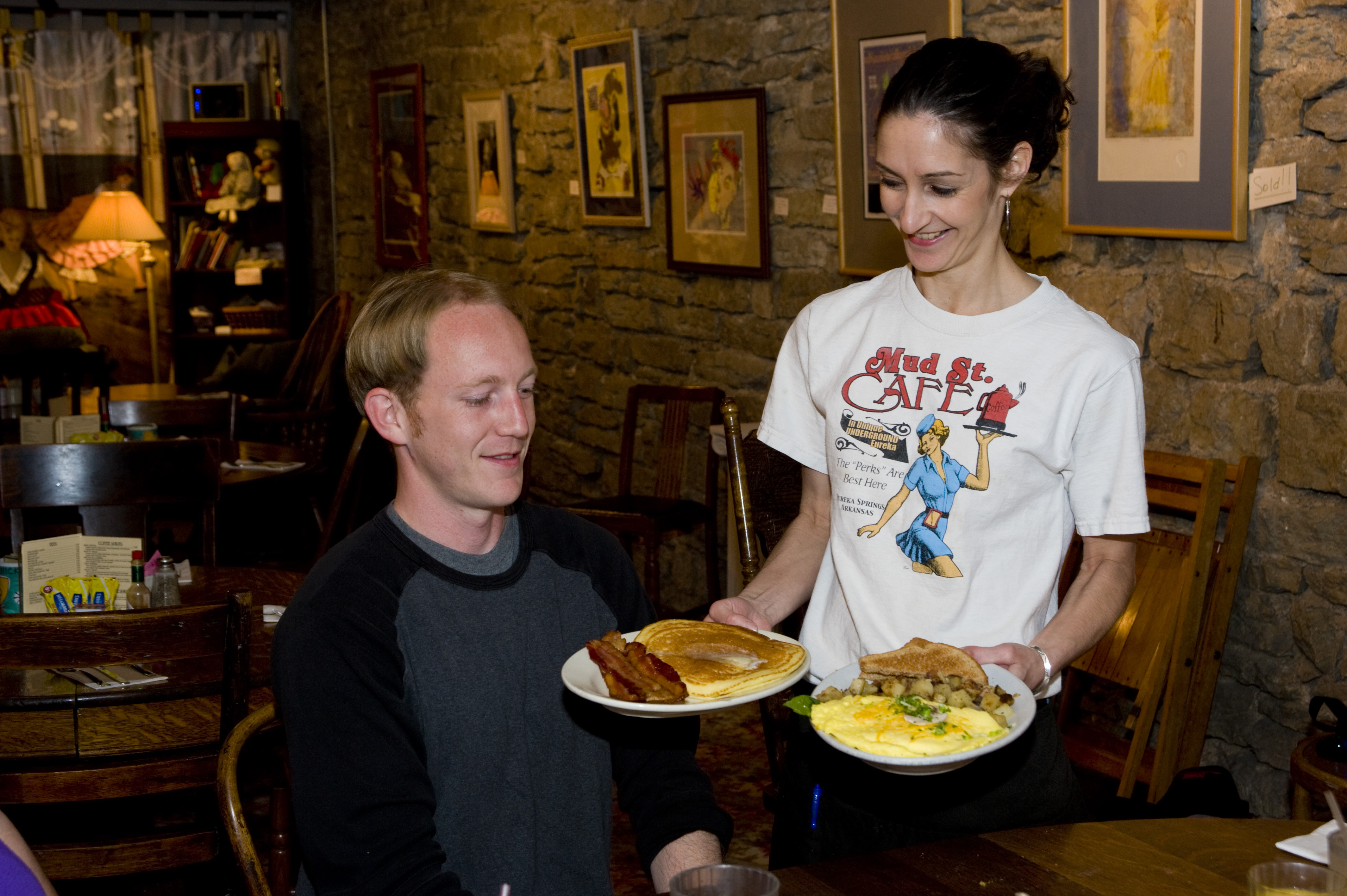 Our plan was to go out to the new Railway Winery, but we decided to do a little shopping first since we had already paid for our parking spot downtown. Our first stop was Christopher's, a little boutique I never miss when I'm in town. I bought knee high, red suede boots and matching fingerless gloves. My mom bought a red coat, and a sweater for me. Aren't moms the best!
I almost always find something I like in this store!
We headed on up to Nelson Leather Company and then Crazy Bone in search of cowboy boots for my mom, but couldn't find the right fit. We worked our way up the street and ended up in Impressions, which is going out of business because the owner is retiring.
Here's where things took an unexpected twist. Because they were going out of business, everything was for sale, including shelving and décor. Décor as in two antique chairs and a matching magazine holder that had been used in the store that I now own only because my mother bought them for me. They are in my living room and match the colors in my house perfectly, which is saying a lot because I have a rather bright palette of three colors I would normally say don't go together. Shall I say it again? Aren't moms the best!
We wanted to continue up the street but were running out of time. It was just after 3 p.m. so we got the car, loaded our furniture that thankfully fit and headed to the 1886 Crescent Hotel and Spa to check in and freshen up before dinner.
I've stayed at the Crescent many times and love this big old hotel. She feels comforting and welcoming, grand and mysterious.
I've been there for weddings, work meetings, holiday events, girlfriend getaways and weekends with my husband. I like the historic rooms full of character, even the ones full of ghost stories, as well as the newer annex rooms with a contemporary air and large whirlpool tub. Of course, the spa is a favorite of mine as well. I also like the always friendly staff (customer service is everything in my book), and the view off the top balcony from Dr. Baker's Bistro, which is where my mom and I headed for a quick before-dinner beverage.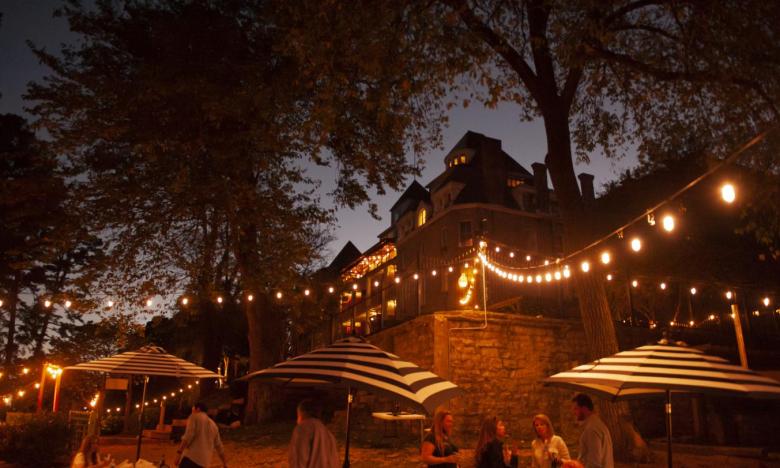 We were looking forward to our Wine Dinner at The Garden Bistro since this was the main reason we had come to town. I had never eaten at this bistro, but had heard good things about it. The menu was six courses with wine at $80 per couple.
It was extremely affordable, especially considering how much you get for the price.
Since that is a story in and of itself, you can click here to read about and see pictures from the dinner. Let me just say that it was everything we had hoped for and the next time I'm in Eureka I'll be looking to eat at The Garden Bistro.
Satiated, we decided to go to DeVito's to have a glass of vino at the bar because I wanted to see two of my friends – Teresa DeVito and Margie Roelands. Margie owns Raimondo Winery, which was supplying the wine portion of the DeVito's Wine Dinner. We had a Raimondo Wine Flight, chatted with our friends and then headed to the hotel.
We were on the road by 8 a.m. In less than 24 hours we had two matching chairs and magazine holder, boots, a sweater, gloves, a coat and a lovely mother/daughter memory. We never made it to some of the places we intended to go, but that's okay because we love a reason to go back.