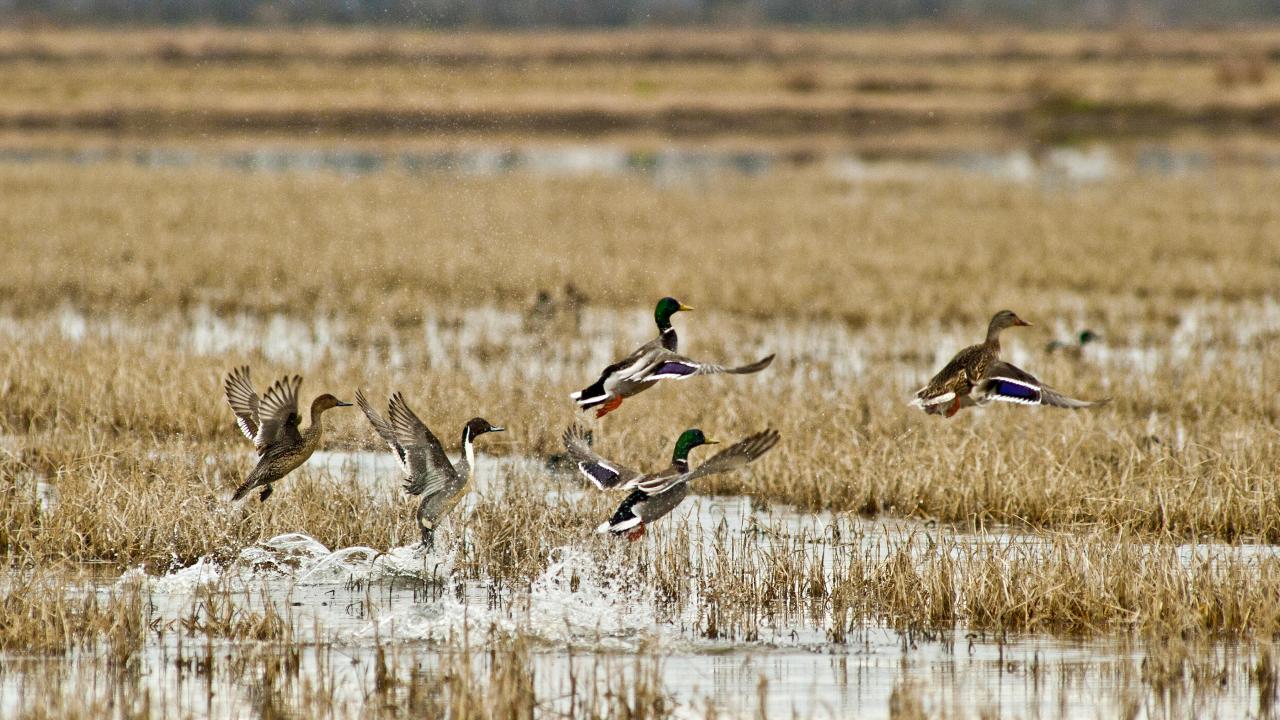 The Natural State has incredible hunting opportunities because of its variety of habitat and wildlife, and the amount of public land available to hunters.
Variety
If variety is the spice of life, then Arkansas is a must for hunters looking for varied experiences.
"If you take a map and start in Little Rock in central Arkansas and you travel two hours in any direction, you are in a totally different type of habitat that has a totally different cadre of wildlife to pursue and to enjoy for watchable wildlife purposes as well," explained Randy Zellers, assistant chief of communications with the Arkansas Game and Fish Commission. "We have something to offer just about everyone when it comes to hunting."
Arkansas is a bucket list destination for duck hunters. After all, Stuttgart is known as the "Duck Capital of the World," and the area is in the Mississippi Flyway. "The mallard is king in Arkansas," Zellers said.
"But honestly, we have three times as many deer hunters in this state as we do duck hunters," Zellers explained. Arkansas also has black bear and all sorts of small game opportunities for hunters. "Our black bear is one of the greatest comeback stories in conservation history."
"And, Arkansas has the distinction of being the only state in the U.S. that has both an alligator season and an elk season. Those are pretty cool things when you think about just the variety of options available for a hunter," Zellers said. "We have a lot to brag about. It's hard to be humble to be honest with you."
Public Lands
"The other thing that's great about Arkansas is the amount of public opportunity that hunters have," Zellers explained. "Arkansas is blessed with the public land we have. Not only do we have 3.2 million acres of public land for hunters to choose from, but the public land that we have is incredibly high-quality habitat for wildlife."
Hunting is popular on these public lands, like Bayou Meto Wildlife Management Area for ducks and the Wattensaw WMA for deer. All of that land is good for watchable wildlife too.
Additionally, AGFC goes above and beyond with programs that open private land up to hunters. The AGFC also leases private rice fields for duck hunting and sunflower fields for dove hunts through permit draws each year.
"We're paying money to those private land owners and then turning around and opening up that land for managed hunts with their permission," he explained.
Those opportunities are advantageous for people who, for example, want that rice field duck hunting experience instead of the flooded timber experience. The waterfowl rice incentives program is available for just a $5 application fee.
Additional leased land programs are for large tracts owned by timber companies. "Frankly, people would not have access to it if we didn't pay leases for that. We're able to lease out these large blocks at a time and offer those hunting rights to people," Zellers said.
Hunting Advice
Zellers has some advice for those interested in hunting in Arkansas, especially on public lands.
"Don't be afraid to call and ask when you need to apply for certain permits and when things are happening." For example, quite a few of the deer permit hunts have an application period in June. "You might want to deer hunt in November but you'll need to fill out the application earlier for some of those best hunting opportunities," he explained.
He also advised calling AGFC regional offices to ask questions about hunting in particular areas. "Some of the best interactions you're going to have is making that phone call and talking to someone about what you really want," he said.
Additionally, WMA managers are a wealth of knowledge. "The WMA managers are out there 365 days a year and are willing to give you information," Zellers explained. "They will point you in the right direction on regulations or point to areas of certain properties to start your search for a deer."
Visit AGFC.com for detailed information on where to hunt, hunting/WMA regulations, hunting seasons, hunter education, licensing and more.