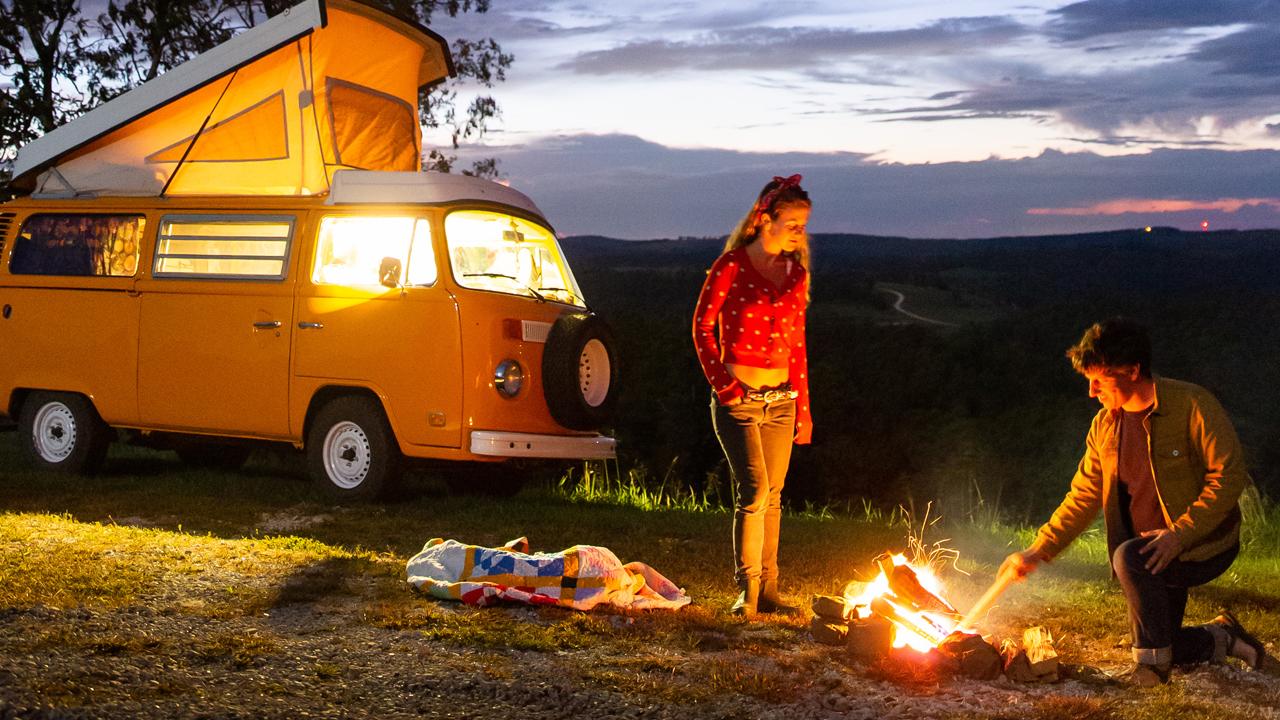 The Natural State's top destinations that allow you to sit still and simply be 
For seven years now, my partner JR and I have been slowly traveling the backroads of North America. Our steed is a 1976 VW bus named Sunshine, who is not only a trusty vehicle, taking us from here to there, but also a cozy home, a cabin in the woods, one that moves at our every whim. Because we've owned her so long, and because she's carried us every mile of this wild journey, she's now an inextricable member of our little family.
As full time nomads, we take great joy in traversing large, wide, leisurely circles around this beautiful country. We float the direction of the seasonal winds, landing where we will, particularly in wild places rife with beauty and space and quiet.
The goal of this rambling round? To seek out moments of idleness, which I define as time spent doing nothing. Our modern world is a busy, rushing, hectic place, one that leaves little room for stillness and solitude, and in our travels, we're seeking respite from that relentless pace.  
We've been to each of the lower 48 states in our pursuit of doing nothing, from the swampy peninsulas of the south to the great hardwood forests of the northeast, to the great wavering plains, from the Atlantic to the Pacific — and in all of that traveling, there are certain, rare spots we've discovered, in this country of ours we love, that allow for the idling we love. These are quiet places, out of the way, which allow us to stop, sit, and simply be.
Arkansas has proven itself one of our absolute favorite states to visit for a do-nothing fix, and since our first visit back in 2013, we have returned every single year — sometimes twice a year. Sitting at the cusp of 2019, however, we realized that we'd never explored The Natural State in the fall season. We'd passed through in the green flowers of spring, and in the sunny warmth of summer, but it was high time we gave Arkansas its due in what many consider to be its most gorgeous season: fall. And, after a busy summer of travel, it was time to do some idling. Here are the spots we found that are most conducive to doing nothing, right here in the gorgeous state of Arkansas. We share them gladly, hoping that you, too, can seek a bit of relaxation and tranquility of your own:
Talimena Scenic Byway
We crossed the border into Arkansas on a beautiful October day that brought the first fresh breaths of crisp fall weather through our open windows. The Talimena Byway was our Arkansas entrance of choice — a curvy, undulant, gorgeous road that wends its way through the ridge-top of the Ouachita Mountains. The area tends towards a gorgeous, rich blue color above the mountains, and that evening was true to its signature color, with the sun disappearing behind the horizon, small songbirds chirping their last goodbyes. We take this road almost every year, but that day, in the early fall, it was completely new, its autumn personality mysterious and softer somehow, promising a beautiful tomorrow.
The next morning, we sipped our coffee on a pullout near Queen Wilhelmina State Park and soaked in the stillness. It was quiet, and we were the only ones peering out at the expansive view — and that was just fine with us. 
Devil's Den State Park
Considering all we'd heard about this Arkansas staple, we knew we better set aside at least a few days to explore Lee Creek and its surrounding forests.
Perhaps the most profound moment of idleness we experienced in this Arkansas trip occurred in this little slice of paradise. We braved a misty, woodsy, 6 a.m. wake-up to hike out to the bluffs, high above the canyon floor. The walk itself was an image to behold, filtered sunlight through the trees, the sun just waking up, everything fresh with morning energy.
The real moment of idle magic occurred on the ledge of the bluffs. There, the low-hanging clouds hugged the canyon treetops. JR and I perched on the rocks, beside our backpacks, and watched as those early-morning clouds lifted, carried by the weight of the sun. We soaked in a good hour of idleness there, greeting the day like two birds on a limb, warming our feathers in the early beams of light.
Dogwood Hills Farm
We've done a bit of farm work in our travels, but we swung through Dogwood Hills with one goal in mind: to enjoy simple presence around a bounty of food. Our farm stay delivered precisely what we idlers craved. On their little slice of Arkansas heaven, mother/daughter team Ruth and Grace Pepler raise dairy cows, goats, chickens, and produce in a pastured, natural approach that is rarely seen in today's landscape of modern agriculture. 
JR and I gratefully stepped back in time with this farming family, and time slowed as though we were inhabiting a moment in the 19th century. Simpler times. We wandered the pastures, greeting their friendly cows, goats, and yes — even a llama (!!) with a friendly warmth. We enjoyed farm-fresh meals prepared by Ruth and Grace, we helped milk the cows, and we cuddled with a few chickens, in a bucolic idler's trance.
Twin Falls
Have you ever sat beside a waterfall, no talking, no agenda, and simply listened to the splashes and gurgles of the rocks? If not, I'd highly recommend it. 
For us, Twin Falls provided the perfect opportunity to squeeze in a stint of play and childlike frolicking before taking a few minutes to simply be. We went swimming (of course it was chilly, but that's half the fun!)  before drying off on a series of rocks — and sitting there, water droplets of slate blue dripping from our wet hair, we were able to simply melt into the now.
Calico Hills Overlook
For an evening moment of stillness, you really can't beat this view. We swung by on a midweek day and had the vista and the overlook all to ourselves. We lucked out with a breeze-less evening, so still that we could hear the soft rushing of water hundreds of feet below us. 
There, JR and I made eye contact, and I saw softness in the crinkles around his eyes, and I thought, "Ah, but everything really is so simple sometimes," as the sun set, and we set off to find ourselves a nightly camp. 
After a few weeks of slow travel, the first cold snap of winter descended upon us. It was time to head south, to find ourselves some warmer snowbird ground. We drove across the border, wistful, but full and restored, glad for the idle time Arkansas had granted us — and promising that, come spring, we'd be back for more, because let's face it: for some of us, idling is a way of life.