Inaugural Six Bridges Regatta
Editor's Note: This event is from 2014.
Word has been making the rounds about the Inaugural Six Bridges Regatta, which is set to take place in Little Rock on the Arkansas River on August 30. This will be the first time since 1938 that a regatta has been held on the Arkansas River.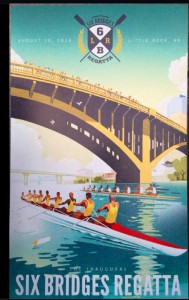 The Arkansas Boathouse Club is spearheading the event and their headquarters are located in a prime spot on the north shore of the River Trail.  The hope for the regatta is to shine light on rowing in Arkansas, in the same vein that the Little Rock Marathon did for running and the Big Dam Bridge 100 for cycling in the state.
The regatta has an impressive history in Arkansas. It was first held in 1882 as an annual event and attracted clubs from across the region.
"We are very fortunate to have our club on the beautiful Arkansas River," said Ellen Sullivan, Membership President for the Arkansas Boathouse Club and a member of the Six Bridges Regatta Committee. "This long and not-so curvy water way is perfect for sculling and rowing. The landscape is breathtaking and can be extremely enchanting in the early hours of the morning. There is nothing like being in the water and seeing, feeling, and hearing the train pass overhead as we are going under the Bearing Cross bridge. There are so many things to see and with the addition of the new Rock Water Marina, the river has become very active."
The Six Bridges Regatta, a national 5K timed race, will host U.S. Rowing registered events all day in juniors, collegiate and masters categories.
Sullivan said rowing is on the verge of being a vibrant sport in the state."We have a Northwest Arkansas crew," she said. "And our club is growing. There is so much energy here right now."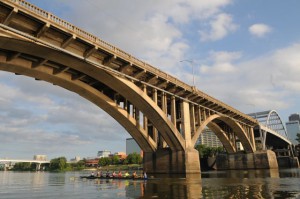 A lot of this energy and enthusiasm for the sport is being harnessed into planning this inaugural event.  "Our expectations are we are going to do it very well," said Sullivan. "The Arkansas River is a tremendous place for a regatta.  It's mostly straight—there are only a few curves. And we have the bridges that are easy to navigate."
Sullivan said the barge traffic, even though it is there, is not an issue when rowing on the Arkansas River.  "They are on the other side where the channel is," she said. "We stay on the north shore."
Sullivan is an avid rower and most days during the season is out rowing/sculling on the river early in the morning, enjoying the landscape that will be the scene of the regatta.   "Both sides of the river are just beautiful to see and early morning now all the bridges are now lighting up…its so tranquil."she said.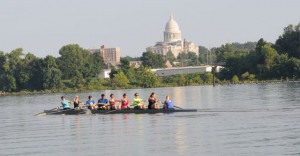 For more details on the Six Bridges Regatta, visit the event website at www.6br.org/  or the Arkansas Boathouse Club ( which also offers classes on rowing)  website at arboathouse.org or their Facebook page at facebook.com/sixbridgesregatta