Inaugural Tesla Fest held at Mid-America Science Museum in Hot Springs
Mid-America Science Museum in Hot Springs will be celebrating a special event on July 9: the 160th birthday of inventor Nikola Tesla.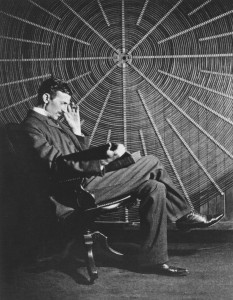 "Tesla has been an important influence not just regarding advancements in modern science and technology, but he has also just helped make science cool again and that's encouraged others to being interested in pursuing science whether it's a hobby or a career," said Director of Education Doug Herbert in a news release.
The museum, which is Arkansas's oldest and largest science center, is home to the Guinness World Record's most powerful conical Tesla coil. The coil, which was first invented by Nikola Tesla in the 1890s, is one of Tesla's most famous inventions. At the museum, visitors can view a caged-lightning demonstration of this coil, which puts out 1.5 million volts.
This year marks the first for the festival, which is being called Tesla Fest.
"Tesla Fest for us is an inaugural event and the first time we've really celebrated Nikola Tesla's birthday, which will technically be on Sunday, July 10," said Jim Miller of Mid-America Science Museum. "The festivities will primarily just be on Saturday, July 9." Miller said there will be Tesla education stations during the event and they will also have special Tesla shows, "where one of our educators will be dressed as Nikola Tesla. He will be delivering the Tesla shows throughout the day in first person."
According to the news release, some Tesla related activities taking place throughout the day include "magnetic pendulums, vertical waves, magnetic runaround, the Oudin coil, and electromagnetic experimentation."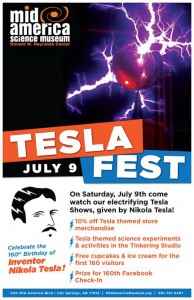 The museum will also have discounts on Tesla related educational items in their museum store throughout the weekend. In true birthday spirit, the Tinkering Studio will also house 160 cupcakes and ice cream samples will be available in the Creek Walk Café to celebrate the day.
"We encourage everyone to get in the spirit if they like and come celebrate this amazing inventor and science icon," said Miller.
Mid-America Science Museum is located at 500 Mid-America Blvd in Hot Springs. Tesla Fest is a general admission event and there are no additional costs to enter the museum. Tesla shows are $3 per person. Admission to Tesla Fest and to the Tesla shows are free to Mid-America Science Museum members. For more information call 501-767- 3461 or visitmidamericamuseum.org. You can learn more about Nikola Tesla at the History Channel video below.