Incredible Scenic Overlooks You Can Drive to in Arkansas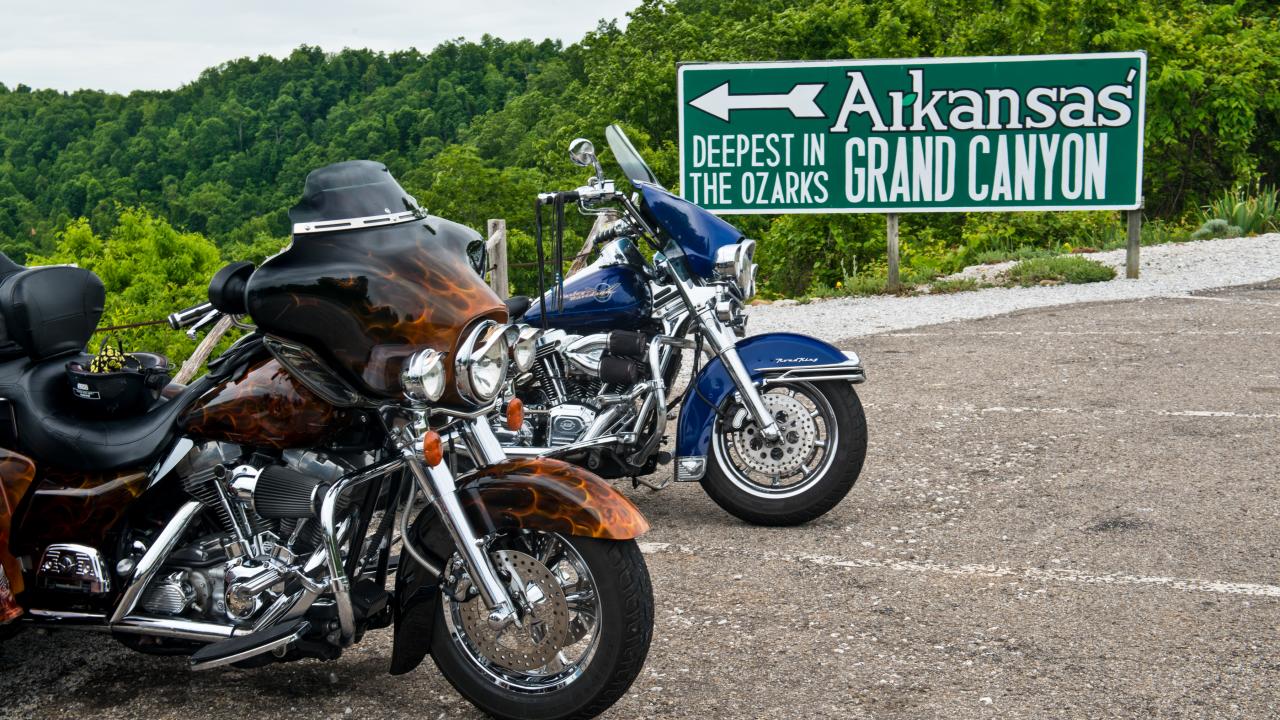 From the highest view to the grandest view to points of inspiration, Arkansas has amazing overlooks that you can drive right up to for awe-inspiring views of the state's natural beauty.
Mount Magazine Scenic Byway
Arkansas State Highway 309 is designated as a state scenic byway beginning at AR 10 in Havana, north to AR 23 at Webb City. For picturesque views, take 309 up and over Mount Magazine, the state's highest peak at 2,753 feet, and pull over at the numerous overlooks.
At the top of the mountain between Paris and Havana, you'll find Mount Magazine State Park, which includes a full service lodge, conference center, restaurant, indoor pool and hot tub, plus fully-equipped cabins with fireplaces and hot tubs on the deck overlooking the river valley. Park roads lead to overlooks with expansive views of Blue Mountain Lake and the Ouachita Mountains to the south and of the Arkansas River Valley and the Ozark Mountains to the north.

Inspiration Point
For a beautiful view on AR 62, stop at Inspiration Point, located five scenic miles west of Eureka Springs. This popular overlook sits on a cliff that's 550 steep feet above the White River, which forms a horseshoe curve just below Inspiration Point. It's the only turnout open to the public on AR 62 where you can enjoy this incredible vista. Below the point is a documented, year-round nesting habitat for American bald eagles.
You can stretch your legs at Castle Antiques, and maybe take home a treasure too. The Castle at Inspiration Point, a unique, historic home, is located there also.
Arkansas Grand Canyon
Vance Randolph once said about the Ozarks, "It's not that the mountains are so high but that the valleys are so deep." And that eloquently describes the huge valley southeast of Jasper running alongside AR 7, dubbed "Arkansas's Grand Canyon." This heavily wooded canyon is beautiful in any season. The Cliff House Inn, Restaurants and Cabins is a popular stop to take in the view and enjoy some pie.
A highlight worth mentioning on AR 7 is the Rotary Ann Roadside Park. It offers a beautiful 180-degree view of the Ozarks and was the first roadside rest area constructed in Arkansas, dating back to the 1930s.
Artist Point
Along U.S. 71, Artist Point features a breathtaking view from an observation deck of the Boston Mountains with Lake Shepherd Springs and White Rock Mountain in the distance. Telescopes are available. The vista from atop the mountain is of deep plunging hillsides.
Designated an Arkansas Scenic Byway in 1998, U.S. 71 snakes its way through the Boston Mountains beginning in Alma at the edge of the Arkansas River Valley and extending 42 miles across the Ozark Mountains to Fayetteville. The drive over the mountain on U.S. 71 is intimate, providing a close-up view that makes travelers feel a part of the landscape. Driving through the small towns of Winslow and Mountainburg helps visitors obtain a better sense of rural life while passing small gift shops, mountaintop hotels and lodges and unique homes. Many structures clinging to the mountainsides are architecturally interesting and incorporate native stone and detailed glass.
U.S. 71 offers many locations to pull off the road and commune with the mountains. There are also plenty of opportunities along the route to go hiking in the Ozarks. Don't miss a visit to Lake Fort Smith State Park, which is accessed from U.S. 71.
South Mountain Overlook
This isn't your average overlook! High on a hill between the towns of Leslie and Marshall on AR 65 is an Arkansas Department of Transportation picnic area with fantastic panoramic views. The bonus is a coffee cafe that also sits on the peak. Rock n Java is a full espresso bar with locally-roasted blends, fresh pastries, lunch specials, local pottery, rocks, fossils, crystals, gifts and free WiFi, making it one of the best scenic overlooks in the state.