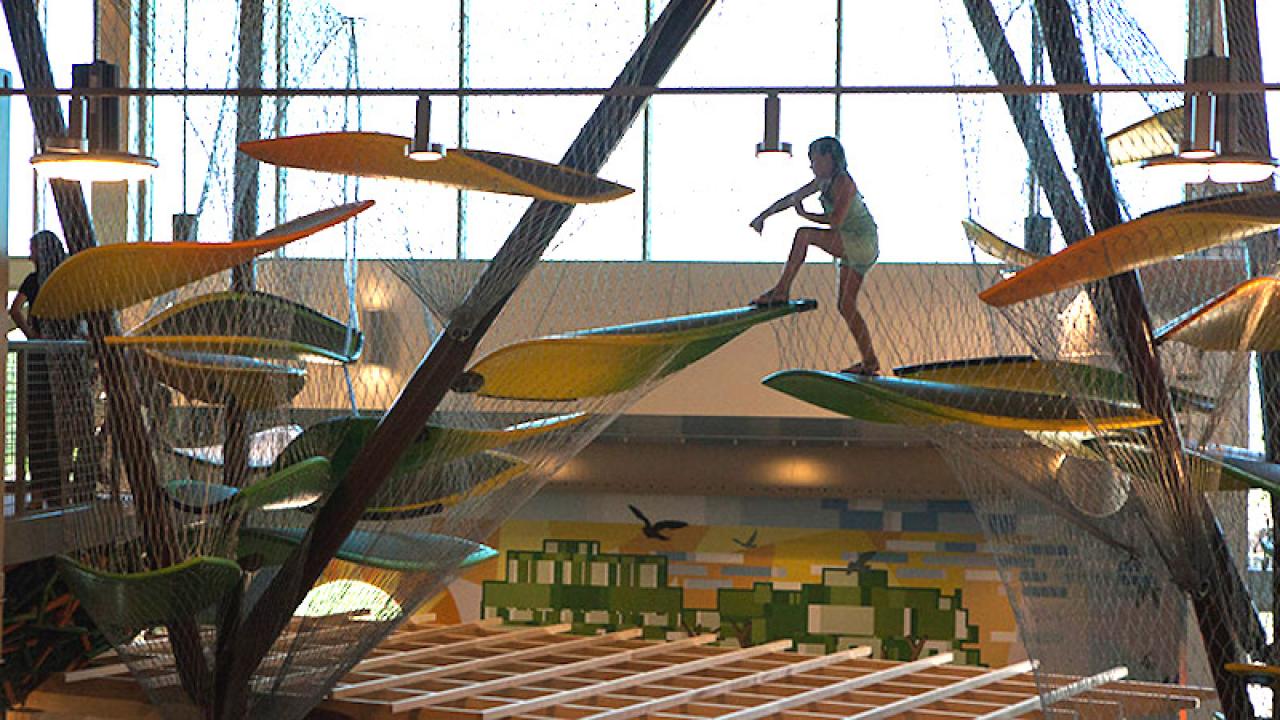 Where do you go to expend that energy you have from being cooped up in the house on a cold winter day? The Amazeum in Bentonville, of course, where you can climb a tree canopy, explore the indoor cave, and experiment in the tinkering hub.
It's the kind of place kids love because it's fun, and parent love because the activities have a foundation in the arts and sciences.
The Amazeum also contains a Hershey's Lab, where kids do cool science experiments with Hershey's candy.  The Art Studio includes a glass walled painting room where youngsters use brushes or even their fingers and hands to paint directly onto the glass walls as they blend colors, make designs, and draw pictures that can be viewed from both sides of the glass.
​
Kids learn to work together in the General Mills Lift, Load & Haul area, where they carry, ferry, move, lift, hoist, pull, send, convey, and transport objects through a series of conveyors, chutes, and tubes that go up, down, and overhead. At the Nature Valley Water Amazements, you can discover what it's like to be surrounded by rain without getting wet, create your own plumbing contraptions, and more.
There's also The Market sponsored by Walmart, a Homestead Cabin and Farm, Nickelodeon Play Lab, Emerging Explorers area, and Nature and Weather station. Nearly one acre of outdoor space for play is available too. Kids love to play outside on a mild winter day.
​
Overstimulated? Head to the Cloud Theater for sounds of calming music and viewing of time-lapse images of clouds.
Numerous special events add to the fun. So don't forget to check the Amazeum calendar of events.
Daily admission is $9.50 for adults and kids, and free for members and children under 2 years of age. The Amazeum is located at 1009 Museum Way. For more information, go online, email [email protected], or call 479-696-9280.