It's Christmas Party Weekend in Little Rock
Christmas in Little Rock means the Lighting of the Arkansas State Capitol just as it has for the past 75 years. Prior to the throwing of the switch on Saturday, Dec. 6, the annual Big Jingle Jubilee Christmas Parade will be held. It begins at Second and Broadway, ending at the State Capitol. Bands, marching groups, glowing floats, animals, beauty queens, cars and, of course, Santa and Mrs. Claus take part in the procession.
After the march, the State Capitol will be illuminated by thousands of lights as it has been for the past 75 years. Choral music and fireworks are also a part of the evening.
On Sunday, several central Arkansas museums will host their yearly holiday events. Historic Arkansas Museum, also in downtown Little Rock holds its 47th annual Christmas Frolic and Open House from 1 p.m.-4 p.m. Here Christmas is presented as it was in the 1800s with living history, re-enactments, old-time games, music, dancing, caroling and the museum's famous hot mulled cider and ginger cake. You can shop here as well at the Museum Store.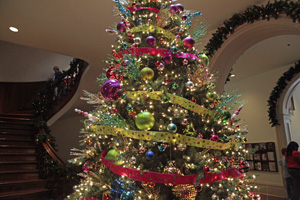 Nearby, the Old State House Museum has its Holiday Open House 1 p.m. to 4:30 p.m. Traditions of Christmas past are celebrated with hands-on activities including card making by children, music performed by local groups, and cookies and punch service in the beautifully decorated facility.
On the south side of town, Mosaic Templars Cultural Center is another fine museum having its Holiday Open House on Dec. 7 A wide variety of entertainment, crafts stations, and the 3rd annual Say it Ain't Say's Sweet Potato Pie Contest are highlights. The pie contest is in honor of Little Rock's Black Santa, Robert "Say" McIntosh, famous for his sweet potato confection.
Don't forget the new Christmas lighting display at the First Security Amphitheatre in Riverfront Park. The 10-minute show will be choreographed to holiday music and will be on from 5 p.m. to 10 p.m. nightly through Jan. 3. The River Lights in the Rock in holiday colors will be back again this year.