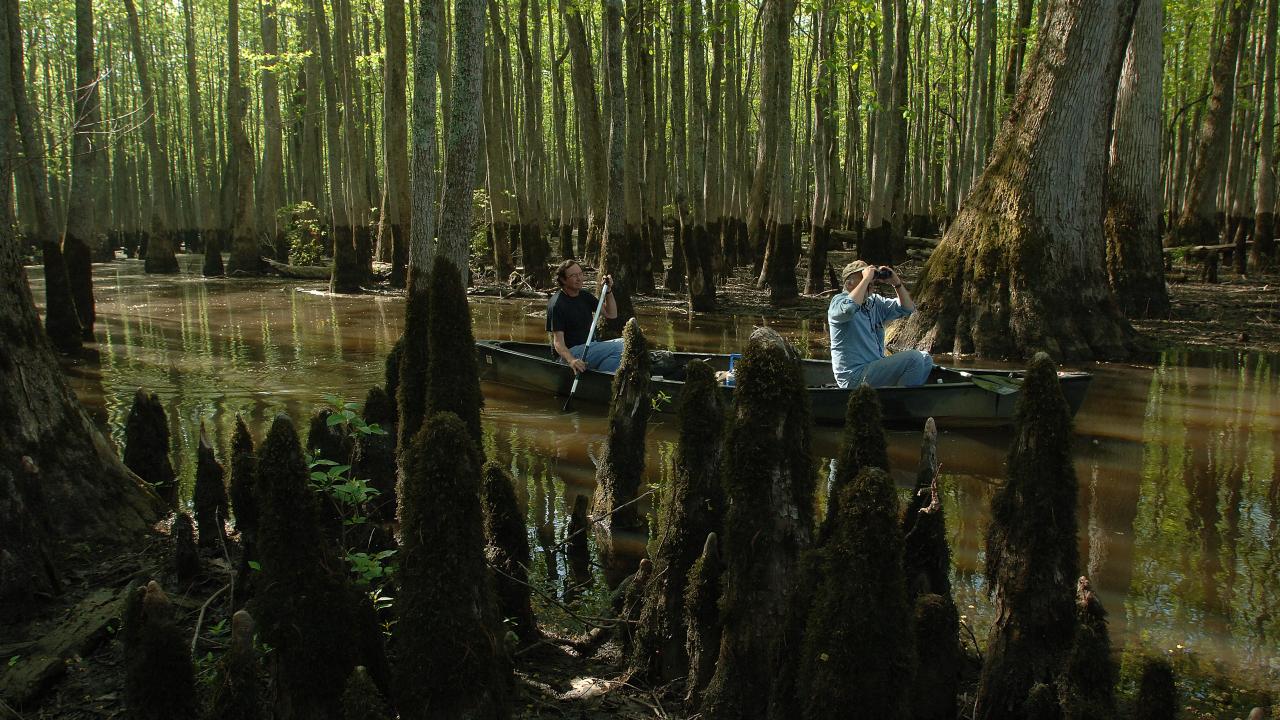 On Feb. 11, 2004, Gene Sparling, an amateur naturalist from Hot Springs, Arkansas, single-handedly began raising the lid on a coffin of speculated extinction. While kayaking on Bayou DeView in the swampy Big Woods of eastern Arkansas, he had encountered an Ivory-billed Woodpecker, a species last confirmed to have been seen alive in 1944 in Louisiana and last believed heard in Cuba in the 1980's.
Conserving the Bird, Preserving Its Home
To comply with the federal Endangered Species Act, the U.S. Fish and Wildlife Service formed a species recovery team to prepare a comprehensive recovery plan for the Ivory-billed Woodpecker.
The continuing presence of the species in Arkansas has been attributed to decades of habitat preservation efforts by state and federal agencies and by private groups and individuals. Those efforts gained new impetus from the rediscovery of the Ivory-billed Woodpecker and on April 7, 2004, The Nature Conservancy, the Cornell Lab of Ornithology and other partners formed The Big Woods Conservation Partnership with the aim of conserving 200,000 acres of Big Woods forest habitat and rivers over the next 10 years.
Lands within The Big Woods currently under public ownership include:
Visiting the Big Woods
The reason the rediscovery of the Ivory-billed Woodpecker was kept secret for more than a year was concern that a large influx of birder and the simply curious would interfere with the bird's activities, possibly driving it into extinction, and disrupt the scientific research effort.
The delay in announcing the find also allowed for the development of plans to accommodate visitors and for the creation of websites and other means for providing information to those coming to Arkansas in hopes of seeing the bird.
Big Woods visitors should bring with them realistic expectations.
First, the odds of seeing an Ivory-billed Woodpecker are extremely minimal and no one can guarantee Ivory-Billed Woodpecker sightings.
Second, experiencing the woodpecker's remarkable habitat in the forested backwaters of the nation's largest alluvial plain is in itself worth the trip. 
The Big Woods are also home to the more common and widespread Pileated Woodpecker, a bird often confused with the Ivory-billed Woodpecker.