Artist Kate Baer says nature is always her greatest inspiration, however clichéd it might sound. Take one look at her artwork and it's clear there is nothing trite about her creativity. She celebrates the elegant geometry of nature through handcrafted jewelry.
"There's nothing that compares to the balanced asymmetry and textural patterns found in nature," Baer says. "Whatever question you may have, if you pay close enough attention, nature will answer them. Regarding inspiration, I also am greatly indebted to those spontaneous ideas that pop into my head on occasion. They have always led to something worthwhile."
Among her designs, you will find impressions of Arkansas fossils, which she uses as a reminder of our physical impermanence and to live a life of meaning and spirit. She mainly uses Crinoids and Brachiopods as molds because they are most abundant where she lives. If she finds a fossil that makes a good print, she reuses it for years.
Baer has been making jewelry on and off for 20 years, but began her professional phase about 13 years ago. "I started out making glass beads as a creative outlet when my teenagers were toddlers," she explains. "I soon realized that it wasn't the best medium with children close by so I switched to using precious metal clay which is non-toxic and fires in a kiln, making it very user friendly." All the silver she uses is recycled.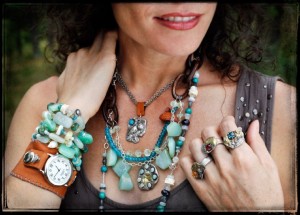 The environment is dear to her heart. Her family has an off-grid, straw-bale home at the headwaters of the Buffalo National River. "Although I am in Fayetteville part time now, due to my teenagers being in public school, I still spend part of every week with my youngest at our home in Newton County," Baer says. "People should visit the area because it is truly one of the most beautiful places in the country. Most don't realize there are elk, 200-foot bluffs, waterfalls, and caves right here under our noses. My advice to people visiting is to clean up more trash than you bring in, and to clear your mind and sit quietly for a moment and let nature fill your senses."
In addition to caring for the environment, Baer cares about other people and shows it through her participation in the "Half The Sky" movement. After reading "Half The Sky" she was moved to donate a portion of her retail sales to a "Half The Sky" recommended charity, and posts those donations on her website. Occasionally, she donates to a charity not mentioned in "Half the Sky."
"It's important for me to give back because I am a bleeding heart and can't stand the thought of humans suffering so while I stand by and do nothing," she explains.
You can find her work at Crystal Bridges Museum of American Art store in Bentonville, Zarks Gallery in Eureka Springs, the Fayetteville Underground on the Fayetteville square, and All Things Arkansas in Hot Springs.