Kayak Adventure at Lake Ouachita State Park
Looking for an adventure? A Kayak Day Trip excursion takes place at Lake Ouachita State Park in Mountain Pine on April 18. During the trip, participants paddle the shorelines of Lake Ouachita, the largest lake within Arkansas's borders, with a park interpreter as their guide. Known for its clarity, the 48,000-acre lake is a water-sports mecca surrounded by undeveloped shorelines and the Ouachita mountains. This year marks the 60th anniversary of the creation of this state park.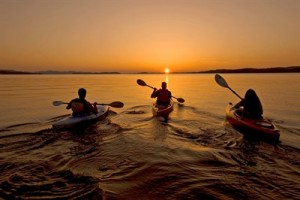 The kayaking venture is from 10 a.m. to 3 p.m. and no prior kayaking experience is required to sign on for the event. Admission is $25, which includes your kayak rental for the day. Please note that participants are asked to bring water, snacks and a sack lunch for the venture and to meet at the Marina Boat Ramp at the start of the trip. Also of note, reservations are required. Lake Ouachita State Park is located at 5451 Mountain Pine Road.  For more details or to make reservations call 501- 767-9366 or visit here.