Kayak Fishing in Arkansas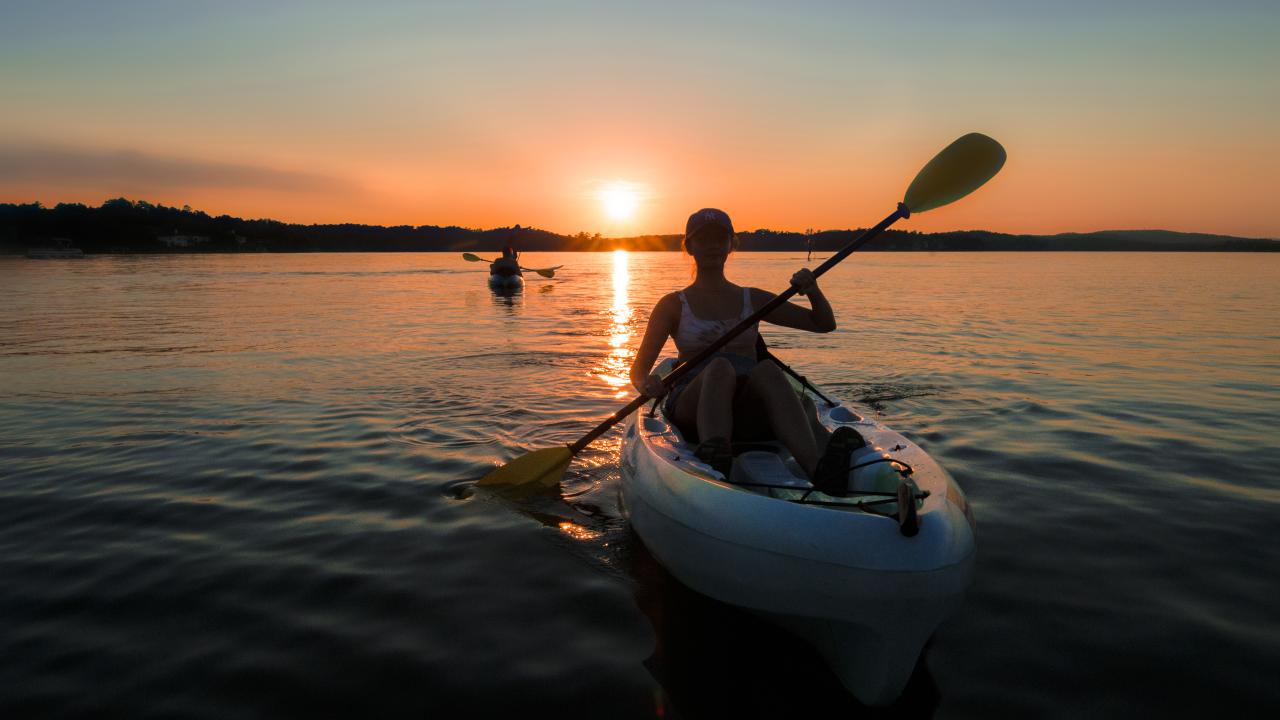 The fish are always biting somewhere, even in places you can't reach by boat. But you can reach many of these hard-to-reach waterways by kayak.
"Kayak fishing is ready to explode in Arkansas as recreational kayaking has done over the past five years," said Don Jackson.
The avid fisherman and owner of Ouachita Outdoor Outfitters in Hot Springs continued, "it has opened up a whole new avenue for fisherman in that he or she can fish lakes, rivers, ponds, bayous, or many places that big boats cannot go for a minimal investment."
Kayak fishing has been established for some time in the coastal areas of the country, and now the sport is migrating inland. The practice is also growing worldwide, with the first world championships held in Australia last year in Port Macquarie along the New South Wales coast.
Among those that competed in the event was Jose Chavez, a pro kayak angler based in Tampa, Florida. After the tournament, Chavez traveled to Arkansas to fish Lake Ouachita.
"Kayak fishing is an incredible experience where I feel I am connected with nature in everything I do."
"You are able to get away from the crowds, experience nature intimately, and make a stealthy approach to fish that will never learn of your presence. It is also very inexpensive to get started. All you need is a kayak and basic safety and fishing equipment. There are no expenses for gas or maintenance plus it's great exercise."
Arkansas's mild climate means fishing is available year round. 
The state has over 9,700 miles of fishable streams and rivers and 600,000 acres of lakes, numerous bayous, creeks and sloughs that provide a variety of freshwater species to catch. Along with these opportunities, the Arkansas Game and Fish Commission operates warm-water hatchery systems and trout fisheries.
Chavez, who is a member of the Hobie Fishing Team, said the fishing he usually does in Florida is in shallow grassflats where sight fishing is the predominant way of locating fish. "While fishing in Lake Ouachita we were mostly fishing in water of 25-35 feet in depth so that took a little adjusting, " he said. "Also, I mainly fish for either redfish, snook and trout in Florida."
"What amazed me about Lake Ouachita was that there were so many gamefish readily available to the kayak fisherman. I found myself trying to catch as many species as I could."
When Chavez first started fishing in Florida, he primarily fished from land and would either fish from a pier or wade fish the flats. One day he was doing a long walk through a flat to get to one of his favorite fishing spots. After 30 minutes of walking he was nearly there, and then it happened…a kayaker passed him, got to his spot, caught a bunch of fish and then moved to the second spot he was going to fish.
"By the time I made it to the first spot, the bite had shut off since he had caught so many fish from that location," said Chavez. "When I got to my second spot I experienced the same thing, the bite was just off. That's when I realized I needed to get a kayak and I went out and bought my first one."
Jackson said more kayak manufacturers are making kayaks specifically designed for smaller bodies of water. "They are very stable and well designed to accommodate kayak fisherman," he said. "They have live wells, rod holders, anchors…and are better outfitted with fishing options than regular kayaks. Some are designed now where you are able to stand and sight fish and have very comfortable and adjustable seating for all day fishing."
Jackson added that fisherman also save on cost going the kayak route. "With so many tournaments and fishing events during the year fishermen generally have a four wheel drive vehicle pulling a 20 foot bass boat with a 200 hp motor," he said. "The expense is enormous."
As for tips on picking a kayak, Jackson advised trying one out first.
"I wouldn't buy a car without driving it first," he said). Outdoor outfitters usually have programs that allow potential buyers to demo gear before buying. "We have a rental program for our general recreational paddlers and we will demo any kayak the customer wishes to try out," he said. "We are fortunate to have Lake Hamilton close enough that we can demo a kayak any day during the week."
Chavez said he believes kayak fishing in Arkansas could take off because of the diverse fishing available.
"Getting a kayak fishing club together with an online forum is one of the best ways to bring people together that share the interest of fishing, and a great way to expose the rest of the community to what the kayak fishing community is up to," he said. "It generally doesn't take long for people to see the great fish kayakers can catch and make them realize they could also be getting on the water with friends and have a good time catching fish."