Kayaking the Mighty Arkansas

Samuel Ellis grew up in Little Rock and has always been drawn to the beauty of the Arkansas River. He decided to share this with others by founding Rock Town River Outfitters last year.

The guiding service is the first of its kind for the area and they offer guided kayaking tours and other experiences based on the river. "Exploring the banks of Little Rock and North Little Rock from the Arkansas River lets your imagination run wild as you picture the capitol city in its earliest days when it was first incorporated to the bustling city we see today," Ellis said.

He said their sunset tours are popular, a venture that includes putting in at their headquarters at Rockwater Marina in North Little Rock as the sun sets over West Little Rock and paddling through downtown while the bridges connecting the two cities light up. "You find yourself paddling through a river of color and lights," he said. "And after you step out of your kayak post tour, you are within walking distance to the food, music and entertainment found in both cities."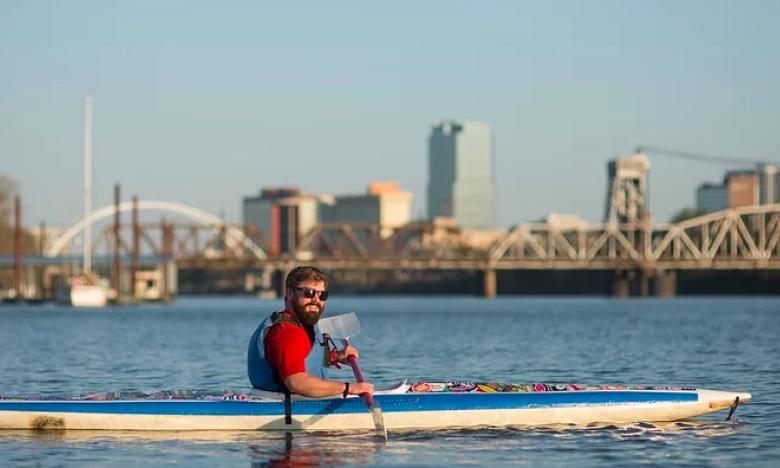 Rock Town River Outfitters offers other activities on the river outside of the tours, such as kayak and stand up paddleboard classes and rentals, and their headquarters are also available for weddings, receptions and events.

Ellis, who has been a licensed river outfitter guide since 2011 and worked 4 years as a professional guide on Browns Canyon in Colorado, said one of the most misunderstood aspects of the river is that it is considered too dangerous for people to feel comfortable paddling on.

"The Arkansas River is controlled by a series of locks and dams such as Murray Lock and Dam," Ellis said. "Through these locks the U.S. Army Corps of Engineers can control and forecast the flow as well as broadcast any hazards such as wind advisories. Since the river is controlled, 9-10 months out of the year the dams are closed or low flowing which turns the river into a calm lake for even the first time paddler to enjoy. There are of course dangerous times and places such as near the dam and when the water is high but we plan to educate people on river safety and of course we do not take tours during hazardous conditions. My primary goal for Rock Town River Outfitters is for the Arkansas River to become an accessible recreational destination where families can safely play in the waters that have shaped our city."

As of this year, Rock Town River Outfitters' headquarters are located at 400 President Clinton Avenue in the River Market District of Little Rock, where Bobby's Bike Hike used to be. You can schedule your kayak and stand up paddleboard ventures from here and this location also serves as a bike shop complete with bike service, bike tours, and also bike rentals so you check out the nearby terrain, including the famous Arkansas River Trail. The store is staffed 5 days a week from Wednesday-Sunday. 

"With this new outfitter location in downtown we are able to guide locals and tourists not just on the outdoor tours and services we provide but also on what to do when they step out of the kayak or off the bike and into the active downtown district of Little Rock," said Ellis.