Kirk Demarais To Paint Mural in Downtown Siloam Springs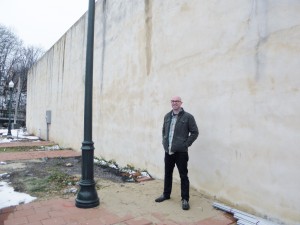 Local artist and designer Kirk Demarais has been selected by Main Street Siloam Springs to complete a mural on the south-facing outdoor wall of 204 S. Broadway St. in historic downtown Siloam Springs.
The mural selection committee unanimously chose Demarais' proposal because his concept is reflective of the theme "Celebration of Siloam Springs." He describes the mural concept as his "love letter to his hometown" and the style as "contemporary and optimistic, while at the same time rich with historic ambience." The committee also said his proposed budget, timeline, and implementation strategy were thorough and realistic.
The mural will be revealed on May 9 at the first downtown public art event Beyond the Frame: Experiencing Art in Downtown Siloam Springs. This series of summer events will be held from 4 p.m. to 7 p.m. on the second Saturday of each summer month (immediately preceding Second Saturday Music in Twin Springs Park). Each Beyond the Frame will feature a reveal of a new piece of public art, an outdoor art market in Twin Springs Park and surrounding areas, and an art walk starting on South Broadway Street. The dates for these events are: May 9, June 13, July 11, and Aug. 8.