Laissez les Bon Temps Rouler in Eureka Springs
Eureka Springs knows how to let the good times roll. And roll it will this weekend through the streets of the historic downtown at 2 p.m. on Saturday, Feb. 14, for a Mardi Gras parade led by the Krewe of Krazo (Ozarks spelled backward).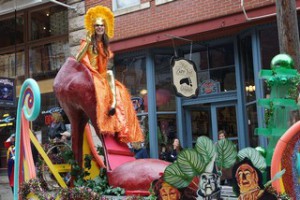 The event is part of the 10th annual Eureka Gras Mardi Gras Extravaganza. This year's royal court and monarchs, which will be in the parade, are led by the Dukes and Duchesses of 2015 King Krazo X Leroy Gorrell and Queen Eureka X Cne Breaux.
On Sunday, Feb. 15, hit the New Orleans-style Jazz Brunch, featuring live music, at the Crescent Hotel at 75 Prospect from 11 a.m. to 2 p.m.   Reservations are required and may be made by calling 479-253-9652. The cost for the brunch is $25.
Monday the 16th will be Arti Gras at KJ's Caribe Restaurant and Cantina at 309 W. Van Buren. Beginning at 6 p.m., more than 20 artists will present original works and bejeweled masks.
On Fat Tuesday, Feb. 17, the final event is the Saint 'Lizbeth King Cake Ball and dinner at the St. Elizabeth Parish Center at 232 Passion Play Road. The party starts at 5:30 p.m. with a cash bar and cash raw oyster bar with dinner and music following.  For more information call 479-253-2222.
For more information on Mardi Gras events, visit eurekaspringsmardigras.com.