Lake Dardanelle Scene of Bassmaster B.A.S.S. Nation Championship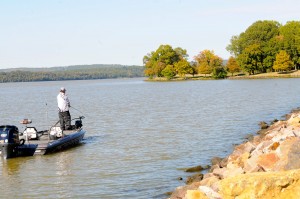 Some of the best anglers in the nation are in Arkansas now for the Bassmaster B.A.S.S. Nation Championship. The tournament, which is going on until Saturday ( Oct. 26) is taking place at Lake Dardanelle with weigh-ins each afternoon starting at 3:30 at Lake Dardanelle State Park. The pro's launch out from the park at 7:15 in the morning and there is an expo on site too.
For those interested in fishing the waters here, the average depth of the lake is 7 feet and there is 315 miles of shoreline along it. The lake is popular with anglers and has  populations of big catfish. White bass are native to the river, with adults traveling in schools and feeding near the surface. Bream fishing is also popular in the lake, which has also been stocked with crappie and largemouth bass. With no closed season and mild winters, fishing is good year round and the lake has one of the most consistent bass habitats in the Arkansas River system.
According to B.A.S.S. Times, Lake Dardanelle will be transitioning from summer to fall patterns during the tournament so, as a result,  it could be tough for the fishermen to figure the bass out.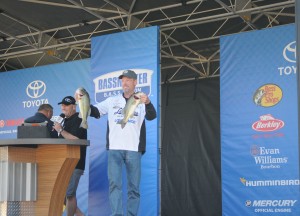 All 56 of the anglers at the tournament are competing to be the top in their division and for a spot at the 2014 Bassmaster Classic, set to take place in Guntersville, Alabama.  Doug Thompson, a senior hardware technician and member of the Natural State Bassmasters, is representing Arkansas at the tournament.  Mark Dove of Indiana is the defending champion.  Anglers from 47 states are here for the championship and also competitors from Japan, South Africa, Italy,  Zimbabwe, Mexico, and Ontario. The Bassmaster Junior World Championship is also taking place in Arkansas on the final day of the B.A.S.S. Nation Championship. They are scheduled to fish the Arkansas River and Pool 9 in Russellville. For more details, check out bassmaster.com.