DeGray Lake Resort State Park in Bismarck celebrates the American bald eagle and the message of conservation during the 35th annual Eagles et Cetera January 24-26.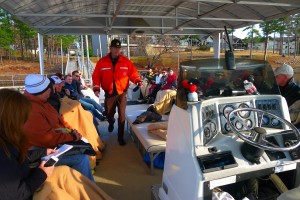 During the winter, eagles flock to the Ouachitas and Ozarks of Arkansas for favorable habitat. Around 1200-1500 eagles begin to arrive in the state as early as mid-October and stay all winter long, departing around February and sometimes as late as mid-March.
Those making the venture to Eagles et Cetera, the largest event of its kind in the state, will have many chances to see eagles in their natural habitat. Barge tours will scout DeGray Lake in search of eagles, loons, coots, herons, and also other waterfowl and wildlife.
Bald eagles are the signature of the festival, but the event also gives attention to birds of prey, song birds, migratory birds, waterfowl, game birds, conservation practices and lake ecology. You can also see live birds of prey, meet a raptor rehabilitator, learn about the ancient art of falconry, or check out loads of bird and conservation themed presentations over the weekend. If you might want to check out the festival, the park is located at 2027 State Park Entrance Road. Also of note: guided lake barge tours are offered at the park every weekend of the year and these become eagle watching tours during the season. For more details visit degray.com or call 501-865-5810.