Learn to Forge at Historic Washington State Park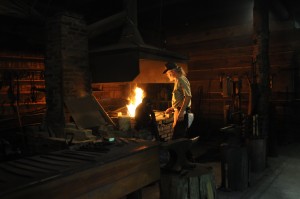 One of Arkansas' most famous blacksmiths, James Black, is credited with forging one of the original Bowie knives for James "Jim" Bowie in the early 1830s in Washington, Arkansas. One of the many structures visitors can tour in town at Historic Washington State Park is the Blacksmith Shop, an interpretation center with working forges that pays homage to Black and the blacksmithing trade.
There are two chances to learn the craft of forging at the state park in January during their Introduction to Forging Workshops. The first opportunity is January 16- 17. If you miss that one, there will be another workshop taking place January 23-24. The workshops are hands-on classes and cover the basics of blacksmithing. The classes are from 9 a.m. to  5 p.m. and registration is $75. Materials and tools are also provided for participants. Of note, you must be at least 16 years old (accompanied by an adult) to take the workshops. If you might not be old enough this year, no worries as these workshops are annual events for the park.
Historic Washington State Park is both a state park and town intermingled. The park includes more than 30 carefully restored historic structures from the 19th century. For more details on the park or to learn more about the workshops, call 870- 983-2684 or check out historicwashingtonstatepark.com.