Little Portion Hermitage and Monastery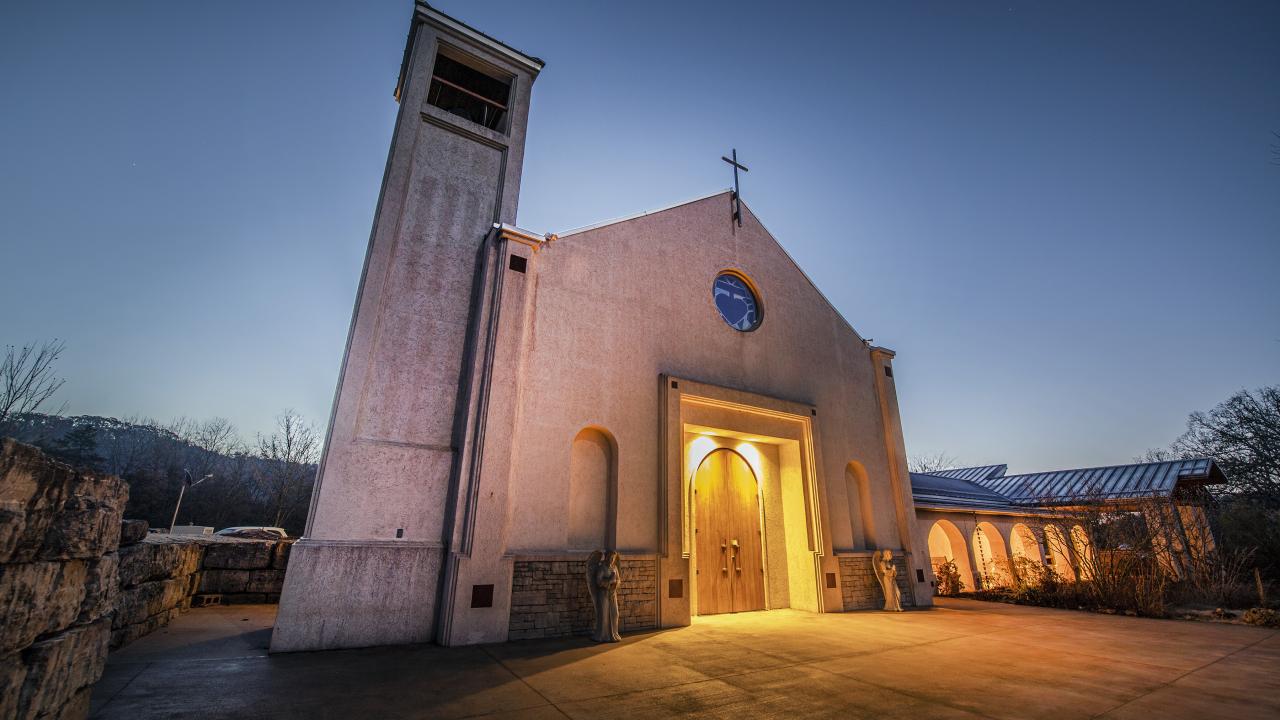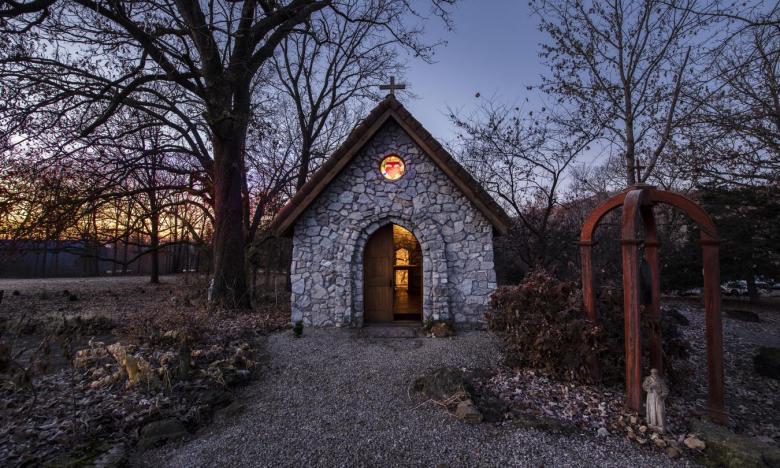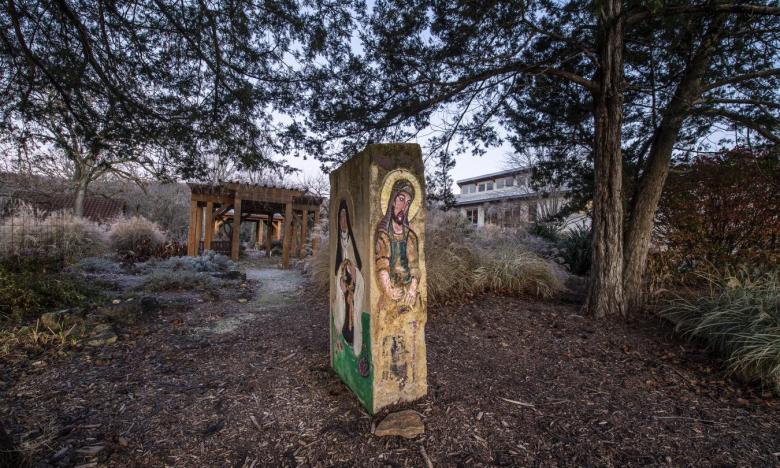 The Ozark Mountains of Northwest Arkansas are home to an awe-inspiring monastery, prayer gardens, a bakery and a welcoming monastic community at Little Portion Hermitage and Monastery in Berryville.
This spiritual retreat set on 450 acres is open to the public from 9 a.m. to 5 p.m., Monday through Friday. You can walk paths leading to benches set in various contemplative garden spots, some with flowers, arbors or shade trees. You can also pray in the Portiuncula Chapel, rest in the cloistered walkways, and buy tasty goods at the bakery. Individuals interested in a private spiritual conference and groups seeking guided tours should call in advance.
Founded by John Michael Talbot, most of the work done by the inhabitants of the Little Portion Hermitage consists of gardening, working in the bakery, office work, cooking, cleaning and maintenance of the grounds and buildings. They give tours and simply enjoy being a loving presence to the hundreds of people who come to visit the hermitage every year.
Many come to see the monastery, which was built after a fire in 2008 destroyed the original wooden structure. Designed by Albert and Lisa Skiles, who studied under award-winning architect E. Faye Jones, the monastery is patterned after the Franciscan missions of Texas and California. You can see the mission-style in the crisp clean lines of the white building and the wood accents. It is a substantially green, or environmentally sensitive building. It was blessed on April 10, 2010 by Bishop Anthony B. Taylor of The Diocese of Little Rock Arkansas.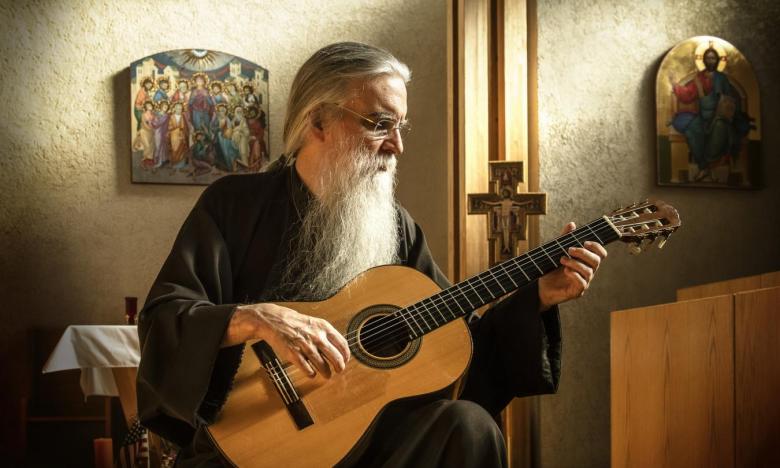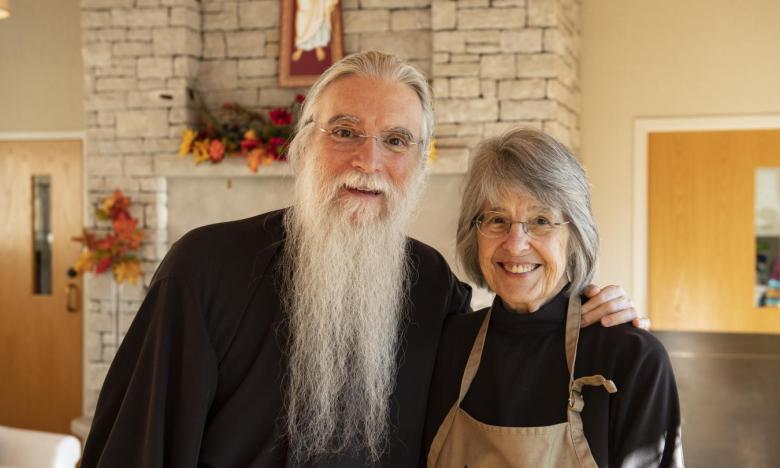 The Founder
John Michael Talbot is a multi-platinum selling, Grammy / Dove award winning Contemporary Christian Music pioneer. He is celebrating his 55th album, "The Inner Room," on his "Lifetime of Music and Ministry" concert tour. A best-selling author, Talbot's 31st book, "Francis of Assisi's Sermon on the Mount" was published in 2019. He is launching his subscription based online "Inner Room School of Spirituality" this coming January 2020. Talbot lives and leads the monastic life, which overflows into his very active ministry from Little Portion Hermitage in Arkansas and St. Clare Monastery in Texas, where he is the founder and general minister of the Catholic-based community The Brothers and Sisters of Charity.
Talbot's artistic and humanitarian efforts have been recognized with awards from the National Academy of Recording Arts and Sciences, the Gospel Music Association, Mercy Corps and the Mother Teresa award.
Today, Talbot is one of the most active evangelists traveling throughout the world inspiring and renewing the faith of Christians of all denominations through sacred music, inspired teaching and motivational speaking.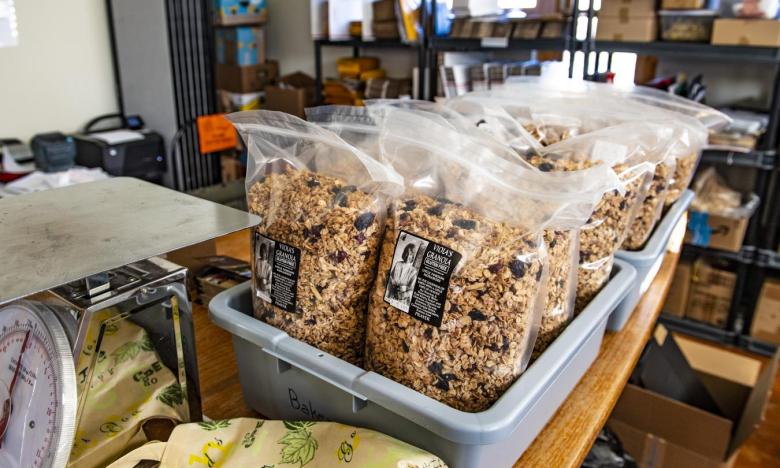 Eat Like a Monk
John Michael and Viola Talbot are the founders of the Brothers & Sisters of Charity / Little Portion Bakery located at the hermitage.
All of their products are made in both regular and gluten-free versions. Try Viola's Granola, St. Anthony's Hermit Bars and St. Clare's Heavenly Breakfast Cookies. They have gift boxes for Christmas and other occasions as well as soaps and aprons.
When the Little Portion Bakery began, Viola donated the first $100 dollars of profit and bought shoes for poor children in the local area. Now, she donates 10 percent of all profits to support poor women and children. You can also order online at www.LittlePortionBakery.org.
Click here for more spiritual tourism destinations.